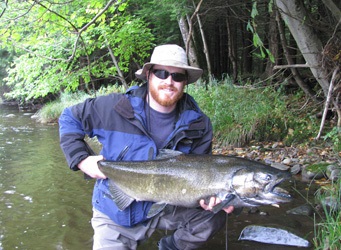 The whitewater release that occurs on Labor Day weekend on the Salmon River (Oswego County) is the trigger for large numbers of spawning Chinook and coho salmon to enter the river. Each fall, the salmon run draws thousands of anglers to the river from across the northeast.  
Salmon numbers typically increase through the month of September. The run usually peaks in mid-October when most of the spawning occurs. Although Chinook and coho salmon die shortly after spawning, large numbers of steelhead enter the river later in the fall to provide exciting angling opportunities. 
Pacific salmon can be caught on egg sacks, flies and other traditional salmon fishing techniques. Anglers are reminded that snagging, lining, and lifting are not allowed and anglers doing so will be ticketed. The desire for ethical angling practices and increased enforcement of existing regulations was a common theme during public meetings leading up to the development of the Salmon River Fisheries Management Plan.
–
Attend The Salmon River Fish Hatchery Open House – For the 22nd consecutive year, DEC will host an Open House at the Salmon River Fish Hatchery as part of National Hunting and Fishing Day on September 22 from 9:00 a.m to 4:00 p.m. Admission is free. This is the perfect time to learn more about how DEC produces the large numbers of trout and salmon that support the fantastic fishery Lake Ontario and its tributaries, including the Salmon River, provides. Tours will be conducted that will provide behind the scenes access to the inner workings of the facility. Visitors can view salmon as they migrate up the fish ladder on the facility grounds. DEC and conservation groups will have various educational activities for children and adults throughout the day.
Can't make the 9/22 event? No worries. The hatchery is open daily through November 30 from 8:30 a.m. to 3:30 p.m.There's always lots of action at the hatchery in the fall as hatchery staff take millions of eggs that will be grown into the next generation of steelhead, Chinook and coho salmon that will be stocked in the lake and its tributaries. The hatchery has a newly updated visitor center that includes aquariums showcasing popular NY fish species. Group tours can be arranged by calling the hatchery at (315) 298-5051.
Visit the hatchery webpage for directions and additional information, including egg take schedules.
The post It's Salmon Time on the Salmon River appeared first on .