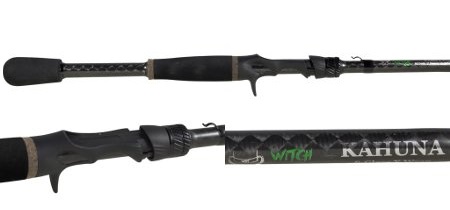 Witch Doctor Tackle (Witchdoctortackle.com), a leader in the design, production, and distribution of premium, performance bass fishing tackle and equipment is pleased to introduce their new Kahuna Custom S-Glass Casting Rod.
The Witch Doctor Tackle Kahuna utilizes a proprietary Graphite and S Glass construction that has been specifically developed for hardcore crankbait fisherman.  This uniquely designed rod features an ultra-thin diameter – resulting in a lightweight, powerful rod that can be fished all day.  Weighing the same as the popular Witch Doctor Tackle Shaman series, the rod is the perfect addition to any serious tournament bass angler's arsenal.
"Tournament bass anglers have always demanded a highly specific rod when fishing crankbaits, as it is a technique that is a proven fish catcher, but can be prone to lost fish." stated Adam Trieschmann, Owner of Witch Doctor Tackle. "With our Kahuna Custom S-Glass rod, we have developed a rod specifically designed to increase hook ups when throwing crankbaits."
Witch Doctor Tackle is utilizing a completely new manufacturing process, to build the Kahuna.  It has taken two years to develop this process in the United States, and the result is a product that features a 95 percent glass blank with an ultra-thin wall thickness. The blank still is as straight as graphite, but is as strong or stronger than E-glass.  "Old glass rods of the past are artifacts when compared to the Kahuna, it is the lightest and strongest fiberglass rod on the market," stated Trieschmann.
The graphite woven X pattern in the butt section adds power to the rod, while still maintaining a soft tip that is desired when anglers are fishing crankbaits and other moving baits such as a swim jig or vibrating jig.  The moderate action tip was designed to launch your baits a country mile, including giant glide baits or big deep diving crankbaits like a 10XD.
Even though the Kahuna was initially designed and intended for fishing crankbaits, it also makes a great rod for other bass fishing applications, such as fishing swim jigs, vibrating jigs and spinnerbaits.
Like all Witch Doctor Tackle casting rods, an EVA/composite grip is used for ultimate control, while on the Kahuna a large fighting butt is utilized for increased control while handling a big bass hooked up on a crankbait.  The ALPS Double Locking Reel Seat is the best on the market and used on the Kahuna, like all Witch Doctor Tackle Casting Rods and keeps your reel snuggly in place, so you won't have to worry about it coming loose during a battle with a big bass.  With a two year manufacturer's warranty, you know you are getting a high-quality, American made product that will keep you in the game for many seasons to come.
The Kahuna Custom S-Glass Casting rods are made in the USA and available in seven different models to choose from, allowing you to select the rod that is the right match for the application at hand.
7' Medium Power, Medium Fast Action – $379.99

7' Medium-Heavy Power, Medium Fast Action – $379.99

7' Heavy Power, Medium Fast Action – $379.99

7' 10" Medium Power, Medium Fast Action – $399.99

7' 10" Medium-Heavy Power, Medium Fast Action – $399.99

7' 10" Heavy Power, Medium Fast Action – $399.99

7' 10" Xtra-Heavy Power, Medium Fast Action – $399.99
To see more details on the Kahuna Custom S-Glass rods, visit:  http://witchdoctortackle.com/kahuna-custom-s-glass-casting-rods/ .
About Witch Doctor Tackle:
Witch Doctor Tackle is a premium producer of tournament level fishing rods, tackle and equipment that has set itself apart from the other high-end fishing rod manufacturers, by building the finest rods on the planet designed for an angler's specific needs, not a "one size fits all" rod.  By working with a network of tournament bass anglers they have produced and tested over 100 prototype rods; this has resulted in the absolute best rod for a specific use by an angler.  Witch Doctor Tackle globally sources the finest components, then handcrafts their rods in the USA to produce versatile rods that perform as well as the pros fishing them.  Visit the Witch Doctor and find your remedy.  For more information about the entire line of Witch Doctor products visit www.witchdoctortackle.com .
The post Innovative Cranking Rod Now Available from Witch Doctor Tackle appeared first on ODU Magazine-North America's #1 Digital Fishing Magazine.