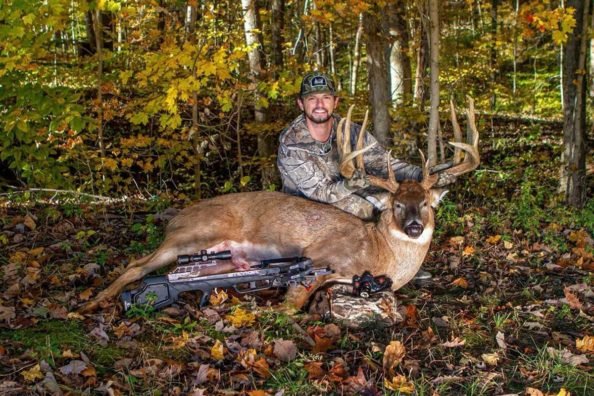 We asked Dustin Huff, the hunter who arrowed what's likely the second largest typical whitetail ever, a few questions about the experience.
The biggest typical whitetail deer tagged in 10 years was killed last fall, and it's already creating a serious buzz in the big game hunting world.
Though still unofficial, the 6×6 deer scoring 211-4/8 inches should stand as the new Indiana state record, the crossbow world record, and the second-largest typical whitetail deer of all time. It should surpass the Jordan Buck for second place all-time, and feature a score that's just a hair over two inches smaller than the world record typical whitetail, shot by Milo Hansen in Saskatchewan in 1993.
The buck was killed by Dustin Huff, an Indiana hunter who's just as shocked over the experience as anyone else.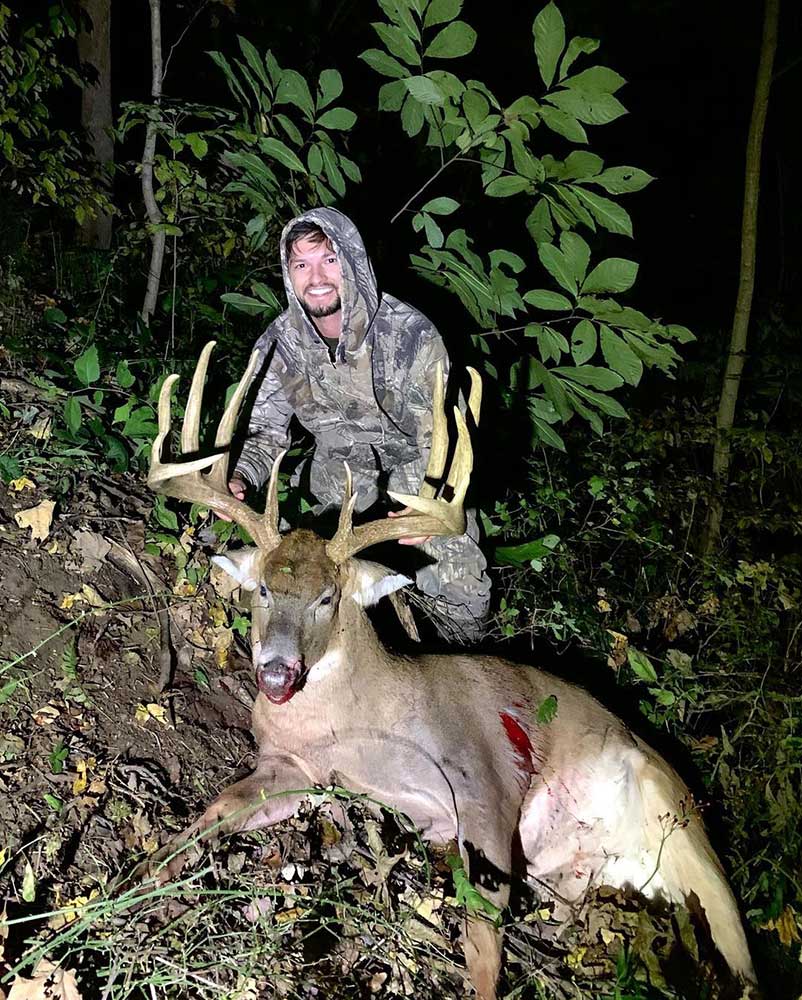 Huff said the hunt happened on the evening of November 4, 2021 in his hometown of Greensburg, Indiana, which is located in Decatur County. The buck was killed on "a family friend's 185-acre farm," according to Huff, who "shot him at 6:40 p.m. that evening."
"I had no history or knowledge of the deer until I saw him about three minutes before shooting him," Huff explained. "It was crazy."
He used a Stryker Crossbow and a Beman Bolt to drop the deer, qualifying him for the new world record for a deer shot with a crossbow. After harvesting the deer, the process to get it officially measured needed to wait the 60-day drying period, and Huff was able to find an official measurer from the Boone & Crockett Club to conduct the scoring on January 5, 2022, during the week of the ATA Show.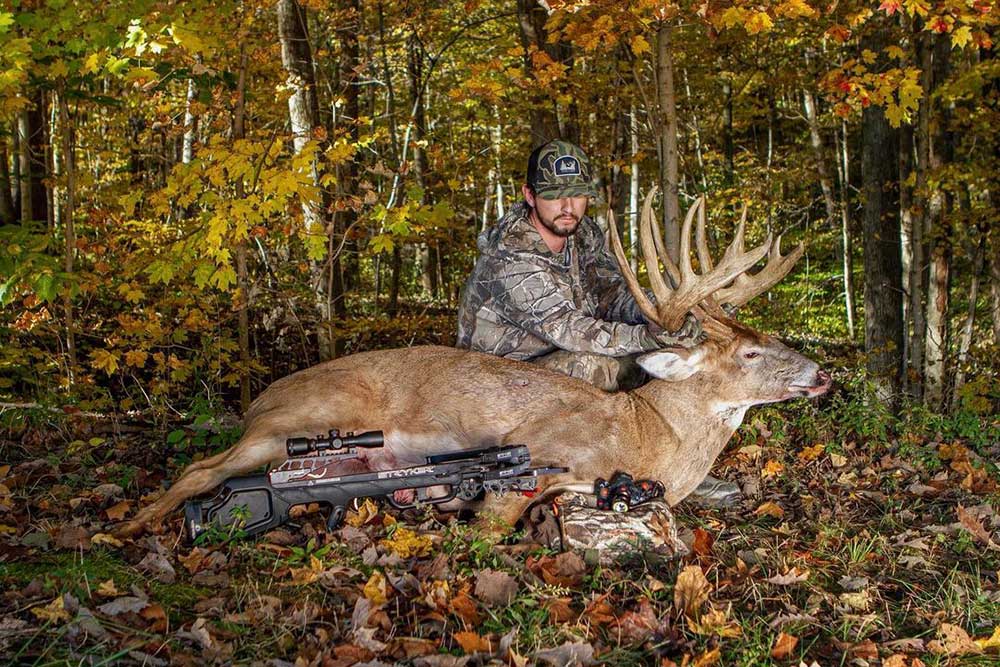 For confirmation, we reached out to the Boone & Crockett Club and spoke with their Director of Records, Justin Spring.
"We do have an official score chart, that was filled out by an official measurer, that is at that 211 and 4/8 number," Spring told us. "It has not been panel reviewed, and it has not gone through our due diligence for fair chase and all the documentation. But we do have that submitted, that is the score that the official measurer came [to], so that will be the entry score."
For context, antler scores are always noted as eighths of an inch because measurements are taken to the nearest eighth inch. That means 4/8 is equal to 1/2, but it's easier to compare to other scores when all the fractions are entered in eighths.
Spring went on to provide a few more thoughts: "From what we can see from the photos and a cursory overview, it does appear to be a valid score on that deer."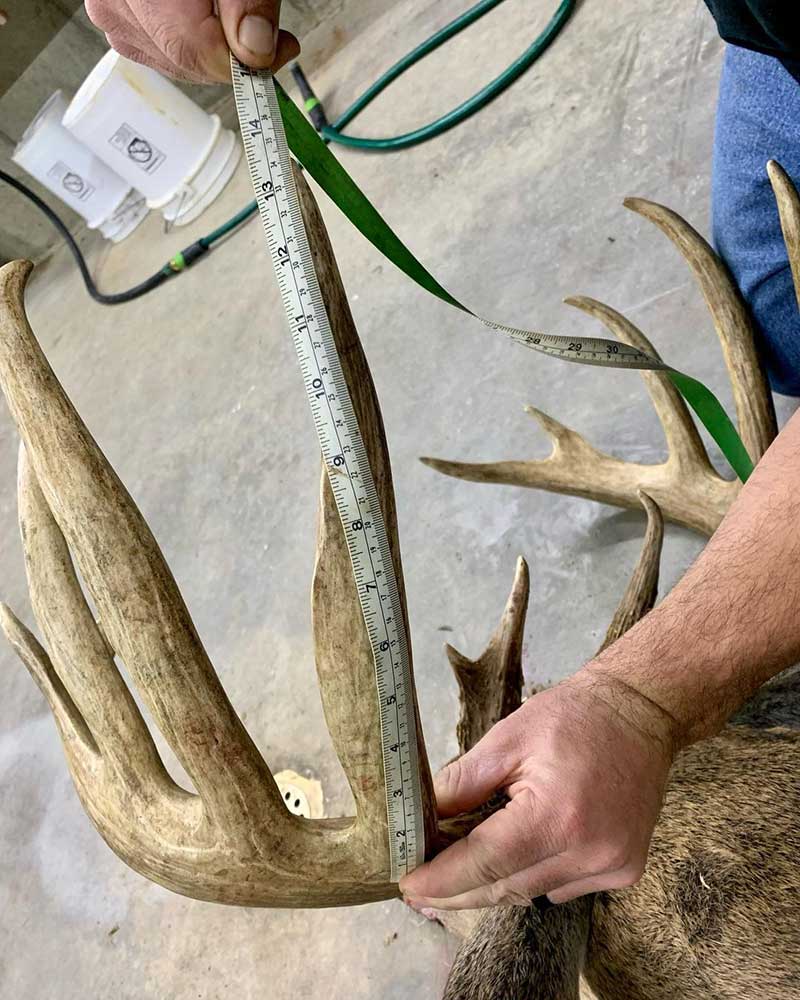 An official declaration, in terms of the B&C record books, will have to wait. Spring explained why: "This one did not get scored in time to be included in our current panel that will take place this spring. The next panel will be in 2025, and when that takes place, the point of the panel is to confirm the initial scoring. Two separate teams of two measurers re-score the head. We're not trying to penalize shrinkage or anything, we're just looking to make sure that initial measurement was done correctly. If there's a tine that was off, or something like that, we will make the correction to that single tine. We try to confirm as much of the original measurement as possible. In our best case scenario, we want our official measurers doing it correct every time, so we're very happy when we are able to confirm it."
The deer, which Huff has nicknamed Moose "because that's what he looked like coming through the woods," is making the rounds. Huff intends on traveling with the mount, giving people a chance to see it at hunting and outdoor shows, conventions, and gatherings throughout the season.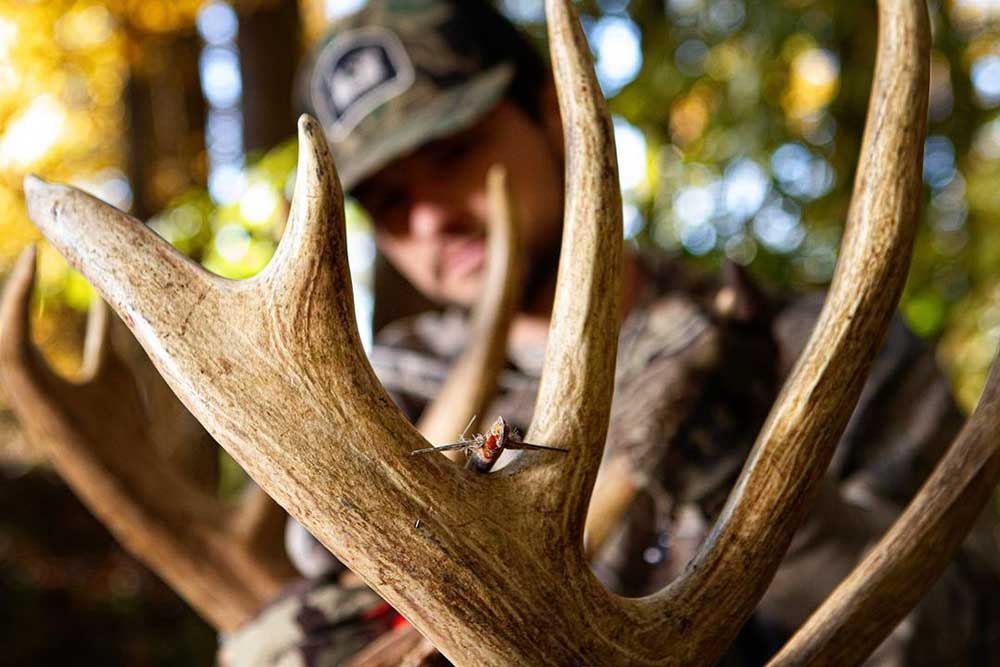 "I plan on doing a bunch of shows this year all over the country and sharing my story," Huff said. "The reaction has been unreal, people are just amazed at how much mass the deer's antlers have. People are loving it."
When Huff isn't killing world record-caliber deer, he's writing and performing country music, which can be heard on all online streaming services as well as his website, olhuff.com. The self-proclaimed "Redneck of the Woods" is also on Instagram @thehuffbuck and Twitter @DustinHuffMusic, and certainly seems to be staying humble about his notable, record-setting experience.
"I'm just still shocked about the whole thing," Huff told us. "I mean, I never guessed anything like this would ever happen to a guy like me. I'm super thankful for it and all I got to say is God works in mysterious ways. It couldn't have been more perfect timing."
NEXT: THE MEL JOHNSON BUCK: THE WORLD RECORD ARCHERY BUCK THAT HAS STOOD FOR 50+ YEARS AND COUNTING
The post Indiana Hunter Reacts to His 211-Inch Typical Whitetail Likely Becoming No. 2 All-Time appeared first on Wide Open Spaces.