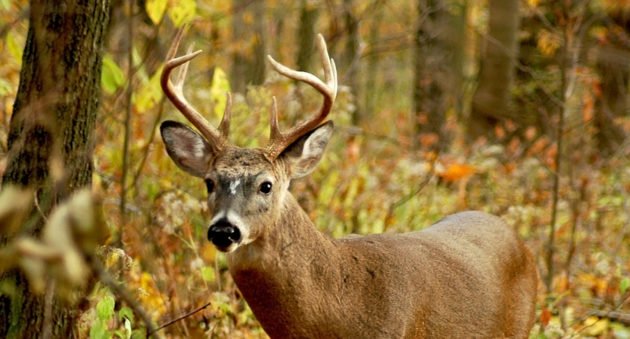 This what you need to know to hunt deer in Indiana.
The state of Indiana is often overlooked by deer hunters. We get it. The Hoosier state is quite unassuming in both terrain and features. It is also sandwiched between two far more famous whitetail deer states in Illinois and Ohio. Even Kentucky, which borders to the south, seems to get more clout from hunters than Indiana.
However, Indiana has really flown under the radar as a spot to bag a buck of record book proportions. This state has produced world class deer like the 305 7/8-inch Tim Beck buck. This deer was a 36-point, non-typical monster that fell during firearms season in Huntington County in 2012. Strangely enough, even though this deer holds a spot high on the all time Boone & Crockett list, it is rarely mentioned when talking about the largest hunter-killed whitetails.
Maybe that is the way most Hoosier hunters like it, that their state is glossed over so often. That opens up opportunities for hunters who are willing to give this otherwise ordinary-looking state a second look. This is everything you need to know about hunting opportunities for deer in the Hoosier state, from legal weapons and seasons to hunting license costs.
Indiana deer season dates
Season dates for Indiana fall closely in line with what you may be familiar with in neighboring states like Michigan and Illinois. We do need to briefly mention the state's deer reduction zones, because they do have slightly longer season dates. These zones are the Indiana Department of Natural Resources' attempt to reduce some urban deer populations. These areas come with slightly higher bag limits. More on that later.
Youth season: September 26-27
Archery season: October 1-January 3, 2021
Firearms season: November 14-November 29
Muzzleloader season: December 5-December 20
Special antlerless season: December 26-January 3, 2021
Reduction Zone season: September 15-January 31, 2021
As you can see, there are plenty of options for Indiana hunting no matter what season or weapon you enjoy using the most.
Licensing and bag limits
If your birthday falls after December 31, 1986, you are required to complete a hunter education class if you wish to purchase a license. If you recently moved to the state, you must be a resident for at least 60 days before you can buy resident licenses.  Indiana breaks down their deer hunting licenses by either weapon or bundles. Archery, firearm and muzzleloader licenses are only valid for those specific seasons. If you are planning to spend a lot of time hunting in Indiana or if you simply want the best value, consider one of their license bundles. With the exception for the reduction zones, the bundles can be used across all seasons for up to three deer. The bag limits for the bundle is three deer. Of those three, two are for antlerless deer while one can be either sex. Keep in mind that Indiana defines an "antlered deer" as one that has at least one antler that is three inches long.
Archery license – Resident: $24, Non-resident: $150
Crossbow license – Resident: $24, Non-resident: $150
Firearms license – Resident: $24, Non-resident: $150
Muzzleloader license – Resident: $24, Non-resident: $150
Deer license bundle – Resident: $65, Non-resident: $295
Just like many states in the Midwest, the Indiana DNR has set some reasonable license fees for both residents and on-residents. It makes this state much more affordable to hunt during deer hunting season than some more popular western locations. If you are looking for an out-of-state adventure on a budget, it is an option to consider.
If you are planning on hunting one of the deer reduction zones we mentioned earlier, the bag limits are higher, up to 10 deer in a season. Only one of those can be an antlered deer. Note that these areas have "earn-a-buck" requirements that force you to harvest at least one antlerless deer before taking an antlered one. The state sells special deer reduction zone licenses for these areas.
Legal weapons
We do want to talk about equipment briefly because Indiana is another one of those Midwestern states with a few quirks in the regulations as far as legal hunting gear goes. They have started to open things up a bit in recent years though. Crossbows are legal equipment for everyone in archery season and in deer reduction zones. No medical restrictions in place. Airbows are not legal in the Hoosier state.
The main thing we want to talk about here are firearms. Indiana is another state that was stuck with antiquated laws that only allowed shotguns, handguns and muzzleloaders as legal firearms for years. Hunters had to make do with the limited ranges those firearms offered. However, in recent years the state finally adopted regulations formally legalizing "straight wall rifle cartridges." Originally, these guns were only legal on private land, but they have since opened up the option for public land hunters too.
This means you can use certain rifle cartridges for hunting Indiana, so long as they do not have a necked casing. Officially, the regulations state the case must be no longer than three inches and have a minimum length of 1.16 inches. The most popular long guns in Indiana are arguably being chambered in one of two calibers, and those are .450 Bushmaster or .350 Legend. Those are also the two rounds that have proven most popular in neighboring Michigan in recent years. It's a Midwest thing. Of the two, .450 Bushmaster is a harder-hitting round with a ton of stopping power for hunters who don't like tracking. The downside is that it has a lot of recoil. The .350 Legend brings faster muzzle velocities and is lighter on the recoil side, making it popular for youth hunters. It depends on what you are looking for in a deer rifle.
Some other notable legal calibers include .357 Magnum and .44 Magnum, both are solid deer hunting choices. Other straight walls now legal for deer include larger calibers like .458 SOCOM, .454 Casull, .475 Linebaugh and .480 Ruger. The regulations also permit some more uncommon and larger choices for whitetails like .500 Smith & Wesson, .50 AE and even .50 Beowulf.
If you are a handgun hunter, note that Indiana draws the line on legal handgun rounds at 10mm Auto and .40 S&W at the smallest. Anything smaller than that is not usually considered a deer round anyway, so that should not be too much of a concern. Whatever you choose, keep in mind that full metal jackets are not allowed for deer in Indiana and the regulations also limit you to no more than 10 cartridges on your person while taking advantage of the new straight wall rifle rules.
Where to hunt in Indiana
Hunting in the Hoosier state has its positives and negatives. Much of the northern and central part of the state is made up of flat farmland that grows plenty of big bucks. The downside is that much of it is private property and off-limits unless you can secure permission from a friendly landowner. Most of the public land seems to be centered mostly in the southern part of the state. If you want to hunt the same county where Tim Beck took his 300-inch monster, consider the J.E. Rousch Fish and Wildlife area in Huntington County.
In the southern part of the state, consider the sprawling Hoosier National Forest, which features plenty of prime whitetail habitat. A small section butts up against the state's southern border with Kentucky and the Ohio River, which should provide plenty of nutrients and hiding spots for big bucks. Slightly north of that is the Yellowwood State Forest and Morgan-Monroe State Forest. These areas receive a fair amount of pressure during firearms season, but they have both produced great bucks for hunters willing to work for their quarry.
You may have to put in a good deal of homework to find a public hunting area that holds good deer and is lesser-utilized than some other spots. There are some guide services in Indiana, but you are going to want to read the fine print carefully because there are also plenty of high fence canned hunt operations running throughout Indiana and some are not entirely clear upfront what type of service they are providing.
Overall, Indiana is a solid place to consider for any hunter wanting a DIY-style experience and the opportunity at a big buck without totally breaking the bank. We cannot wait to see what monsters come out of the Hoosier state this season!

For more outdoor content from Travis Smola, be sure to follow him on Twitter and check out his Geocaching and Outdoors with Travis YouTube channels. 
NEXT: THE AXIS DEER AND HOW THEY'RE IMPACTING PARTS OF THE UNITED STATES
WATCH
The post Indiana Deer Hunting: An Underrated State to Bag a Big Buck appeared first on Wide Open Spaces.