Getty Images: Andyworks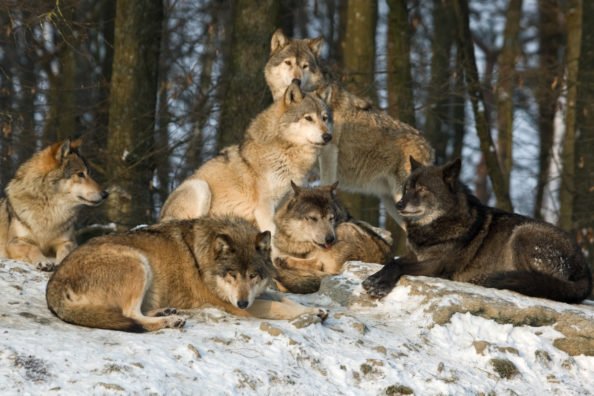 Idaho's wolf hunt just got more controversial.
Hunting for wolves has been one of the hot button topics of conservation the last few years and the Idaho Department of Fish and Game may have just added a little more fuel to the fire with the announcement of payments set to be split with hunters and trappers for a confirmed harvest.
The Associated Press reports that Fish and Game is teaming with the Foundation for Wildlife Management (F4WM), a nonprofit, to provide this new reimbursement program, and some of the payments are nothing to sneeze at. According to AP, hunters and trappers could earn $2,500 for taking a wolf in an area where wolves are preying on livestock is a problem. The money for this $200,000 fund will come from licensing sales and fees. The funds will be distributed to hunters through the state's Wolf Depredation Control Board.
Fish and Game will determine the areas where predation of livestock is a chronic problem. However, it seems they are going with a definition of areas where wolves may have killed at last one domestic animal each year for the last five years.
While ranchers have often been the biggest advocates for the wolf hunt to protect their livestock, plenty of hunters have also registered complaints about the animals feeding on native deer and elk herds. The reimbursement program will also target problem wolves there. Hunters will be able to earn $2,000 per wolf for taking one in certain hunting units defined by Game and Fish.
The AP notes that hunters will earn $1,000 per wolf in the northern tip of the state. In other areas of the state, hunters can earn $500. The program will run until funding runs out or the end of June 2022, whichever comes first.
To be eligible to earn reimbursement, hunts must be a current member of the F4WM before the wolf is taken. They ask hunters to save receipts for wolf-hunting related purchases prior to their hunt as these will need to be sent to F4WM to earn the reimbursement. According to the F4WM's website:
"These can include items such as fuel, firearms, ammunition, traps, game cameras, outdoor clothing/gear, license & tag fees, ATV/UTV, 4-wheeler, truck purchase or payments, etc," the site reads.
Hunters and trappers will also be required to submit a copy of a report by Idaho Fish and Game of the harvest that includes information on where and when the animal was taken.
It seems the F4WM anticipates some hunters may be uneasy about mixed the prospect of money with an activity such as hunting. It appears they will have a zero-tolerance policy for anyone who causes problems in pursuit of cash from the program.
"It is important to note that those intentionally case drama or conflict will be suspended from reimbursement eligibility indefinitely depending on the situation," a statement from F4WM Executive Director Justin Webb reads on the site. "Theft of gear or wolves will not be tolerated and will be grounds for immediate permanent termination from reimbursement eligibility."
The statement also says anyone who falsifies Game and Fish information, or any fraudulent submissions to the program will be turned over to authorities for further investigation.
The news of this program comes hot on the heels of new regulations for wolves in Idaho that allow night hunting, the use of dogs, and expanded trapping in the state. The reveal that hunters will now be able to be compensated for their hunts will likely ruffle some more feathers.
The AP notes the U.S. Fish and Wildlife Service is currently in the first month of a year-long review of gray wolves in the West. The hope of some groups is the predators will be relisted under the Endangered Species Act, which could halt wolf hunting again depending on the results.
We will keep on eye on both these stories and bring more updates as they come here at Wide Open Spaces.
Products featured on Wide Open Spaces are independently selected by our editors. However, when you buy something through our links, we may earn a commission.

For more outdoor content from Travis Smola, be sure to follow him on Twitter and check out his Geocaching and Outdoors with Travis YouTube channels.
NEXT: THE AXIS DEER AND HOW THEY'RE IMPACTING PARTS OF THE UNITED STATES
WATCH
The post Idaho Hunters Can Make Up to $2,500 for Every Dead Wolf Through New Reimbursement Program appeared first on Wide Open Spaces.