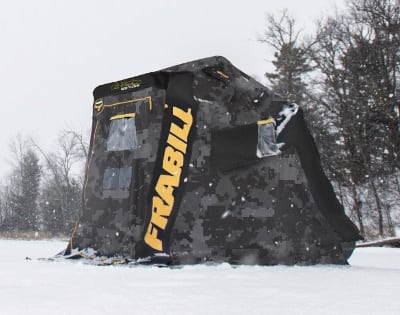 Legendary angler and National Freshwater Fishing Hall of Fame inductee, Dale Stroschein, is a USCG-licensed charter captain and professional ice guide who has plied the storied waters of Wisconsin's Door County and Green Bay for over 30 years. The six-foot, four-inch Stroschein is also a dedicated Frabill pro-staffer, regularly lending his significant experience and expertise to new product development and design. "I've been with Frabill my entire ice-guiding career because the people who engineer their products actually use them and ice fish themselves," he says. "That's why no details are left out."
Stroschein's lengthy proportions give him a unique perspective on most ice fishing shelters, especially the smaller flip-over models designed for one angler. "Lightweight, one-person flip-over shelters that can be towed by an ATV or snowmobile, placed in the back of a UTV or easily pulled by hand are the key to fishing comfortably while staying mobile," says Stroschein, who stays in near continual motion on the ice while hunting down Green Bay's roaming walleye schools. "But for taller anglers like me, many models can feel overly confining."
Recognizing the need for a nimble, new one-angler shelter boasting a bounty of optimized interior space and professional-grade features, Frabill recently tapped Stroschein for help with the development of the new Frabill Pro Series Stroschein 1350 Ice Shelter, available now for the 2016/2017 ice fishing season.
Finished with a distinctive black and grey digital camo exterior and ultra-efficient seat-on-trunk storage and seating inside, the Stroschein 1350 is the roomiest, fully-insulated one-angler shelter in Frabill's extensive line. But all this extra space doesn't come with excess weight or bulk.
The new Stroschein 1350 provides a generous 64 inches of headroom inside, unlocking the full potential of its 11.5 square feet of fishable space. "The increased depth and roof height make this house better adapted to fishing with longer rods and much more comfortable in general," says Stroschein, who points out that despite its extra roominess, the trim, 64-pound Stroschein 1350 still delivers the best of what anglers expect in a solo shelter. "Its relatively compact tub size makes it easy to load, unload and haul all your gear to and from your spot, and it's still small enough to heat with a small heater and little propane usage."
The new Stroschein 1350 incorporates full quilted insulation to protect its occupant from the bitter cold, while the non-telescoping, flip-and-fish frame gets anglers fishing in just seconds. Inside, Frabill's popular Boat Seat On Trunk provides anglers with a swiveling, folding, cushioned seat and backrest for all-day angling comfort atop a molded, reinforced, high-impact plastic trunk for convenient and secure storage of gear.
NEW Frabill Pro Series Stroschein 1350 Shelter
Item 640330

¾" steel flip-and-fish frame

Rugged thermo-formed base

Distinctive Pro Series Camo exterior

5 square feet of fishable space

Well-placed windows and openings

Efficient Boat Seat on Trunk seating

600D tent construction

Full quilted insulation

Folded dimensions: 58.5"L x 35.5"W x 24"H

Dimensions when set up: 106"L x 35"W x 64"H

Weight: 64 lbs.
Anglers on a quest for the ultimate one-person flip-over ice fishing shelter can call off the search. The distinctive Frabill Pro Series Stroschein 1350 delivers optimized space and signature performance in a compact, fully insulated house that functions as efficiently as the man it's named after.
.  
The post Ice Fishing News: One and Done appeared first on .