Reported by gomn.com. Anglers and ice goers need to be patient. There have been more ice-related deaths in Minnesota this winter than in the previous two winters combined – and it's only December.
Two women died in separate incidents in northern Minnesota over the weekend, when the ATVs they were riding broke through thin ice. Their deaths brought the total number of ice-related fatalities this winter to five.
All of these incidents involved a snowmobile or ATV, the Minnesota DNR told GoMN, and includes the death of a couple who drowned on Upper Red Lake in November.
The past two Minnesota winters have seen a total of two ice deaths, according to figures sent to GoMN by the Minnesota DNR.
The last time there were as many as five deaths was winter of 2014-15, but that was for the whole period from November-April. That figure has already been reached by mid-December this winter.
DNR urges 'extreme caution'
These deaths follow a warmer-than-average start to winter, which has left ice conditions inconsistent on lakes throughout the state.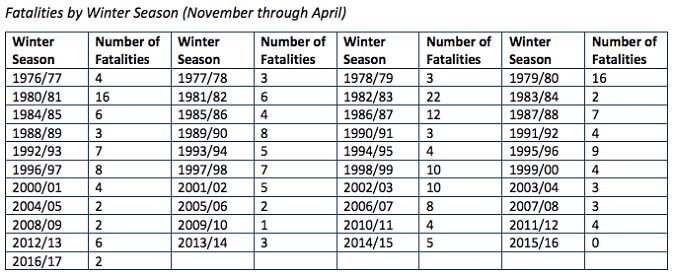 But that is not stopping off-road vehicle riders and fishing enthusiasts from taking to the lakes.
There has been a flurry of lake ice emergencies over the past month, with several non-fatal incidents reported as well.
A DNR spokesman told GoMN deaths are "trending in a very high direction this ice season," even despite a chance in ice thickness recommendations.
In previous years, the DNR suggested a thickness of 5 inches as the minimum required to take an ATV or snowmobile out onto the ice.
Now it says 5-7 inches is required, as it takes into account the "increased weight of the popular side-by-side ATVs."
After a deadly start to the winter season, the DNR is pleading with lake users to exercise extreme caution before heading out.
"Use a chisel to check the strength of the ice frequently, and always wear a life jacket or float coat (other than in a vehicle)," spokeswoman Lisa Dugan said. "A life jacket is the one piece of equipment that can keep your head above water and allow you to fight to survive a fall through the ice."
The post Ice deaths in Minnesota are at highest level in years appeared first on ODU Magazine-North America's #1 Digital Fishing Magazine.