YouTube: Hushin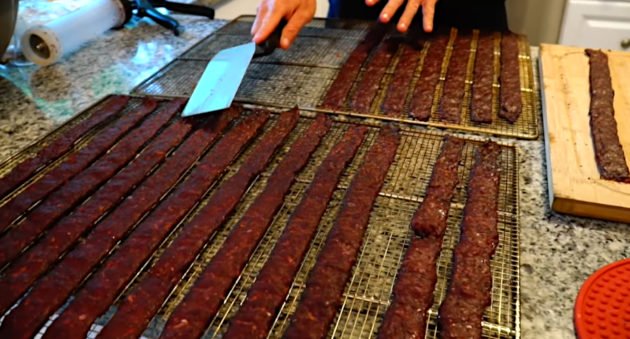 These wild game snack sticks look delicious.
Can you feel it? The fall and hunting seasons are finally getting closer. We simply cannot wait to fill up our freezer with some more, fresh and organic wild game meat. Maybe you still have a little bit left over from last season that you are not quite sure what to do with it.
One of our favorite hunting YouTube channels, Hushin, has an idea of what to do with some of that leftover ground wild game meat. Delicious snack sticks!
For this video, they are using elk and axis deer meat, but you could use ground meat from just about any big game animal. These things look mouthwatering. Do not watch this video on an empty stomach!
Snack sticks may seem like something only a specialty butcher or deer processor can do, but as this video demonstrates, it is not that hard to do this yourself. All you need is two to five pounds of ground meat, the proper seasonings and cures. Get a simple jerky shooter and you are well on your way to making delicious wild game snack sticks your friends and family will love.
The process is time-consuming, but those sticks look nothing short of delicious. They would be perfect for that road trip to hunting camp this season.
Personally, I have always preferred the snack sticks over jerky. The great thing about snack sticks is there are plenty of options to customize the taste. The only limits are your imagination. I have personally always enjoyed original or Teriyaki flavor. He also showed that these can be made with or without a case for even more variety. I'm thinking I might have to go pick up some supplies and try making some myself with some of my leftover venison from last season!

For more outdoor content from Travis Smola, be sure to follow him on Twitter and check out his Geocaching and Outdoors with Travis YouTube channels. 
NEXT: THE AXIS DEER AND HOW THEY'RE IMPACTING PARTS OF THE UNITED STATES
WATCH
The post Hushin Shows How to Make Delicious Wild Game Snack Sticks appeared first on Wide Open Spaces.