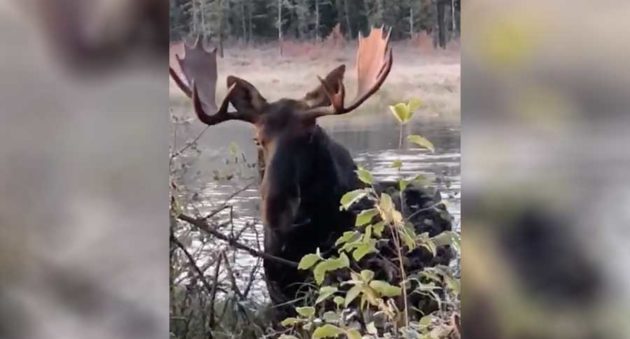 When you're hunting for bull moose and it gets this close to you, could you hold it together?
Hunting for a bull moose in Ontario, Canada happens to be on the bucket list for many of us who would like nothing more than to get this up close and personal with the largest male member of the deer family.
Well, be careful what you ask for because these fellow hunters just did it, and it's as earth shattering of an experience as it looks like. First, the guide makes some beautiful calls and gets the big bull's attention. Then, when it looks like he might hang up for a moment, all bets are off and these guys are about to get a nice bull in their laps.
Here's what it looks like to kiss a moose on the nose, or at least have every opportunity to do so!
So you want to moose hunt? Think you can you handle it?Here is an unforgettable experience I was lucky enough to capture using my cell phone. I was hunting in Ontario Canada with Ignace Outpost and Airways. This is what you get to experience when you have an amazing guide (Brennen Commisso) who has incredible moose calling skills! Make sure you turn the volume up! Enjoy!Note: I had already filled my tag…I was filming for a friend of mine!

Posted by Jeremy Mickelson on Tuesday, October 8, 2019
Facebook user Jeremy Mickelson said that he was hunting with Ignace Outpost and Airways guide Brennen Commisso, who Mickelson says "has incredible moose calling skills!"
Since he had already tagged out on a moose of his own, Mickelson said that he was strictly there to film one for his friend.
Well, we're pretty sure that his friend has since applied for his Ontario moose tag and had a little talk with the outfitter!
Congratulations and thanks for sharing!
Looking for a little more? Follow my webpage, or on Facebook and Twitter.
NEXT: WATCH A BULL MOOSE TURN INTO A SUBMARINE RIGHT BEFORE YOUR EYES
WATCH
The post Hunter Almost Gets Walked Over During Bull Moose Encounter appeared first on Wide Open Spaces.