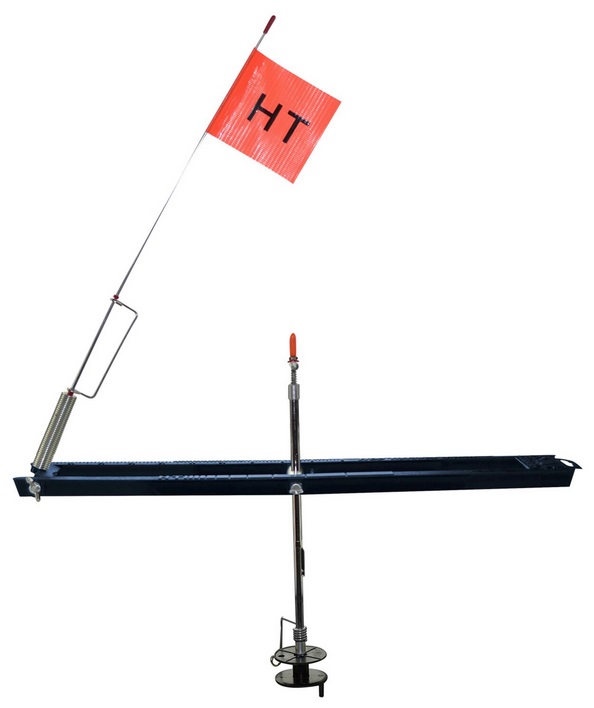 Serious ice anglers have known for over 40 years they can trust the smooth, unsurpassed reliability and versatility of HT's Polar Tip-Ups. After all, HT has been blazing new advancements in Polar tip-up technology for over 40 years, and it's still the only series of tip-ups on the market fully guaranteed against freeze-up!
The innovations continue for 2018, with the tip-up experts at HT taking another bold step forward by developing an adjustable flag spring base that allows additional degrees of trip tension. That's right! Now, in addition to raising or lowering the tube mechanism to increase or decrease the flag angle and increase or decrease trip tension – you can also increase or decrease the angle of the flag wire itself, providing an even greater degree of tension adjustment! Using an extra large dead bait, exceptionally lively minnow or heavier than normal presentation while fishing deep or in current? Simply ratchet the flag base backward to increase the flag wire angle and increase trip tension. Dealing with especially light-biting or finicky walleyes? Ratchet the base forward to reduce tension and create a silky-smooth, ultralight trip! To really take things to all-new extremes, try using the traditional raising of the tube mechanism in conjunction with these flag base adjustments to gain a never before achieved spectrum of tension adjustment.
Polar Blue Professional Tip-Ups are available with either 200' or 500' capacity spools.
This winter, improve your game! Increase your versatility and productivity with the new Polar Blue Professional Tip-Up. For more information, write: HT Enterprises, Inc., P.O. Box 909, Campbellsport, WI, 53010, or visit WWW.HTENT.COM .
The post HT's POLAR BLUE PROFESSIONAL TIP-UP appeared first on .