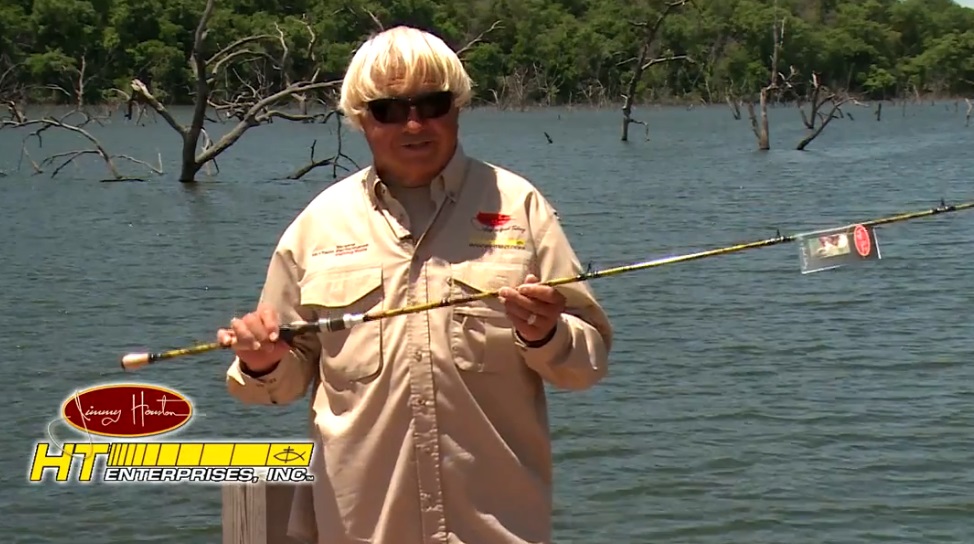 HT Enterprise's Jimmy Houston signature line of products now part of the Ridge Road Outdoor Marketplace & Order Fulfillment Center to expand their reach and sales.
Jimmy Houston, legendary professional fisherman has joined up with Ridge Road Outdoors to promote several lines of products that he represents. 
The first is a signature line of fishing rods from HT Enterprises. Industry innovation leader HT Enterprises, Inc. has teamed up with legendary professional tournament angler Jimmy Houston to develop a premium line up of high-performance, high-modulus graphite rods.
Available in an array of telescopic poles, super-sensitive pan fish rods, specialty crappie poles, and camouflage-patterned bass rod and reel combinations, these custom-designed systems are sure to increase your catch, no matter what species you're fishing!
The second line that you see him all the time in is his SolarBat Sunglasses.  SolarBat sunglasses are made with high quality polarization filters to reduce glare, effectively giving you high-definition vision even under bright sunlight. And our polarizing film is encapsulated within the lens so it will never peel off or fade. Solar Bat® uses selective wavelength filtration technology to highlight sport-specific colors, while bleaching out
SolarBar double coats their Noctular® lenses – both front and back surface – with a super scratch coating. The Noctular® material provides a total UV block and for added protection they incorporate a UV block into the polarizing film as well. All Solar Bat® lenses are constructed of proprietary Noctular® lens material. Glass and hard resin lenses are for wimps who are not serious about outdoor performance. The Noctular® material far exceed all government standards for impact resistance and are infinitely safer to wear than glass or hard resin lenses.  Also available in prescription lenses.
These two product lines of Jimmy Houston Signature products are now available through RidgeRoadOutdoors.com and available to all Ridge Road Outdoors Country Club members at special membership savings. Checkout their brand showcase on http://ridgeroadoutdoors.com/m-jimmy-houston
The post HT Enterprises signature line of Jimmy Houston rods now available Ridge Road Outdoor Outdoors appeared first on .