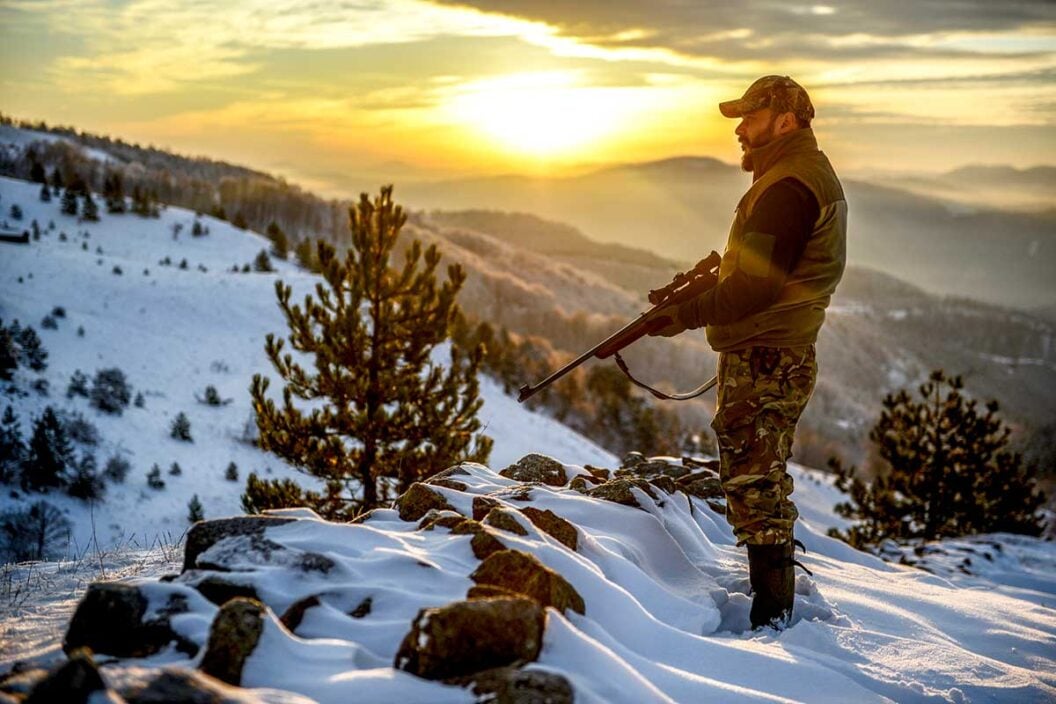 The late season is exceptional for big- and small-game hunting. Snow pushes elk and deer into lower-elevation areas, making them more accessible for late-season hunters. A fresh blanket of powder can highlight fresh rabbit and squirrel signs. However, hunting during January and February can chill you to the bone. Don't let winter weather keep you out of your favorite hunting spots (unless conditions are genuinely dangerous, of course). If you're hunting in the late season, here are a few tips for staying warm during this frigid time.
Wear the right layers
Depending on the weather, head into the field with the right layering system. Wool is my favorite natural material to wear outdoors. It keeps you warm even if it gets wet and is available as a base layer, mid-layer, and outer layer from different retailers. Wear warm base layers underneath thicker outer layers such as fleece or wool. Synthetic base layers are handy if you get sweaty. Their moisture-wicking properties can keep you warm and dry, especially if you're wearing wool over the top of them. Down jackets are excellent insulators against the cold. Synthetic shell jackets are the icing on the cake if precipitation is in the forecast.
Don't forget to layer up your feet, too. I wear a silk liner and a mid-weight wool sock in insulated, waterproof boots. In the past, I've worn cheaper boots that weren't water-resistant enough to be worn in the snow. The heat from my foot melted the snow building up on the tops of my boots, which subsequently froze the top of my boot solid. Being unprepared in the footwear department can turn a wintry hike in the woods into a bad time.
Get some electric vests, socks, and hand warmers
In addition to stocking up on hand and foot warmers, consider picking up some electric layers, too. DSG Outerwear makes several heated layers, from vests to electric socks. Typically, batteries power these electrically heated layers. You can recharge them over and over again. As a bonus, these battery packs double as power banks, too. Stick a charger in your bag, and you can charge up your phone, headlamp, and more when the cold inevitably sucks the battery life out of your electronics. Rechargeable hand warmers are another item you can toss in your pack. I love Zippo's HeatBank 6 fluorescent orange hand warmer; the bright color makes it easy to see when I'm rummaging through my pack, plus it holds its charge for hours at a time.
Pack a hot lunch
Packing a hot lunch is a game changer when spending a cold day in the woods. I like to bring dehydrated meals from Mountain House or Good To-Go on cold days. I stick my camp stove, a small fuel canister, a fork, and a small pot for boiling water alongside my dehydrated meal into my backpack. Then, when lunchtime rolls around, I bring my water to a boil and pour it into my meal bag. For the next 10 minutes, I have a hot water pack to keep me warm while I wait for my food to rehydrate. Then, I enjoy a hot lunch on a snowy mountainside. It always hits the spot.
If you want to get after it, you can cook a full hot lunch in the field. When I opt for this meal, I pack my single-burner camp stove and my cooking ingredients and utensils into my backpack. Breakfast skillets are my go-to backcountry lunch. Before I leave, I crack a few eggs into a Tupperware container with a tight lid. I stick a few pieces of bacon into a plastic bag, too. Diced potatoes, peppers, and onions go into another plastic bag. I also throw a little hot sauce packet into my backpack to kick things up a notch.
When I get to my lunch spot, I cook the bacon first. Then I use the grease to fry veggies. Next, I pour my scrambled eggs into the pan and add the bacon back in. I stir it up until the eggs are done, and—voila–I have a hot skillet breakfast ready to go in the middle of nowhere.
Light a campfire on your breaks
If you're stopping to cook lunch, you might as well start a fire, too. Consider packing a lighter, a small hatchet, and work gloves in your backpack. When you arrive, scour your lunch spot for wood to burn.
Before I light my fire, I build three piles of burnable material: fire starter, kindling, and larger logs. My fire starters are typically dried grasses, forbs, or pine needles. Kindling includes pine cones, small twigs, and wood chips. I'll use my hatchet or my hands to break down dead trees or downed logs into smaller, more manageable sizes. Then, I build myself a little teepee starting with fire starter, then kindling, then a larger log or two, and set my camp stove lighter to it. After some attention, your campfire should be rolling in no time. Make sure it's entirely out before you leave your lunch spot.
Between wearing warm layers, eating hot lunches, and starting campfires, you will stay warm on your late-season adventures. Plus, if you get a deer down, you'll have everything you need to cook fresh steak in the field, too.
The post How to Stay Warm During Late-Season, Cold Weather Hunts appeared first on Wide Open Spaces.