When you own any Hobie watercraft, it makes it a lot more intriguing when you can paddle to areas where bigger vessels cannot get to. You will certainly experience a different perspective of a sunrise or sunset on the water in a quiet, secret cove, far from a campground or perhaps on a private island.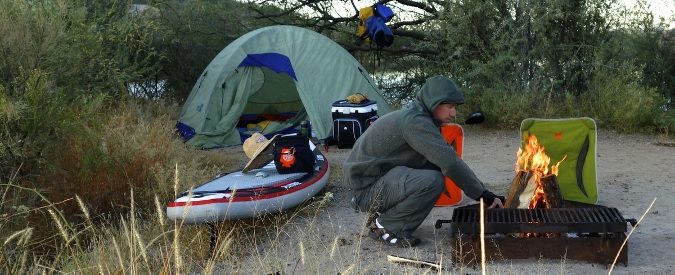 There are plenty of serene and beautiful places in the world to experience your own overnight adventure. You just have to be prepared. Here are the must haves for our overnight SUP adventures:
Inflatable board or touring board: We find these two to be the best functionally because they have substantial volume and can handle loads very well. The Hobie inflatables are great if you are near an area where you have to pull your board up on some rocks, or deflate it slightly to use it as a sleeping pad. They also have plenty of tiedown points and handles for maneuvering and loading overnight items.
Firewood: This can easily be bundled up and stacked on the nose or tail.
Food/water: Make a list of your favorite menu items and think about the hours or days you will be out there. Try to pack just enough for your time spent. Mountain House meals, or dehydrated meals are nice options. A cooler can be easily strapped down, too.
First Aid Kit: Enough supplies for an emergency.
Headlamp/lights: Nose and tail lights, or any device that is not heavy for camping. (Also, a small camp chair and binoculars take priority for the birder in me.)
Dry bags or wet bags: They are easy to store, consolidate things and strap to a SUP.
Ropes or straps: In case you need to tether boards that cannot be carried to your overnight spot.
Small tent, inflatable pillow, sleeping bag: Sometimes if I'm really lucky Nate will bring an inflatable mattress along. That makes for a great night's sleep!
Remember to check the forecast. We have been on overnight adventures at 25° up to 100° and we were always prepared, because we knew before hand what clothing to pack.
Get out there!
The post How to Pack for a SUP Overnight appeared first on ODU Magazine-North America's #1 Digital Fishing Magazine.