Sereena Thompson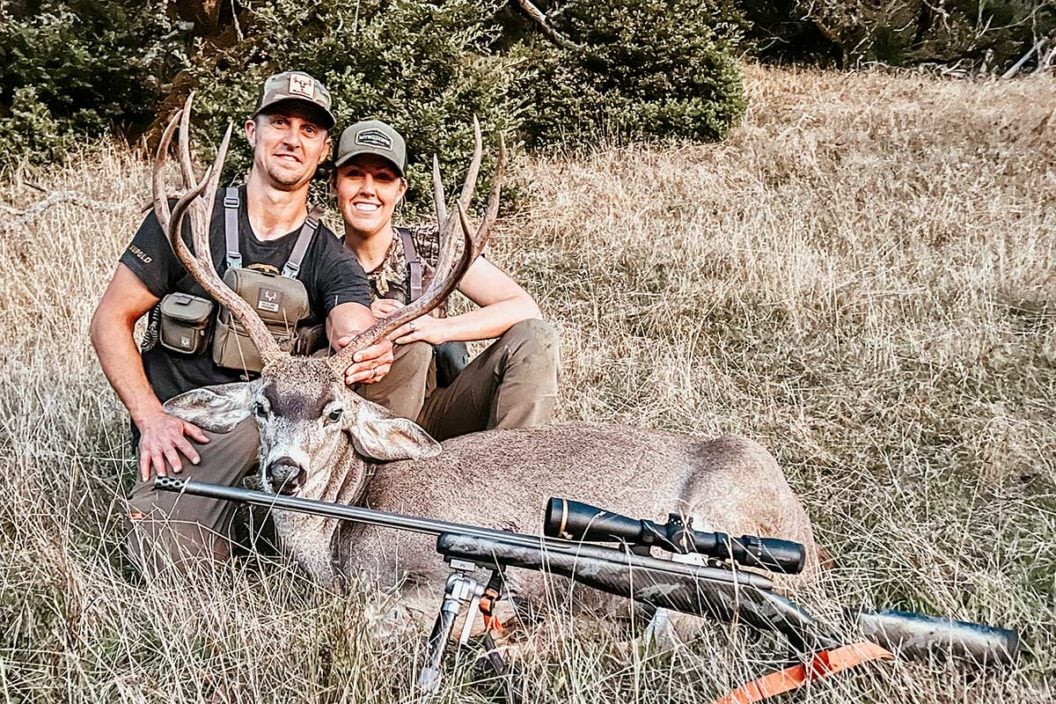 Most hunters will argue the blacktail deer is the most challenging deer to hunt in North America. There are two subspecies, the Columbian blacktail deer and the Sitka blacktail deer. Both subspecies are native to states and provinces of the Pacific Northwest.
It doesn't matter which one you hunt. You will find this is one of the most challenging big game species deer hunters can pursue. From where to find them to how to hunt them, this is everything you need to know about blacktail deer hunting.
Where Are Blacktail Deer Found?
Experts believe blacktails used to range much further east. In 1846, while traveling across the untamed & unexplored West, Francis Parkman encountered what he thought was an elk near Fort Laramie, Wyoming. Upon shooting it, he discovered it was a blacktail deer.
Today their range is limited to primarily coastal regions of California, Oregon and Washington, British Columbia, and parts of Alaska. The Columbian blacktail is the subspecies you'll find in Northern California, Washington, and Oregon.
There are some in British Columbia, but you're much more likely to find Sitka deer. Sitka deer, named after the town in Alaska, also roam further north in British Columbia and some parts of Alaska. These subspecies are smaller than other mule deer, and local logging practices greatly their populations.
In many places, the ranges of blacktails and mule deer overlap, and as a result, the two sometimes cross-breed, resulting in hybrids. Although blacktails already have many traits of muleys, such as dark tails and large ears.
How Big Do Blacktails Grow?
Both subspecies do not grow as large as their mule and white-tail deer cousins. It depends on the terrain and wild areas they make a home. There aren't as many nutrients at high elevations and the remote backcountry areas in which these deer live that will promote much in the way of increased body size or antler growth. Weights very rarely exceed 200 pounds for either species. For many portions of the blacktail range, you're looking at deer that rarely exceed 90-100 pounds. While that's less venison for the table, they'll be easy to pack out.
Columbian blacktails tend to grow larger than Sitka deer, which have to tolerate much harsher winters. A hunter took the world record for non-typical blacktail in Jackson County, Oregon, in 1988 and scored 194 4/8 Pope & Young. The world record typical with Pope & Young fell in Marion County, Oregon, back in 1969. That buck scored 172 2/8.
Boone & Crockett categorizes blacktail deer with their mule deer, and the world records aren't much more extensive. The non-typical record is 208 1/8 inches, while the typical is 182 2/8.
Showing how rare bucks of this size are, both records have stood for over 50 years now! The records for Sitka blacktail deer prove these deer don't grow that large. If you're used to pursuing 150-inch white-tails in the Midwestern states, prepare to lower your standards.
There is only a one-inch difference between the Boone & Crockett Sitka deer records. Someone shot the typical record (133 inches) in British Columbia in 1970, and William B. Steele shot the non-typical record (134 inches) in Alaska in 1987.
Blacktail Deer Hunting Tips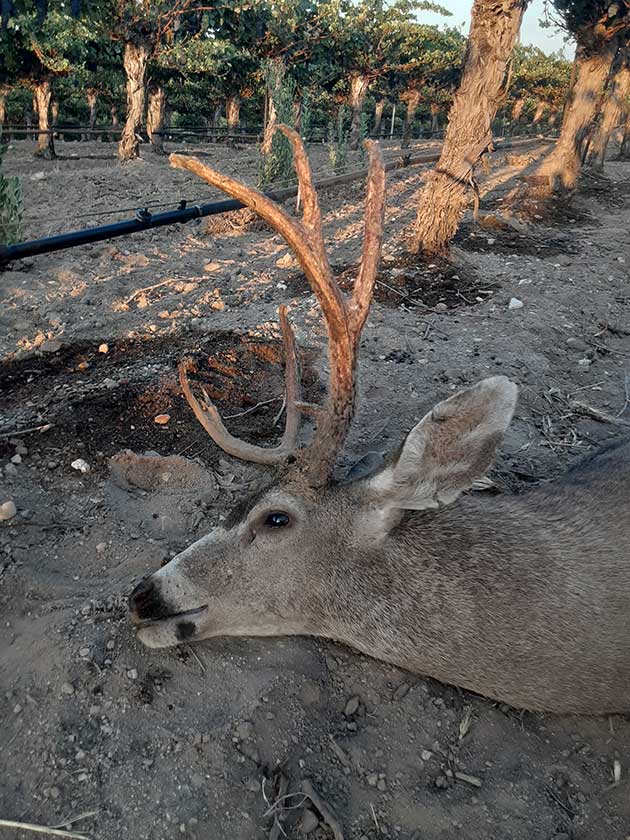 You'll be approaching deer season much differently for blacktails than a white-tail. Treestands are seldom used in blacktail deer hunting unless you can find an area with trail cameras that the deer regularly frequent. For the most part, you'll be looking at spot and stalk or still hunting techniques for the most success. Expect to spend a lot of time glassing before you find the animals.
Time of year is always a factor, of course. The rut for blacktails tends to fall in late November and early December, marking your best chance of catching a big buck off guard.
Move slowly and methodically when using these techniques. Blacktails love to hang out in incredibly dense and brushy areas. You may not see them, and they might not see you until you're right on top of them, which can make for some intense archery hunting scenarios. Many expert blacktail hunters swear by hunting precise cuts almost exclusively.
Be careful with preseason scouting before archery season. Some blacktails, especially Sitka deer, migrate, and their late-season haunts might differ dramatically from early-season ones.
If you're on a migration route and miss your chance at that big buck, odds are you'll never see him again because he's already miles away. When a shot opportunity does present itself, you've got to make it count. Playing the wind is extremely important in blacktail deer hunting because you'll likely be doing a lot of strenuous hiking over rough terrain. You'll probably sweat a lot and work considerably harder to pay attention to how your scent carries.
Remember that the areas blacktails frequent are often quite wet and or rainy. Some hunters swear that rainy conditions are the best conditions for blacktail. Have a good pair of waterproof boots and camo gear that is water-resistant or fully waterproof. Taking a trophy blacktail buck often requires hunters to brave nastier weather conditions than usual–no need to make things harder on yourself by not dressing appropriately.
As for firearms, blacktail are small, but we recommend carrying a decent-sized rifle like .30-06. Remember, you'll be hunting in areas often frequented by brown bears and black bears. It's good to have a larger caliber as a safeguard. For that matter, it's a good idea to bring a buddy along to back you up, too.
Blacktail Deer Hunting in California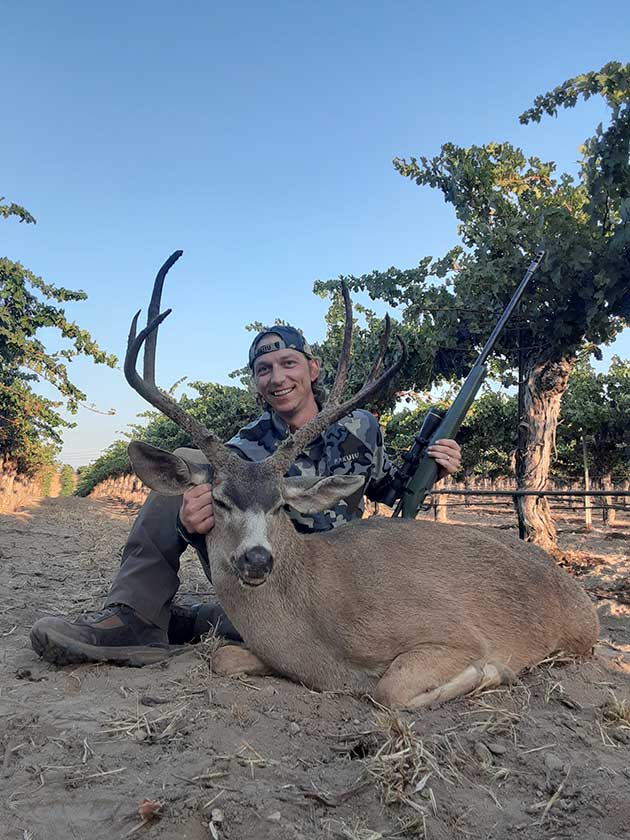 For California Columbian blacktail opportunities, you're looking at the north and western areas of the state. Suppose you're looking to take a buck that qualifies for Pope & Young or Boone & Crockett. In that case, you do have to be careful with California because a lot of cross-breeding happens here. However, success rates are high, which makes this state an attractive prospect for many sportsmen and women.
While shooting these types of hybrid deer is perfectly legal, they might not always qualify for the book. In the video above, Steve Rinella notes that B&C considers anything taken east of Interstate 5 to be a muley. It's just something to keep in mind if you are a purist looking for a Columbia blacktail deer.
The good news is public land opportunities abound in Northern California. Three significant areas include the Shasta-Trinity National Forest, Six Rivers National Forest, and Klamath National Forest. California requires a base hunting license that costs $49.94 for residents and $174.45 for non-residents.
After that, a resident deer tag costs $32.97 for residents and $293.65 for non-residents. A second tag costs $41.04 for residents and $293.65 for non-residents. Remember, you must apply for these ahead of time, and obtaining the best hunting areas, like the ones mentioned above, may take a lot of work.
You can also hire an outfitter to guide you on a blacktail hunt as an alternative to public land. The costs vary, but almost all are three to five-day hunt packages. Expect to pay anywhere from $2,500 to $10,000 depending on the outfitter and size of the deer you're targeting. A bonus to most outfitter hunts in the Golden State is that most take place on private land, so there's less hunting pressure.
Blacktail Deer Hunting in Oregon
Hunting license fees are a bit more expensive in Oregon than in California. Still, you'll likely find much bigger bucks here than in the Golden State. A hunting license costs $33.50 for residents and $167.00 for non-residents. After that, deer tags are $27.50 for residents and a whopping $430.50 for non-residents.
One downside to Oregon is that far fewer outfitters operate there, so you're looking at more of a DIY-style hunt. Try the Rogue River-Siskiyou National Forest, Siuslaw National Forest, and Tillamook State Forest. Don't forget to check out the many public areas in the Cascade Mountains east of Portland.
The Oregon Department of Fish & Wildlife also runs an access program that grants access to certain private lands for public hunting. These logging areas have plenty of precise cuts to glass for big bucks.
Blacktail Deer Hunting in Washington
Western Washington is home to the Boone & Crockett world record for a typical blacktail, a 182 2/8-inch monster that's big enough to make some white-tails look small! Deer like that are rare, but we can dream, can't we?
Again, licensing isn't cheap here if you're a non-resident, but there are some giant bucks to be found.
A resident deer license is $44.90, and a non-resident is $434.30. However, if you're looking to get more bang for your buck (pun intended), Washington does sell combo license packages. A deer/elk/small game package is $835.80 for non-residents. They also have a deer/elk/bear/cougar/small game license for a little more, $956.80.
Again, there are fewer guides in Washington, so you'll probably be looking at a DIY-style hunt. There are hundreds of thousands of acres of public opportunities around the Olympic National Forest for anyone looking for a real challenge. Hunting isn't easy, but hunters willing to work for it see great success there.
Alaskan Sitka Blacktail Deer Hunting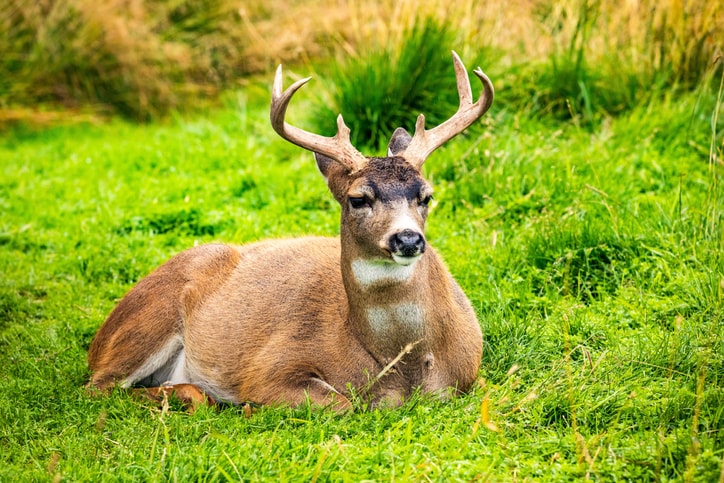 The last frontier is generally considered THE place to go for the blacktail deer hunting experience of a lifetime–especially southeast Alaska. The good news is it's easy to get a hunting license and tags. The prices are even reasonable compared to some other states. Expect to pay $160 for a non-resident annual hunting license and an additional $300 for the deer tag.
The bad news about Alaska? Travel. It is not cheap to fly there, and you're likely looking at multiple long flights in small, cramped planes. The worst part is weather can derail your entire trip. We highly recommend not making a super-tight schedule for your hunt. Things can and probably will change, and it sucks if your seven-day hunt becomes a three-day hunt due to weather issues.
But Alaska is loaded with extraordinary hunting opportunities for black-tail, especially on Kodiak and Prince of Wales Islands. You may want to hire a guide to help you find the deer. While there is plenty to be had, their services aren't cheap. Expect to pay $3,000-6,000 a person for guide services. Remember that price doesn't include your licenses, flights, and tips for your guide.
When you pay for an Alaskan black-tail hunt, you're paying for a hunting experience. The deer hunt is thrilling enough, but you'll be hunting in a lovely place that will help make memories last a lifetime. Another bonus is that you can often get more than one tag in Alaska to get your money's worth out of this hunt. You can often combine the hunt for black-tail with a bit of waterfowl hunting while you are there too.
This article was originally published on June 29, 2021.
For more outdoor content from Travis Smola, follow him on Twitter and check out his Geocaching and Outdoors with Travis YouTube channels.
The post How to Find and Hunt Blacktail Deer in North America appeared first on Wide Open Spaces.