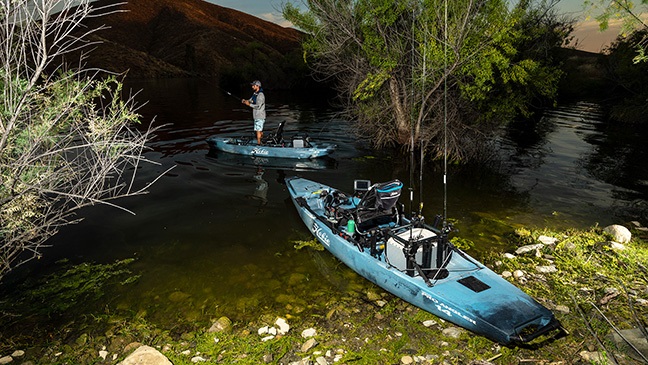 Kayak anglers are buzzing about Hobie's exciting reveal at last week's 2019 ICAST show in Orlando. The chatter centers on the kayak-fishing leader's newest engineering feat—an astonishing 360-degree rotating pedal drive with Kick-Up Fins—an all-new paradigm in kayak fishing boat control. Six years in the making and complete with a nearly 100-page patent registration, the Hobie MirageDrive 360 is available on the Pro Angler 360 Series. The MirageDrive 360 the newest flagship propulsion system in the Hobie kayak fishing fleet – a broad family of craft that includes the affordable Passport with the MirageDrive Classic, versatile Outback that comes standard with the forward and reversing MirageDrive 180, stalwart Pro Angler MirageDrive 180 and 360 collections, and other models.
The International Convention of Allied Sportfishing Trades' (ICAST) New Product Showcase Awards recognize the best new fishing products in multiple categories each year. Voted on by attending product buyers and members of the sportfishing media, these "Best of Category" awards represent the pinnacle of achievement in the sport fishing industry and are intensely competitive. The Hobie Mirage Pro Angler 14 with 360 Drive Technology was awarded "Best in Show: Boats and Watercraft" – no small feat considering the wealth of competition within this crowded segment.
The remarkable new Hobie MirageDrive 360 propulsion system is a 360-degree rotating pedal drive that allows anglers to easily maneuver their 2020 Mirage Pro Angler 360 Series fishing kayak in every direction—backwards, forward, sideways, diagonally—or even effortlessly spin on its own axis. Upping the ante with all-new Kick-Up Fins, which automatically retract upon impact, the new MirageDrive 360 delivers precision boat control and close-quarter maneuverability that's unrivaled by any other human-powered watercraft. With the MirageDrive 360, anglers can go where there want and fish how they want with total control and complete confidence. 
"We're incredibly honored by this award," says Philip Dow, Lead Design Engineer for Hobie. "We're humbled by the positive response from the public and retail. We had lofty expectations, but they've been exceeded. From the On-the-Water demo event to talking with folks in our booth, the new MirageDrive 360 attracted nonstop crowds during the four days of ICAST."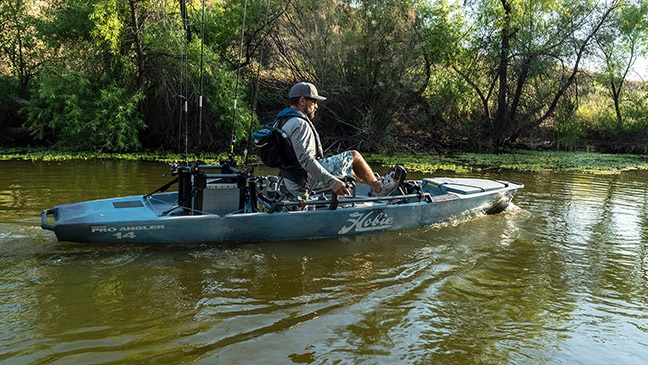 "This award represents years of hard work, research, and development," says Hobie CEO, Doug Skidmore. "It's proof that Hobie is constantly innovating and seeking out solutions to problems faced by kayak anglers on a daily basis and delivering on our goal to introduce watercraft technologies that help anglers fish more easily and catch more fish."
Catch more fish it does! Anglers using MirageDrive 360 will immediately discover they spend less time positioning their boat and more time in the strike zone. Boat control is brought to an entirely new level, affording anglers the ability to surgically position themselves to make the best cast and presentation to the fish, as well as staying on top of fish once found, shallow or deep or anywhere in between.
The MirageDrive 360 allows access to tighter quarters and more fishing scenarios. Imagine being able to turn on a dime and easily maneuver in every direction. Lead Design Engineer Dow says the MirageDrive 360 completely changes how anglers engage with their boat and the environment. "If you're fishing along a shoreline or highly contoured underwater structure, you can follow those nuances exactly with boat placement. Similarly, the Kick-Up Fins afford worry-free access to additional productive waters. Shallow and structure-filled areas become far more manageable. Hobie's MirageDrive360 completely redefines boat control."
The new Hobie Pro Angler 360 Series will be available for purchase in Fall of 2019 at authorized Hobie dealers. The Hobie Mirage Pro Angler 12 with 360 Technology is offered at an MSRP of $4,649; the Hobie Mirage Pro Angler 14 with 360 Technology has an MSRP of $4,799 (excluding taxes and shipping). Learn more at https://www.hobie.com/fishing-kayaks/.
The post Hobie® MirageDrive® 360 Earns More Than Accolades at ICAST 2019 appeared first on OutDoors Unlimited Media and Magazine.