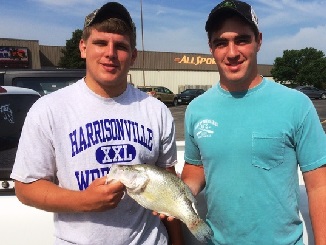 The Missouri Department of Conservation (MDC) reports Austin Campbell of Harrisonville became the most recent record-breaking angler in Missouri when he hooked a white crappie in a Cass County irrigation pond on a trotline. The new "alternative method" record fish caught by Campbell on May 23 weighed 2-pounds, 1-ounce with a length of 15 1/2 inches. Campbell's recent catch broke the previous state-record of a 1-pound, 5-ounce white crappie caught on a trotline in May this year.
"Once my buddy and I pulled the fish up into the boat, we were in shock," Campbell said. "We couldn't believe we caught a nice size crappie. We both thought it was very rare to catch a fish like that on a trotline."
Campbell was using bluegill for bait to try to catch catfish, but instead he caught the record breaking white crappie. Campbell added he didn't know there were state records for catching fish like that on a trotline.
"I didn't know there was a category for catching crappie on a trotline until I saw an article on the Missouri Department of Conservation's website," he said. "I saw the record size and knew we had a shot at beating it."
Campbell added he was just thankful that he and his buddy kept the white crappie after they caught it.
MDC staff verified the fish using a certified scale in the town of Harrisonville. Once MDC gave him confirmation he had a state record, Campbell said he and his friend were super excited and shocked. "We've always dreamed of catching a big fish and having some type of record, but we never ever thought it would happen for real.  We are super excited and can't wait to get back out on the water to catch more fish."
Campbell added he plans on having the state-record white crappie mounted.
The post Harrisonville Missouri Angler Catches State-Record White Crappie appeared first on .