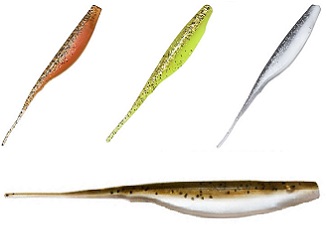 August heat can drive the most serious anglers back to air conditioned easy chairs. Especially when the heat index skyrockets over 100 degrees. Obviously applying sunscreen and wearing protective clothing is a must-do priority. As is keeping your body nourished and hydrated by drinking plenty of water.
Tournament anglers many times have no choice, but to compete under these heat wave conditions. Therefore pacing yourself throughout the tournament day is essential not only to your health, physical condition and mind-set, but also to your angling ability on the water leading to positive weigh-in results. Indeed much easier to say than actually do.
Drop Shotting while drifting offshore allows an angler to make both vertical and horizontal presentations. However, this one technique certainly is not the absolute conclusion nor is it the only answer to the dreaded hazy, hot and humid fishing conditions during the month of August. It is nonetheless a proven technique, which will keep your mind-set sharp and alert, and if you're lucky you may even find a little comfort from a gentle breeze.
Our targeted areas are offshore drop-offs with structure changes within the bottom contours, deep weedlines and isolated pieces of cover. Monitoring your sonar units is imperative to locating these areas. While, dropping marker buoys along irregular contour lines or isolated areas makes for a quick visual guide to stay on target.
Once you have located you're primary offshore target it's time to decide on which size bait to choose. This is when teamwork comes into play. With two anglers working two different size baits at the same time, you will quickly find out which bait is most ideal.
Drop-shotting "Small Finesse Baits"
Smaller Finesse Baits will entice more bites from sluggish bass. Nose hooking finesse baits with smaller hooks and lighter line requires anglers to soften the drag on your reels. Sweep setting super sharp finesse hooks penetrate and hold big bass pegged. Allow bass to run on a smooth drag, while the parabolic action of a long medium-to-medium/light rod will best absorb the shock. This is extremely important when battling large smallmouth bass.
Depending on the size of the forage, utilize baits in the 2 to 4 inch range. Take into consideration the action of these baits. Do they impart a subtle do-nothing presentation or do they impart a swimming action?
By Billy "Hawkeye" Decoteau
The post Go Off-Shore in August appeared first on .