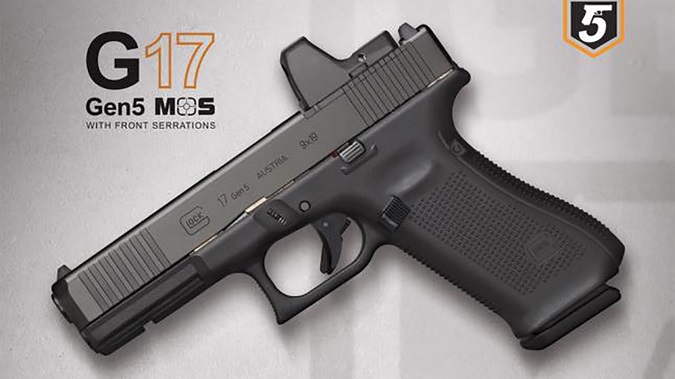 GLOCK, Inc. expands the 5th Generation of GLOCK pistols with the addition of two modular optic ready platforms. The GLOCK 17 Gen5 MOS and GLOCK 19 Gen5 MOS come optic ready right from the factory and enable users to mount their preferred reflex sights to their pistol in order to improve their target acquisition.
The G17 Gen5 MOS and G19 Gen5 MOS complete the evolution of perfection for the 9X19 family of Gen5 pistols
"The MOS platform offers a convenient way for users to mount reflex sights without costly alterations to an original GLOCK slide," said GLOCK, Inc. VP Josh Dorsey. "The resulting combination of optical sighting and the unparalleled accuracy and reliability of the new generation of GLOCK pistols set a new standard for this class of pistol."
These Gen5 models are precision-machined to provide a mounting system for all popular optic sights. With multiple adapter plates, you can quickly and easily mount electronic sights to the rear of the slide. The Gen5 MOS family of pistols also feature front serrations for easier and quicker manipulations. This includes the addition of front serrations on the G34 Gen5 MOS which was first introduced to the market in January, 2018.
The G17 Gen5 MOS and the G19 Gen5 MOS will be available for purchase starting October 5th, 2018 at participating dealers.
For additional information about GLOCK Modular Optic ready pistols, visit www.glock.us.
The post GLOCK's New Gen5 MOS Pistols appeared first on .