YouTube:Hushin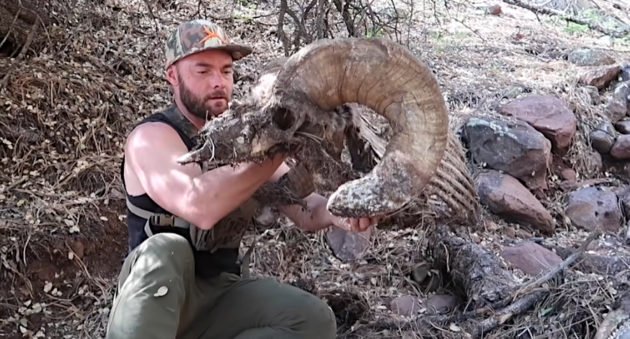 This deadhead ram skull was the shedhunting find of a lifetime!
If you are like me, you live for the spring and shed hunting season every year. So do the guys over at the outdoor YouTube channel "Hushin." We have been following the exploits of Eric Chesser and his buddies for years now, especially when they take epic shed hunting trips every spring.
These guys are good at finding antlers and their finds always make us a little green with envy, but this find may top them all.
While hoping to pick up some elk sheds, Eric wanders into a small wash where he finds a few bones. That find leads to him finding something rather unexpected, a long dead bighorn sheep ram. The only question is, can he legally pick this head up? He documents the entire find and process of contacting the game warden in the video below.
Kudos to Eric on doing the right thing by contacting fish and game here. That was a ton of extra effort to keep scaling up and down the hill to get cell service and get the information the warden was looking for. That effort paid off with him getting to keep this extremely rare find. We have never been sheep hunting either, but it is easy to tell when you are looking at a giant of a ram and this one qualifies in that regard.
It looks like this ram simply died of old age and then scavengers scattered the remains down into the wash where Eric found them. His goal for the day may have been elk antlers, but like Eric, we likely would have dropped everything else to focus on making sure we got to legally keep this ram. What an incredible find!
When you consider the fact that most bighorn sheep tags have near impossible draw odds and that auctioned tags regularly fetch prices bordering on six figures, finding a sheep like this is probably the closest most of us will come to adding one to our trophy room. We would say this could be considered a "holy grail" of shed hunting finds right up there with finding two bucks locked together or finding a Boone and Crockett class matched set from any animal.
Nice job Eric and kudos on doing the right thing, it paid off in a big way!

For more outdoor content from Travis Smola, be sure to follow him on Twitter and check out his Geocaching and Outdoors with Travis YouTube channels. 
NEXT: 10 OF THE BEST .22 RIFLES ON THE MARKET FOR PLINKING AND HUNTING FUN
WATCH
The post Giant Bighorn Sheep Deadhead Makes for the Shed Hunting Find of a Lifetime appeared first on Wide Open Spaces.