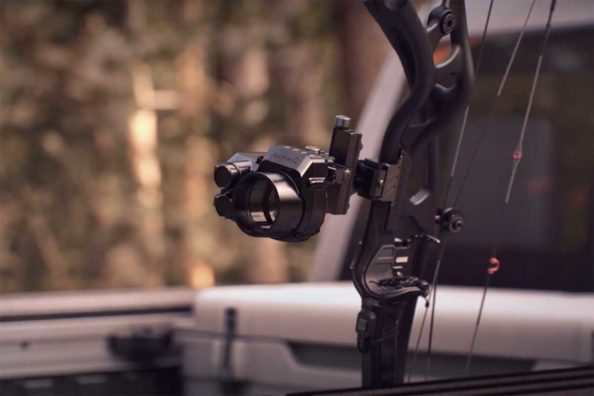 The rangefinding bow sight got even better with several notable improvements for bowhunters and target shooters.
When Garmin debuted its Xero A1i rangefinding bow sight at the Archery Trade Association Show in 2018, the company's booth was swarmed by media, buyers, and even the competition for days. The revolutionary technology was completely new to the bowhunting world, and it generated plenty of buzz, debate, and questions in the following months.
I was fortunate to be one of the first to test this new piece of bowhunting tech on a hog hunt in southwest Texas a few weeks later. Frankly, I wasn't too excited about the prospect at the time.
I've stuck with whisker biscuit-style rests since I started shooting and just prefer simple, hassle-free accessories. If it ain't broke, don't fix it, right? But a few days of arrowing hogs and shooting a 3D course with the new sight changed my mind completely.
I set up the Garmin Xero A1i bow sight on my Bowtech Eva Shockey Signature Series with the help of Chad VanCamp, the project manager for the innovative bow sight. It wasn't nearly as complicated as I expected, and within an hour, I was dialed in and shooting bullseyes. Over the next couple days, I racked up a few wild hogs with ease. But an afternoon exercise in estimating ranges on a variety of targets is what really sealed the deal for me.
Alternating between wide open fields and wooded patches completely threw off my ability to judge yardage distances on the fly. I'd guess 15 yards when the Xero A1i revealed the foam was actually 23 yards away or vice versa. Even knowing the exact range with a fixed-pin sight can lead to less than accurate aiming when the distance falls somewhere between the 20- and 30-yard pin settings. So particularly with my shorter draw length and lower draw weight than the average man, this pinpoint precision is invaluable. No pin gapping or guesswork – just an illuminated pin for the exact angle-compensated distance. The sight worked wonders for me, and I instantly became a loyal fan.
Then somehow Garmin managed to improve on what seemed like perfection.
Garmin released the new and improved Xero A1i Pro earlier this year with several thoughtful updates. Like its predecessor, the Xero A1i Pro features a silent trigger system, customizable arrow profiles, an ambient light sensor, dual color LED pins, and Laser Locate functionality. But these advancements take the tech to whole new level:
Auto Calibration: Get your 20-yard pin set and enter some stats, and the sight will auto generate a pin stack for you to validate.
Micro-adjustability: Micro-adjustable rails mean quick and easy changes to elevation, windage, pitch, and yaw for fine-tuned accuracy.
Quick Detach: The quick detach feature on the dovetail rail mount allows for easy transport and simple reattachment.
Dynamic Level: Indicators help hunters level their bows without taking their eyes off target.
Flight Apex: Avoid deflecting off droopy branches with a flashing dot that indicates the arrow's highest point in flight.
Xtra Distance Mode: Get some long-distance practice in with just a few temporary tweaks to your setup.

Garmin Xero Ai1 Pro Specs:
Maximum Range Distance: 100 yards on game, 300 yards on reflective target
Battery Power: Two lithium AAA batteries (included)
Battery Life: 1 year or about 25,000 ranges (the Xero A1i lasted longer than the listed average life for me)
Weight: 18 ounces
MSRP: $1,299
First Impressions
Setting up the sight without the assistance of the Garmin team this time around was a bit intimidating for someone who's not exactly technically proficient. But the step-by-step process and prompts, as well as helpful how-to video tutorials, made it doable to tackle in one afternoon. The auto calibration update certainly streamlines setup, and micro-adjustability makes me even more confident with this new sight.
I hunt primarily in the Northeast, where thick cover and narrow shooting lanes are common. The flight apex feature is going to be incredibly helpful here, as is the form check of the dynamic level. XD mode isn't a feature I plan to play with personally, but it will be useful for hunters who like to hit up 3D courses on the weekend. The quick detach feature will certainly come in handy for someone like me who hunts in several states some seasons and has to haul gear through airports.
The Xero Ai1 Pro is a few ounces heavier than the previous version, but the added weight isn't noticeable and doesn't make my rig feel unwieldy. It is pricey at $1,299. But until you would invest in a separate high-quality sight and laser rangefinder, you'd be approaching the $1,000 mark already. Plus the Xero A1i Pro is compatible with your other Garmin devices – something a basic bow sight could never offer. It also boasts an IPX7 waterproof rating and performs well in poor weather, so it will stand up to the rigors of backcountry bowhunting for years to come.
Overall, I'm impressed with the Xero A1i Pro and looking forward to notching a few more tags with the updated model!
Legal & Ethical Concerns
The Xero A1i Pro is currently legal bowhunting tackle in most states, but be sure to triple check the latest regulations in your state before heading into the field with one affixed to your rig.
But just because something is legal doesn't necessarily mean it's ethical. So does the Xero A1i Pro give archers an unfair advantage?
While I was leery years ago, I'm now thoroughly convinced that the elimination of guesswork that comes with conventional single-pin sights helps me take the most ethical shots possible. The Xero A1i Pro does give you an edge and isn't for everyone. But unless you're shooting truly traditional stick and string – and shunning cellular trail cams and in field ozone generators, for that matter – you're benefiting from modern bowhunting advancements.
If you struggle with judging ranges and pin gapping or just want an ultra accurate and seamless shooting process, check out the Xero A1i Pro.

NEXT: 3 BEST TWO-WAY RADIOS AND WALKIE TALKIES FOR HUNTING PARTIES
The post Gear Review: Garmin Xero A1i Pro appeared first on Wide Open Spaces.