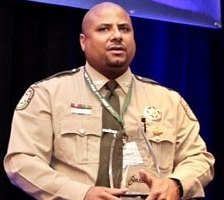 During its 59th annual meeting, held in Indianapolis, Indiana, on Sept. 9-12, the National Association of State Boating Law Administrators presented its prestigious National Boating Officer of the Year award to Officer Juan Blanco of the Florida Fish and Wildlife Conservation Commission (FWC).
The National Boating Officer of the Year award recognizes a law enforcement officer who has made an outstanding contribution to boating safety through enforcement and has performed an outstanding service to the agency or state in any facet of recreational boating safety.
Blanco began doing volunteer work for the FWC in 2010 and fell in love with the agency and its mission. In 2015, he was hired by the FWC where he now has a leadership role in Boating Under the Influence and Driving Under the Influence enforcement within his assigned patrol area in south Florida. Officer Blanco participated in all of the BUI details in Miami-Dade County in 2017 and personally made more than 25 BUI arrests, removing potentially dangerous boaters from the water. He also assisted with multiple BUI investigations in which he mentored many officers in proper BUI procedures.
Blanco has led and participated in numerous Career Days at local schools and is frequently called upon to assist in public outreach due to his passion for educating the public and inspiring youth. He has been part of the FWC's initiatives to partner with the Big Brothers Big Sisters' program, encourage positive relationships with law enforcement officers, and educate the next generation about the importance of conservation.
"We're extremely pleased that Officer Blanco's exemplary efforts on the water have earned him this prestigious national recognition," said Maj. Robert Rowe, FWC's Boating and Waterways section leader. "His commitment to public safety is outstanding, and he is a great ambassador for the FWC on the water. I'm proud to have him representing our agency as the NASBLA Boating Officer of the Year."
NASBLA is a national nonprofit organization that works to develop public policy for recreational boating safety. It represents the recreational boating authorities of all 50 states and the U.S. territories. NASBLA offers a variety of resources including training, model acts, education standards and publications. Through a national network of thousands of professional educators, law enforcement officers and volunteers, the organization affects the lives of over 76 million American boaters. To learn more about how NASBLA continues to make waterways safe, secure and enjoyable, visit NASBLA.org.
The post FWC Officer Blanco Receives National Boating Officer OTY appeared first on .