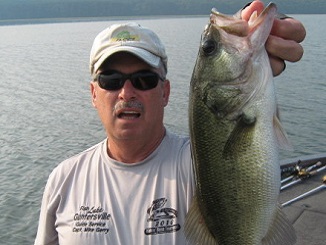 After many years on the water guiding on fresh water fishing impoundments you start to look back at what it is that makes you successful and why your customers come back. To me it's all about customer service, having fun and teaching your customer something about fishing. Sure catching fish is important but today's fresh water guide is a tough job and with all the people on the water and pressure from endless tournaments catching fish and meeting expectations does not always occur.
First thing that to me that is important you must understand what your customer is thinking while they are with you on the boat, anticipating their needs being kind and understanding all plays into the service required to keep your client happy while he is on the boat with you. It's kind of like just thinking ahead a being prepared for their needs. I also believe that having your equipment, boat, rods, reels clean and in good working order can also be part of the customer service experience; if your boat is nasty and your equipment fails your customer they for sure don't enjoy the trip. I also believe that its part of my job to make sure my client has fun; when the fish don't bite their experience on the boat can only be measured by having a good time. So for me trying to understand what interests my customers have and what drives there daily life is something I dig into and use to help make the day a fun experience for them.
Lastly as every day is different and everyone's abilities have different levels all I can do is try to make sure that at the end of the day I have taught them something. I know from many years of fishing that not all customers fishing experience is created equal, so it is my job to help train them on something that allows them to walk away and say; I learned how to be a better fisherman. This is rewarding and improves the customer's ability the next time they get in a boat. Sometimes I just pick what I consider a weakness or a request and spend time teaching them how to improve this area of their fishing; many times I just indiscreetly show them how to improve! Customers are key, keep them happy and success will follow you!
Fish Lake Guntersville Guide Service
www.fishlakeguntersvilleguideservice.com
www.facebook.com/FishGuntersville
Email: bassguide@comcast.net
Call: 256 759 2270
Capt. Mike Gerry
The post Fresh Water Guides, Success appeared first on .