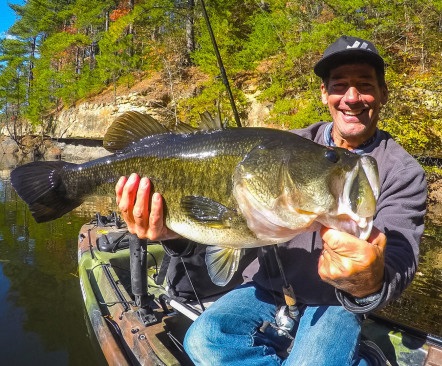 Kayak fishing has come a long way in the last several years. Participation numbers are up, kayak tournaments are on the rise as well, and the number and variety of options available to anglers in the market for a fishing kayak is almost overwhelming.
Eric Jackson, owner and co-founder of Jackson Kayak and three-year FLW Tour pro, has contributed a great deal to the booming kayak market, not to mention the popularity of the sport itself. Gone are the days of kayak manufacturers catering to a niche market of anglers who don't own a bass boat.
And therein lies the beauty and pure functionality of owning a fishing kayak. Bass boats are great for a lot of situations, and even johnboats can allow anglers to reach skinny water, but true backwater situations – the skinniest of water, the smallest of lakes and the most private of ponds – are often far out of reach for all but the bank angler or kayak owner.
"If there was a nationwide million-dollar competition in the next seven days to catch the five biggest bass, I would fish out of my kayak all seven days," Jackson says. "Everywhere I would go would be without a boat ramp. That eliminates 80 percent of the fishermen. It's all about eliminating pressure."
As anglers who favor big fisheries know, big lakes often hold a lot of big fish. The problem is fishing pressure. The more popular a lake is, the more anglers are forced to compete for a finite resource. As Jackson notes, fishing from a kayak allows anglers to discover and explore water they couldn't dream of reaching in a bass boat.
And forget everything you know about small bodies of water only holding small fish. Full article at the FLW – https://www.flwfishing.com/tips/2019-01-28-catch-your-personal-best-from-a-kayak
Related articles:
The post FLW – Catch Your Personal Best from a Kayak appeared first on OutDoors Unlimited Media and Magazine.