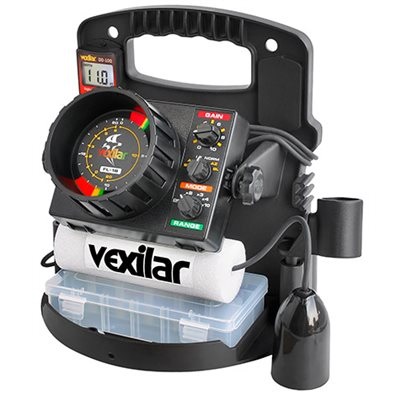 The FL-18 boasts features and performance previously not available on a three-color flasher depth finder / fish finder. The FL-18 offers a patented split screen flasher display. This allows you to zoom-in on the bottom six feet while watching the entire water column at the same time in real time! You will be amazed at the performance for bass fishing, walleye fishing, and pan fish on both open water and ice fishing. The Bottom Lock feature stays locked on the bottom even as the boat is bouncing up and down in big waves! The Auto Zoom mode is fantastic for watching Perch or Walleye while ice fishing. These fish commonly hold tight on the bottom, and with a target ID of less than 1/2 inch, the FL-18 makes them easy to spot! And that's not all. The FL-18 depth finder / fish finder is equipped with features like a built-in shallow water mode for fishing waters under 15 feet. Five depth scales down to 200 feet for the standard model, and down to 300 feet for the custom deep model. Built-in interference rejection. A three color LED readout that tells you if the targets you see are weak (green) medium (orange) or strong (red). This three color LED technology has proven to be the most reliable and accurate way of understanding where fish are holding. Vexilars most popular winter fishing system is the Pro Pack II. This system offers great performance features in a super durable case with a built-in gimbal bracket to support your flasher. The Pro Pack II System is offered with the FL-20, FL-18, FL-8se and FL-12 units. Standard features include a rod holder, tackle box, universal transducer holder, cable holding cleats and a 12 Volt, 9 amp-hour battery with charger. The Pro Pack II has been designed to fit into a five gallon bucket, and has an optional soft pack carrying case available. The Pro Pack comes completely assembled, individually tested and ready to fish with. It also includes an instructional DVD.
Features
Auto Zoom Mode (AZ) – Gives a half screen zoom window of the bottom six feet of depth. No matter if you're in 10 feet or 100 feet, the bottom six feet always fills half of the screen. This gives you resolution never before possible in deep water

Bottom Lock Mode (BL) – Works the same as Auto Zoom, but locks the bottom so it will not move with changes in depth or boat motion. Spot a Walleye near the bottom at 40 m.p.h.!

Low Power Mode (LP) – Reduces the output power by 50%. This feature takes the place of the Vexilar S-Cable. Both the AZ and BL modes are available within the LP mode.

Super Bright and Rock Solid Display – The new Light Emitting Diodes along with a high power driver circuit and a screaming fast wheel speed gives the FL-18s display unmatched brightness and signal clarity.

Five Depth Ranges – The Standard FL-18 includes 20′, 40′, 60′, 80′, and 200 foot ranges. The Deep Range unit includes 30′, 60′, 90′, 120′, and 300 foot ranges.

Interference Rejection – Pressing in on the Gain knob cycles you through ten different IR setting to allow you to knock out interference from another close by depth finder.

Vexilar 12 volt, 9 amp-hour battery delivers long lasting power. Pack comes complete with charger.

FL Digital Depth Indicator. Gives depth and helps keep track of your battery level.

Two cable holding cleats.

Adjustable rod holder with two possible mounting locations.

The patented Ice-Ducer system is a self leveling transducer with float for accurate transducer positioning every time.

Easy access to tackle box

Pro Pack case fits inside a five gallon bucket.

Pre-drilled holes for optional accessories

Universal transducer holder (on the back)

Two-year warranty (Pro-rated on battery)
Specifications
High Resolution Display: 525 Bits

High-Speed Real-Time LED Readout

Backlit Depth Scale for Easy Visibility in Low Light Conditions

Three-Color Display: Red = Strong Signal / Orange = Medium / Green = Weak

Five Depth Scales: 20′, 40′, 60′, 80′, and 200′ *

Exclusive Interference Rejection: 10 Step

Power and Sensitivity: 400 Watts Peak-to-Peak

Frequency: 200 kHz

Target Separation: 2.65″

Target ID: .5″

Weatherproof High Impact Case

Dimensions: 4.4″H x 6″W x 2.5″D – Weight: 1.1 Lb.

Voltage: 12 VDC – Current draw: 200 MA

CE Certification: A001P100713005E
The post FL-18 ProPack II & 12 Degree Ice-Ducer & DD-100 appeared first on ODU Magazine-North America's #1 Digital Fishing Magazine.