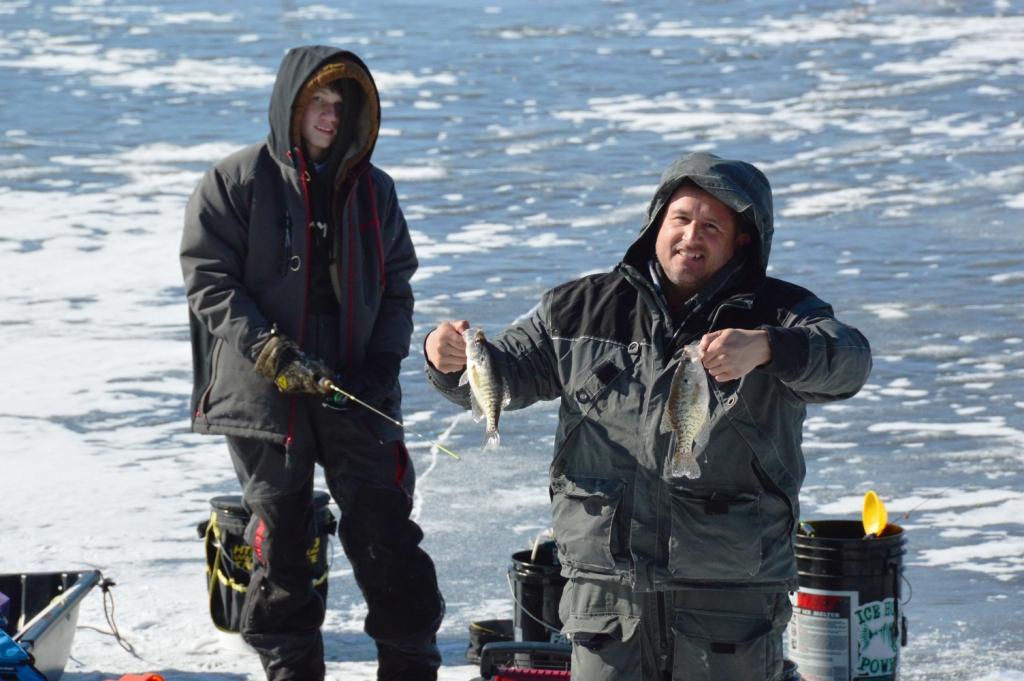 During the past few years the Rock Island Conservation Club has canceled their winter fishing tournament because of poor ice conditions.  Some of the years prior to that there were winter open water tournaments, but this year was different with 10 to 12 inches of safe ice.
A total of 37 anglers hit the ice with 9 below zero wind chills, and an actual temperature of 2 degrees.  The anticipation was high as a lot of good pre-fishing reports had been turned in, but on this day things had changed.   At the start of the day the barometer was hitting a high of 30.80, and throughout the day fell to 30.10.  Anglers that were sure of success quickly found it was going to be a long day.  They hung in, but it was tough to say the least.
There were two places paid out in three categories – largest crappie over 9 inches, largest bluegill over 5 inches, and heaviest weight for 10 sunfish.  The difference with this tournament is that a person can only win a single place.
In the case of Jason De La Cruz he had to make a decision as to if he wanted first in bluegill or crappie as he had both – he went with bluegill having one weighing 3.9 ounces.  He also had a handicap in that his drill burnt up after drilling 4 holes, so had to stay on one spot.  Second place went to Germey Kensinger with a fish weighing 3.4 ounces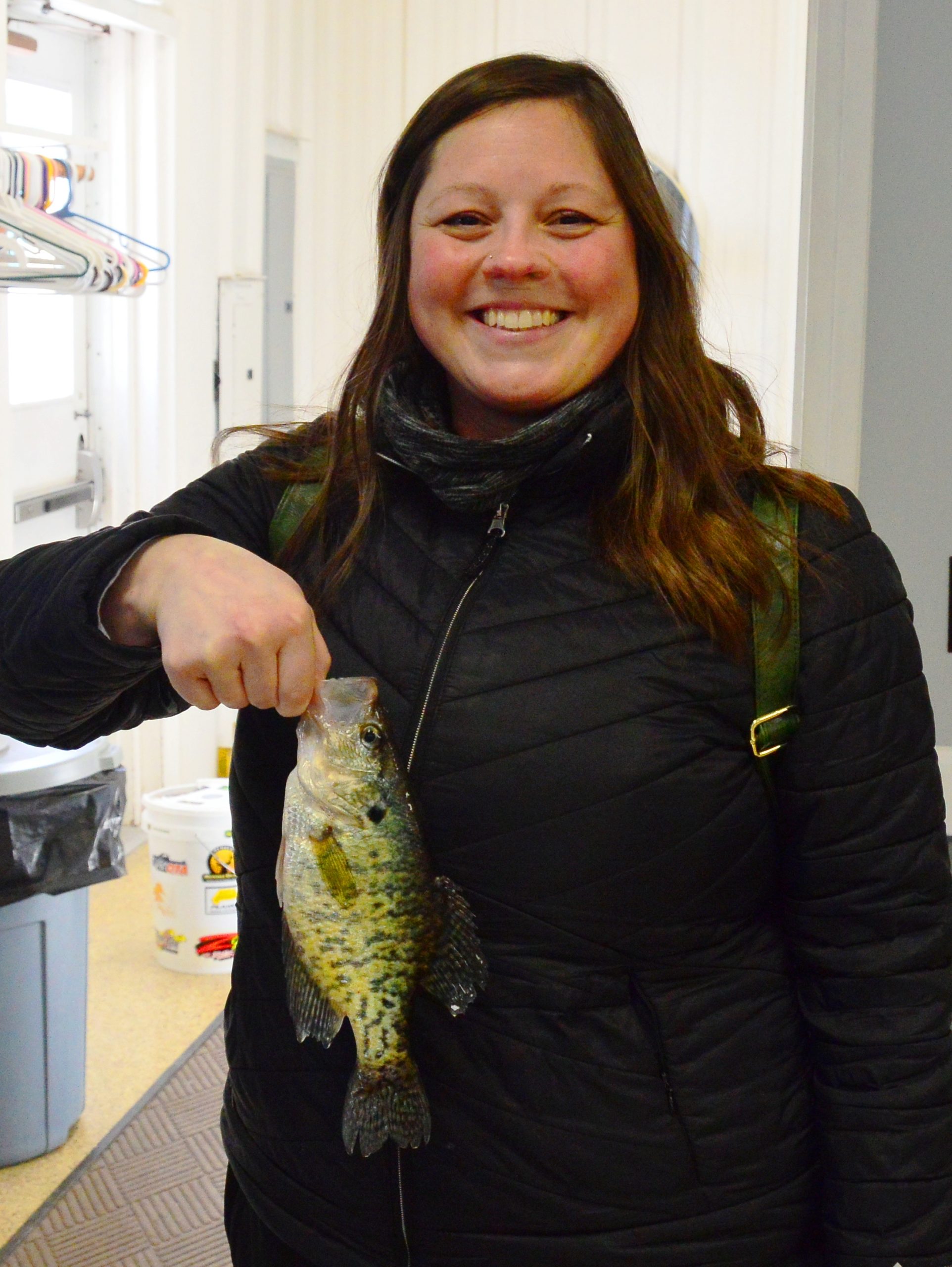 Because Jason was number one in bluegill, that opened the door for a new comer, Witney Hernandez-Doyle to take first in the crappie division with a fish weighing 11.30 ounces.  However, the story did not end there.  Witney just caught her first fish a few days before.  This was her second time out fishing, and the first tournament in which she had ever entered.  She was followed in second place by John Berenger with a fish weighing 10.10 ounces.
First place in the overall weight for 10 sunfish was captured by Brian Inman with a weight of 27.6 ounces.  Not far behind for second place was Greg Dusch with 26.8 ounces.
Each of the 6 top winners received their entry fee plus prizes from sponsors of the event.  In fact, no body walked away from the tournament without getting something, as everyone received a bag full of sponsors' products.  There were also other prizes through drawings that were from Frabill and Work Sharp.
Anglers kept their fish alive in buckets of water, which were released back into the lake.  Logan Frost used my Jiffy E6 drill to demonstrate it by drilling holes for the fish release.
Sponsors for the event were Frabill, Plano, TTI-Blakemore (Daiichi and Tru Turn hooks, and Road Runner), Vexilar, Mercury Marine, Bill Lewis Rat-L-Trap, Jiffy Ice Drills, Work Sharp, Custom Jigs & Spins, and Croegaert's Great Outdoors in Rock Island, IL.
Something else all contestants received with their entry was a very good roast beef meal with mash potatoes and gravy, green beans and large roll.  To top it all off were fresh baked chocolate brownies.
Al Classen has worked with me for a lot of years as chairman of this event.  According to Al this may have been his last event.  Rich Ehen has stepped in, and was baptized for this first time chairing.  He did a good job, and was learning what Al and I have done through the years.
Of course there were a lot of others who helped for setup, weigh-in, bartending and in the kitchen.  In fact before the event started, Jay and Sue Pienta came in to fix fresh biscuits and gravy for anyone who wanted to purchase an order for breakfast.  Then they moved out and the next group of women came in to take over to prepare the roast beef lunch.
The major plus is that everyone enjoyed themselves, won prizes and got off the ice safely.  Even our canine mascot that showed up with one of the helpers was having a good time hanging around the clubhouse.
If you are interested in information regarding the Rock Island Conservation Club, how to become a member, or sponsoring an event, check out their website at www.riconservationclub.org
The post Finally, A RICC Winter Tournament appeared first on OutDoors Unlimited Media and Magazine.