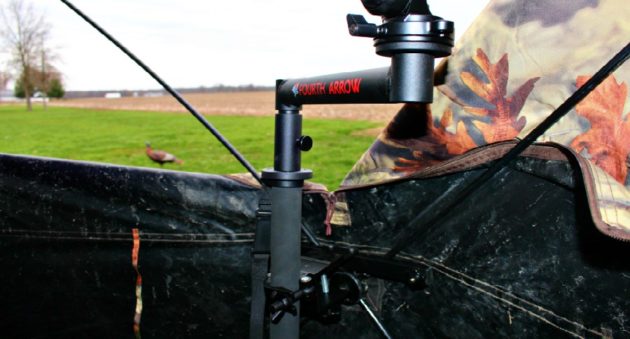 The Fourth Arrow Pillar Kit will be your new best friend for filming hunts.
Fourth Arrow has appeased the hunting and filming community once again. The Pillar Kit is no doubt a home run if you hunt from a blind, and I'm going to tell you exactly why.
First, some basics so we can reach an understanding: Hunting from a blind has numerous advantages, and sometimes it is the absolute best option you have. Filming from a blind, on the other hand, doesn't seem to have many advantages. In fact, it can often be super difficult.
No one wants to drag large, heavy tripods around, only to have them take up the majority of the room once they're opened up inside the blind. Then, hunters often run into the issue of blind spots, meaning they have to pick up the whole tripod and camera to find the desired shot.
It's a frustrating situation, and I have often found myself wishing for a better way.
What if you could cut down on weight, make more room in the blind, and add more mobility to your camera setup? What if there was little doubt you could reach around the blind spots? There has to be a way to do it, but I had yet to encounter anything that helped accomplish these requests. If I could cut the unnecessary movement or mid-hunt tripod adjustments while hunting from blinds, that would be a major benefit.
Thankfully, the Pillar Kit resolves all of these issues, and does so with the incredible quality we have come accustomed to from Fourth Arrow products.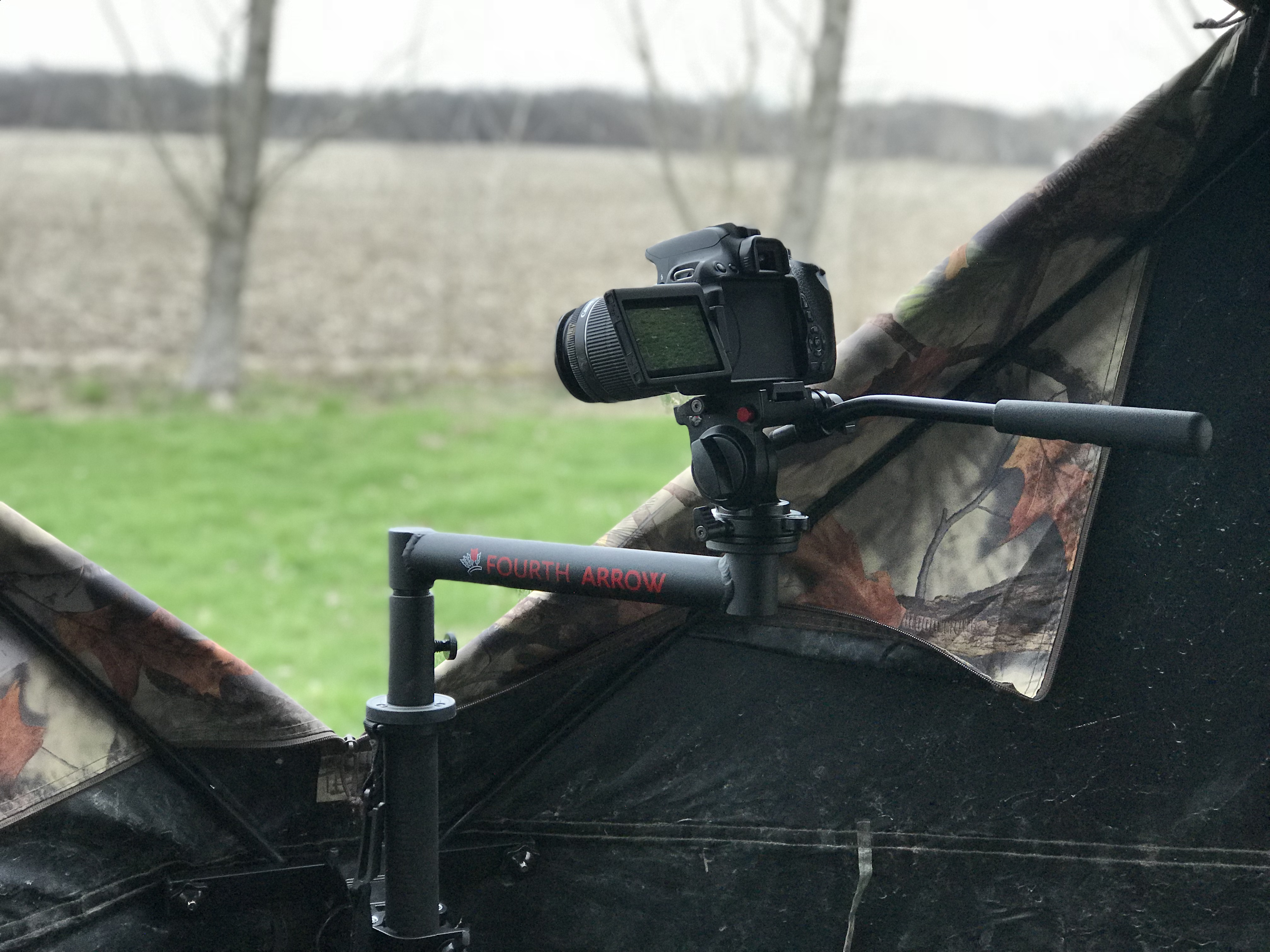 What is the Pillar Kit?
The Pillar Kit consist of four parts: A professional Fourth Arrow Monopod, Blind Bracket, Rex Arm, and Tripod Adapter. 
The professional monopod is very sturdy and durable. With three locking latches, it extends in three separate locations, allowing you to adjust to the needed height for your filming situation. It has a foam handle grip, which means the monopod is nice enough to use for professional work itself, not just hunting.
The monopod comes with two different attachments for the leg base. The rubber sole is meant to be used inside a shack-style blind with a floor, and the metal point can dig into dirt when used in a ground blind. These easily swap in and out by screwing and unscrewing
The Blind Bracket is the clamp that actually attaches the entire Pillar Kit to the shelf of a blind or window. This then allows you to attach the monopod into the bracket and have a stable and secure anchor to place your camera onto.
Fourth Arrow also sells a pop up blind adaptor that fits around the wall hub and allows you to then clamp the Blind Bracket onto that. This is sold separately but is a necessity if you will be hunting from pop up blinds.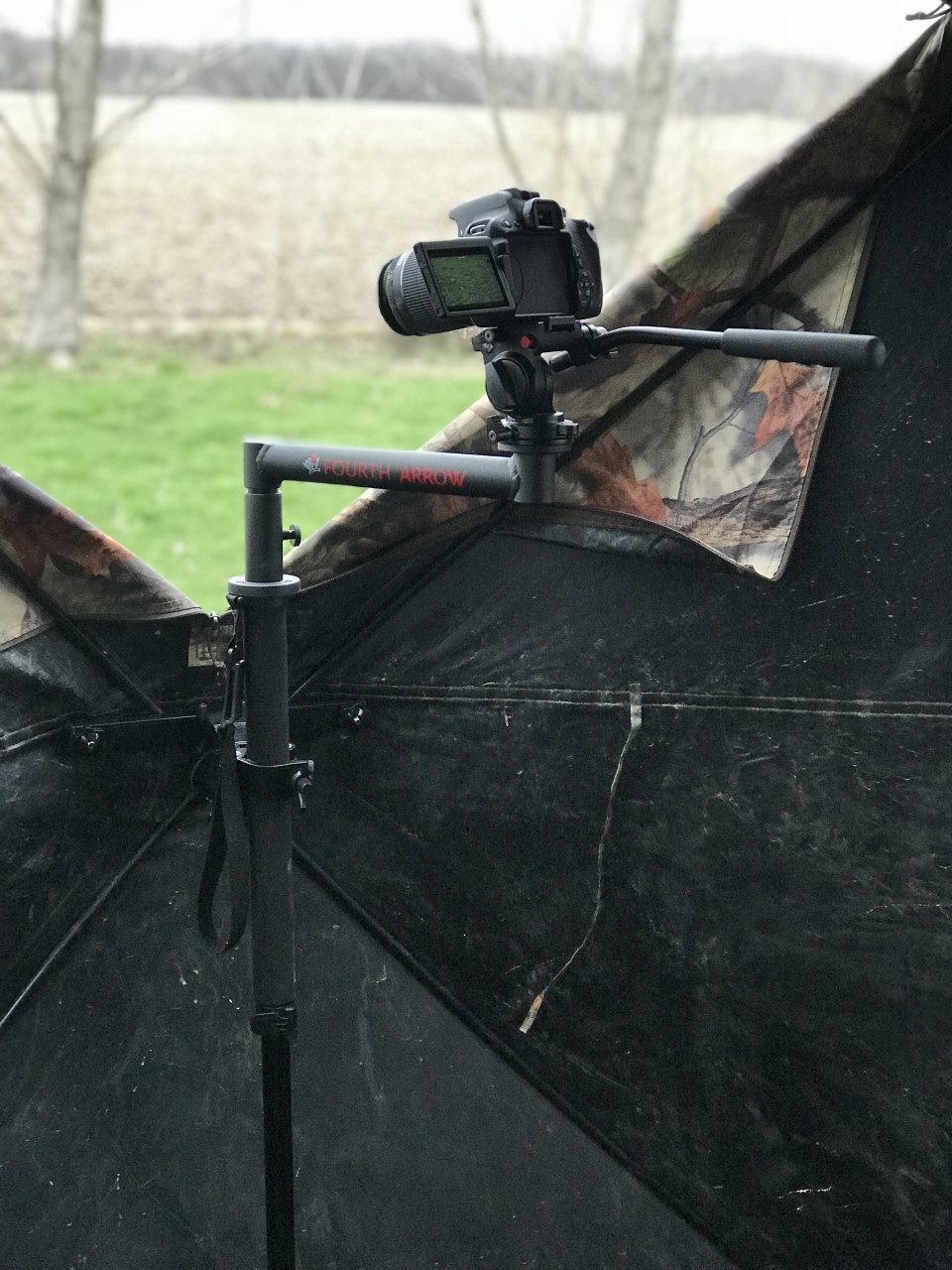 Another piece that comes in the Pillar Kit is the Tripod Adapter. This piece simply is a cylinder tube that screws onto the top of Fourth Arrow's tripods and monopods that then allows you to slip their camera arms onto them. Once the Tripod Adapter is on the monopod, you simply slide your Rex Arm into the Adapter and you are ready to film.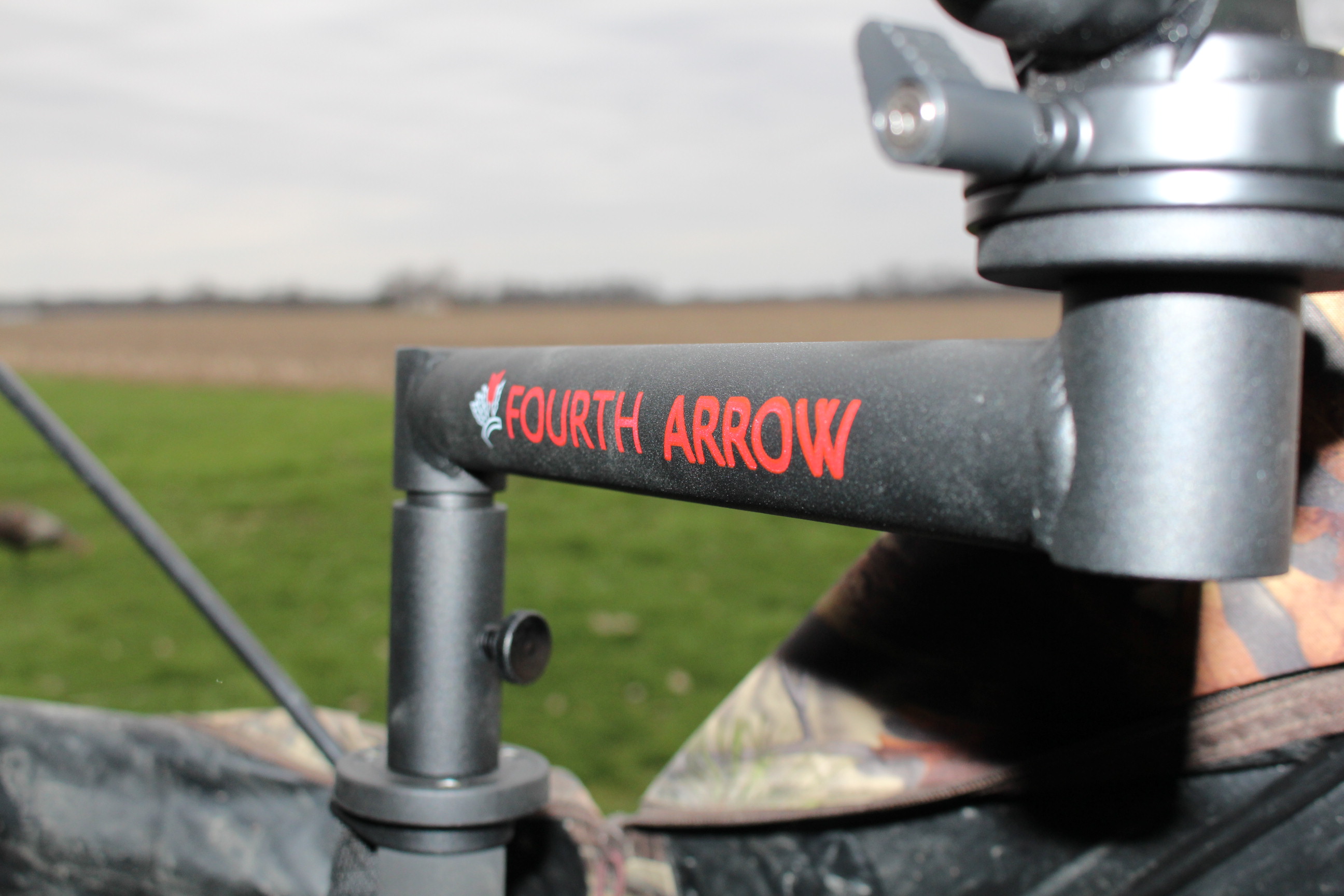 The Rex Arm is a perfect sized arm for the ground blind scenario. At 10 inches, it gives you enough extra angles and mobility to get around windows and tough spots to capture the animal you are trying to capture on film. It does so without causing too much "camera arm" to get your bow or gun drawn.
All in all, they all work together to make one extremely helpful tool for filming in a blind. Check out this short video and see the Pillar Kit in use and how effective it can be and how much easier it makes for filming inside your hunting blind.
I am personally so excited to get to give this a try on some gobblers here in the next few weeks in Illinois and Texas. And then also into deer seasons as they come around this fall. Fourth Arrow has made self filming such an easy transition for me, and the products make it as simple as ever to capture quality, smooth, and stable footage from your hunts.
After going through some test setups and practice with the Pillar Kit from a blind  I was astonished just how much easier it makes filming from a blind compared to a tripod. I was doing this while practicing on a turkey target with a bow. There's so much more room to maneuver during the moment of truth, and there is not a spot outside of the blind that the Rex Arm can't get your camera to.
Lighter, smoother, and with less room for error, the Pillar Kit is a no brainer for those who plan on filming in their hunting blinds.
NEXT: HERE'S WHY THE INNOVATIVE WYNDSCENT SHOULD BE ADDED TO YOUR HUNTING PACK
WATCH
The post Filming From a Blind Made Easy with the New Pillar Kit from Fourth Arrow appeared first on Wide Open Spaces.