Jennifer Danella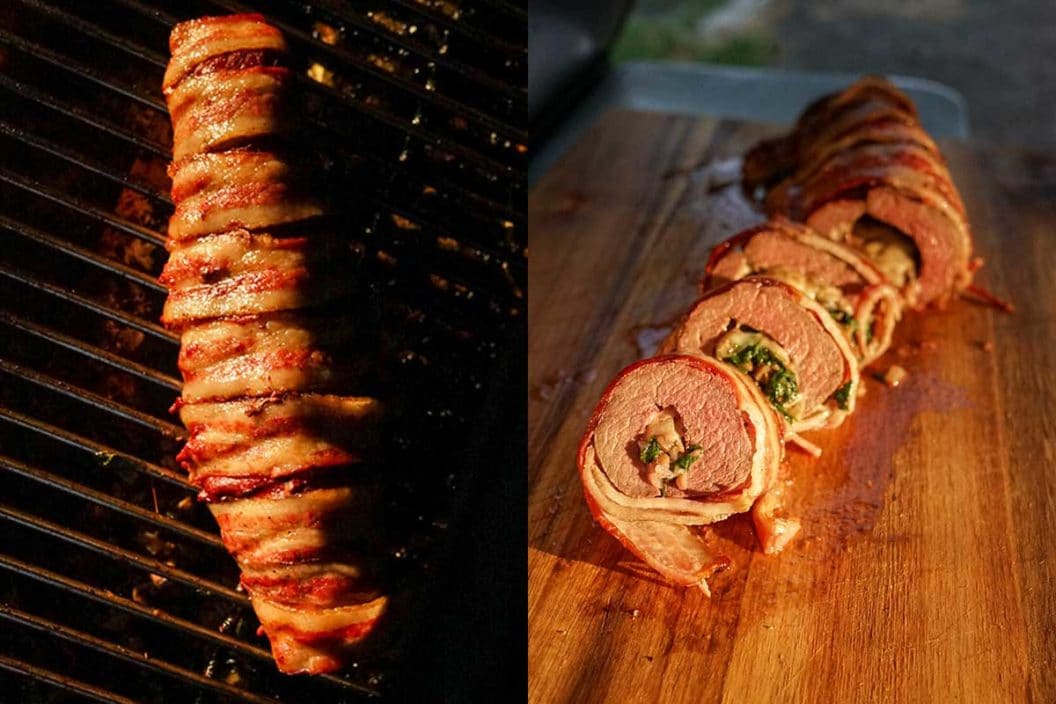 There might be more stuffed venison backstrap recipes floating around than there are bucks in the woods. It's a favorite technique, but there's one hangup I have with many of the most popular recipes you'll find. I feel like shoving too much cream cheese, the go-to ingredient for these sorts of preparations, is overkill and it takes away from the real taste of the wild game steak. Venison deserves its chance to shine, and its real characteristics can get covered up too often.
Instead, I opt for provolone in this dish, which still gets melty and adds some gooey texture, but doesn't overwhelm the rest. I also use my pellet smoker with this stuffed backstrap, but you can go with indirect heat on just about any type of outdoor grill.
Be sure to check out my new cookbook, The Weekend Wild Game Cookbook: Easy, Everyday Meals for Hunters and Their Families available on Amazon.
Mushroom and Provolone Stuffed Venison Backstrap Recipe Ingredients
1 Venison Backstrap, butterflied
2 tablespoons of Butter, divided
1 Shallot, Finely Diced
2 cups Baby Bella Mushrooms, Diced
8 slices Provolone Cheese
1 cup Loosely Packed Fresh Baby Spinach, chopped
1 pound Center Cut Bacon (I used about 8 pieces, but may vary depending on the length of your backstrap)
Mushroom and Provolone Stuffed Venison Backstrap Recipe Directions
1. Preheat your pellet smoker (or any other grill for indirect cooking) at 350?.
2. Melt 1 tablespoon of butter in a large skillet over medium heat. Add in the diced shallot and sauté for about 4 minutes. Then add in the remaining one tablespoon of butter and add in the diced mushrooms. Cook for an additional 4 minutes, or until both the shallots and mushrooms are tender. Add in spinach and cook until the spinach is wilted, 1-2 minutes. Remove from heat.
3. Trim excess silver skin from venison backstrap and cut a slit down the length to butterfly it open. Be careful not to cut through the entire piece. Use a meat mallet to pout out the two sides to an even 1/4 -1 /2 inch thickness.
4. Lay bacon slices on a cutting board so that they are touching. Place the backstrap at one edge of the roll until completely covered and all the bacon is used. Season the backstrap with salt and pepper to taste.
5. Place the provolone cheese, then the shallot/mushroom/spinach filling into the center of the backstrap.
6. Fold up the sides then use bacon to seal the sides together by wrapping the ends around each other.
7. Cook until internal temperature reaches 130 degrees or your desired doneness. The bacon should be brown on the outside.
8. Allow the backstrap to rest for 10 minutes and cut into individual pieces for serving.
The post Field to Table: Mushroom and Provolone Stuffed Venison Backstrap Recipe appeared first on Wide Open Spaces.