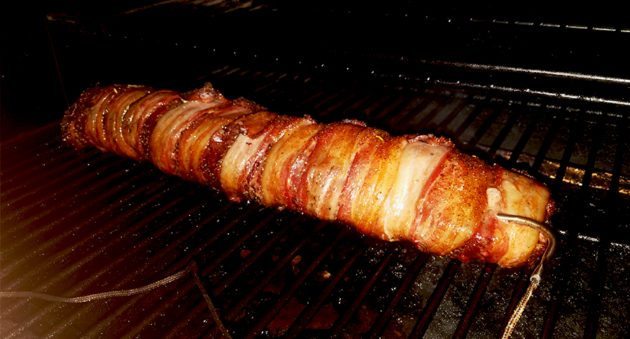 There's nothing quite like venison backstrap, especially when stuffed with feta cheese, wrapped in bacon and smoked on the Traeger Grill.
Let's face it, I either had you at "venison backstrap" or "bacon," but there's even more to this recipe. Follow the directions below to create this beautiful masterpiece.
Ingredients
1 Venison Backstrap
1 cup Miller's Brine
1 cup feta cheese
1 tsp minced garlic
1-1 1/2 pound of maple smoked bacon
salt and pepper
1 gallon ziploc bag
Directions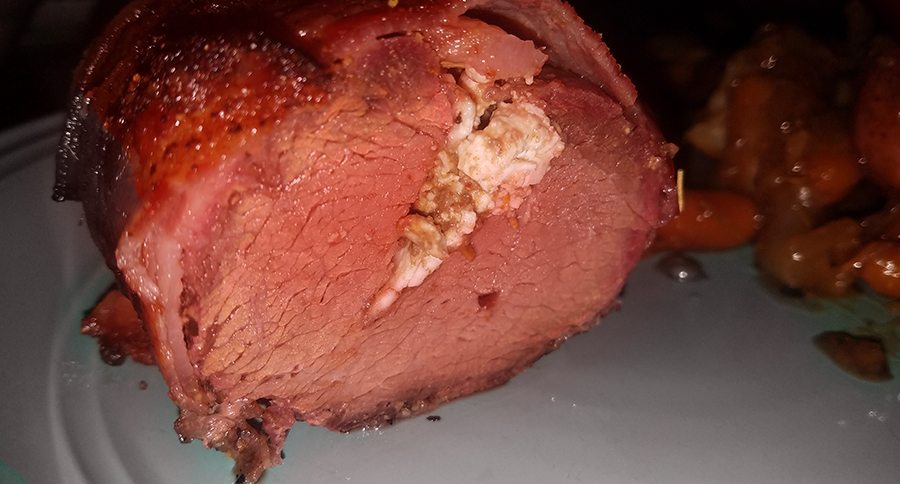 Trim any of the silver skin and excess fat off of the venison backstrap and put in a sealable, zip lock bag.
Add the Miller's Brine to the meat and shake vigorously in the bag. Let the meat sit overnight or at least eight hours before cooking. Miller's brine is a brown sugar based brine, so any brine will do, however this is for sure a small town favorite and should be tried by all.
If you don't have a Traeger, you can use a smoker or a grill set to high temperature. However, if you do have a Traeger, using the Realtree Big Game Blend Hardwood pellets, set the Traeger to 450 degrees and allow it to preheat for roughly 15 minutes.
While the Traeger is preheating, remove the venison backstrap from the bag. Butterfly, or cut, your venison backstrap open to allow enough room to stuff with 1 cup of feta cheese (roughly 1″ deep cut).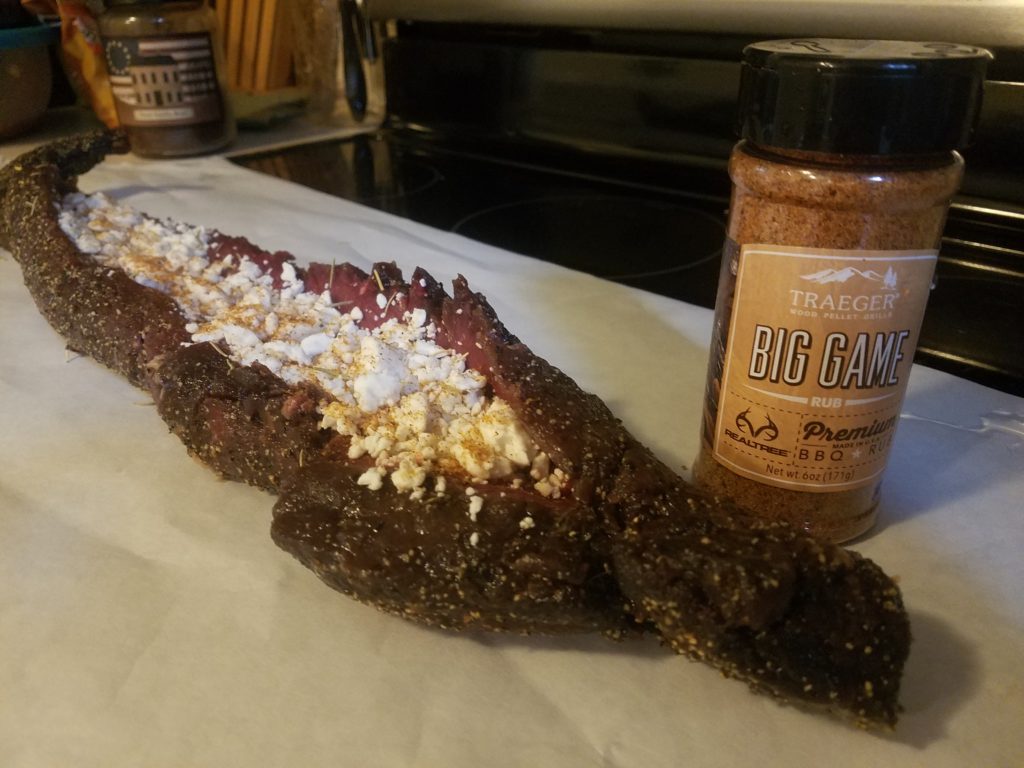 Stuff the tenderloin with the minced garlic first, then add the feta cheese. Cover the entire tenderloin with salt and pepper and the Traeger Realtree Big Game Rub, then wrap it all in bacon.
When the Traeger has reached 450 degrees, place the venison backstrap on the grill. Turn and flip every 4-5 minutes until the bacon appears to be cooked. Using an insta-read thermometer, check the temperature of the backstrap and pull at your desired temperature, I recommend pulling your backstrap off the grill around 135 degrees fahrenheit for a Medium-Rare to Medium doneness. This will be roughly 15-20 minutes of total cook time on the grill depending on the size of your backstrap.
Allow the meat to rest, lightly covered with aluminum foil, for five to ten minutes before cutting and serving. Enjoy!
Like what you see here? You can read more articles by Dustin Prievo here. Follow him and his hunting team, Top Pin Outdoors, on Twitter, Facebook and Instagram.
NEXT: TRAEGER GRILL: THE ULTIMATE OUTDOORSMAN'S GRILL AND SMOKER
The post Feta Stuffed, Bacon Wrapped Venison Backstrap on the Traeger appeared first on Wide Open Spaces.