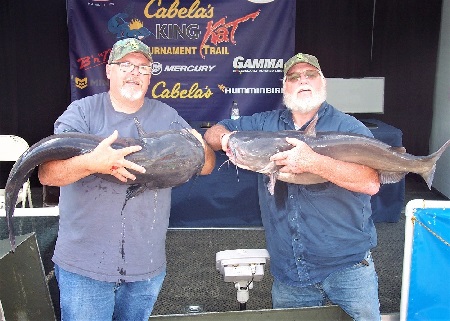 Catfish anglers from seven states traveled to Camden, SC and Lake Wateree for a King Kat Tournament Trail event presented by Bass Pro Shops Cabela's. Thirty-seven teams gathered to test their catfishing skills against other anglers and Mother Nature.
Competitors were vying for $10,100 in cash and prizes, and an opportunity to qualify for the $120,000 Classic Championship to be held November 1 and 2, 2019, on the Tennessee River (Wheeler Lake) at Decatur, Alabama.
Anglers on Wateree were greeted with scattered showers on tournament morning. The skies changed to partly cloudy as the day went on and air temperatures rose to the low 80s. Winds in the 5 to10 mph range and water temps at 70 degrees made for decent fishing conditions on the popular catfish lake.
Results for the Top Catfish Teams
David Faulkenbury and J.R. Holler claimed the top honors at Camden. The Pageland, SC anglers brought 126.74 pounds to the scales to earn first place and $3,800. They added the Driftmaster Rod Holders Bonus of $300 for using all Driftmaster Rod Holders on their boat.
Faulkenbury and Holler targeted fish in Cedar Creek. They moved several times to find fish and didn't get on the bigger fish until after noon.
The Lord blessed us with a great day," said Faulkenbury. "He kept the stormy weather away from us. It only sprinkled rain on us a few times nothing hard. We did hear a little thunder rumbling in the distance."
"We fished in Cedar Creek where it started out kinda' slow," reported Faulkenbury. "We caught some smaller fish to start with. The bigger fish started biting for us after 12:00. We culled several in 15-pound range".
"We moved several times looking for the big bite," added Holley. "But we ended up in the nursery. We made our last move of only about 100 yards. We were anchored in about 14 feet of water fishing downstream. That is where we started to pick up a little better fish."  
"We were reeling our rods in to get ready to leave and caught a fish on the last rod out," continued Faulkenbury. "That was one of our keepers."
"That very last fish, as we were rolling up to leave, was another upgrade," confirmed Holley. "Then began a rush to the weigh-in. We had to load the boat and then make a 45-minute drive. We knew we had a good stringer, but we also knew that there was a field of great anglers that were weighing in also. These guys had just as much skill and could of been where we were. As the boats rolled through the weighing line, it became more apparent that the good Lord above had bestowed a blessing on David and me."
"We had  a good pull down early in the day," joked Holley. "Only to learn that a turtle and a good catfish can pull the exact same way. When asked what we were fishing with my reply was "prayer." That  prayer might have smelled a little like gizzard shad but it was still a prayer."
The runner-up spot went to Benji Brown and Lindsey Patterson from Boiling Springs, SC. They weighed 117.06 pounds that included Big Kat of the tournament. They earned $1,800 for placing and $740 for the Big Kat that weighed 43.06 pounds.
"We fished the Southeastern Catfish Club tournament last week," reported Brown. "We decided not to go upriver with the other 70 boats. We didn't manage to find anything decent for the scales. We were upset with Lake Wateree and I swore that I wasn't coming back for the Cabela's Tournament."
As any catfish fanatic would, Brown had second thoughts about returning to Wateree. It started on Tuesday before the tournament when Patterson offered some encouragement with  the simple statement, "Let's do it!"
"Obviously, it didn't take much to convince me," continued Brown. "So, this time Lindsey and I decided to go upriver with the crowd. I wrote down 5 of my favorite spring spots and fished 4 of them. The first spot was the most important because we managed to have our five fish in the first hour including the 43-pound big fish."
"Our first spot was a shallow flat on the edge of the river," explained Brown. "Then we got a little deeper throughout the day. I was fortunate enough to catch the 43-pounder right after the 6:30 start time. Lindsey caught her 28-pounder after lunch in 15 feet of water. We had a great time and loved every minute of it."
Brown and Patterson fished Cedar creek and caught 9 fish for the day. They targeted fish in 3- to 7-foot water in the morning but followed them out deeper as the sun rose higher. They fished on the rope all day using shad and perch for bait.
Third place went to Bradley and Robin Williams from Vass, NC. They weighed a bag of 105.98 pounds to earn $1,400.00.
Bradley and Robin also fished Cedar Creek. They were able to land 15 fish for the day without moving. They fished in 14 feet of water using perch for bait.  
Joseph, Paige, and Kylie Spittle claimed the fourth-place spot. The Waxhaw, NC team weighed in 99.46 pounds to earn $750.00.
Team Spittle also fished Cedar Creek. They targeted the fish in a single spot where they anchored all day. They boated 15 fish on the day using shad for bait in 14 feet of water.
John Terry and Stephen Wooten from Gastonia, NC rounded out the top five. They weighed a bag of 89.96 pounds and earned $500.00.
Terry and Wooten fished Cedar Creek also, but in deeper water. They found their fish in 19 feet of water. They tempted the cats with gizzard shad while fishing on the rope.
The $500 random drawing for anglers staying in a Camden hotel/motel went to Ronnie Hughes and Johnny Jones.
The Remaining Top Catfish Teams
6th Place – Evan Martin and Larry Godwin – 88.10
7th Place – Jason Wright and Chuck Flynn – 86.04
8th Place – Clifton Crutcher and Cherie Wilson – 85.14
9th Place – Ric Helms and Gray Brookshire – 81.88
10 Place – Ned Davis Sr. and Randy Smith – 81.28
Epilogue
Tournament director, Jeremy Coe thanked the City of Camden and Camden Kershaw County Tourism for having King Kat back for the fifth year. He noted that the trail will return again in the fall for a second tournament on Wateree come October 5, 2019.
"Tournament day ended being better than I thought," reported Coe. "The anglers ended up catching a lot of fish, but all struggled to find the big fish. However, it ended up being the prettiest day the King Kat Trail has seen in five years on Wateree. We hope all the anglers come back and see us in the Fall! Don't forget anglers. there be another $1,000 up for grabs if you stay at a Camden Hotel during the week of October 5th!"
National Sponsors
Bass Pro Shops Cabela's King Kat Tournament Trail sponsors include: Bass Pro Shops Cabela's, Excel Boats, Mercury Marine, Mustad Hooks, Humminbird, Minn Kota, B'n'M Poles, Gamma Line, Driftmaster Rod Holders, Ego Nets, Xtreme Bait Systems, Clear Boards, EFX Graphics, Catfish Now, Fin n' Frames, and Crown Trophy
For more information on the championship and other King Kat activities visit their website at www.kingkatusa.com. Anglers can also follow the trail on the King Kat Facebook Page.
More Tournament Fishing Coverage – https://www.odumagazine.com/topics/fishing_freshwater/tournament-results-bass-walleye-crappie-redfish-and-more/
The post Faulkenbury and Holler Win Cabela's King Kat on Wateree appeared first on OutDoors Unlimited Media and Magazine.