Anyone who's been dragged around a pond by a mule of a largemouth or drenched by the explosive topwater take of a bull redfish, 'yak-side in just a couple feet of water, understands the appeal of kayak fishing. Simply put, there is no better way to get closer to the action in spots that are essentially inaccessible by any other means, and still remain dry.
Well, fairly dry anyway. When you're sitting right in the fish's kitchen, things can get damp on occasion.
With the exception of specialized fishing kayaks and a smattering of accessories, relatively few products are custom tailored for this unique style of fishing. Like most outdoorspeople, however, kayak anglers have proven to be a crafty lot, developing their own unique methods of securing their angling gear.
Meanwhile, Plano's mavens of molding have been equally busy in the development department. Determined to develop a better tackle storage option for kayaks, these obsessed professional angling engineers locked themselves in a well-lit room with a big white board and didn't leave until they had multiple solutions to the kayak fishermen's tackle storage woes. No really, they actually did – defining kayak zones, constructing qualitative and quantitative research models, debating ideal dimensions and angles and whole lot of other geeky stuff. And then they had real live pro kayak anglers test and refine their prototypes on the water.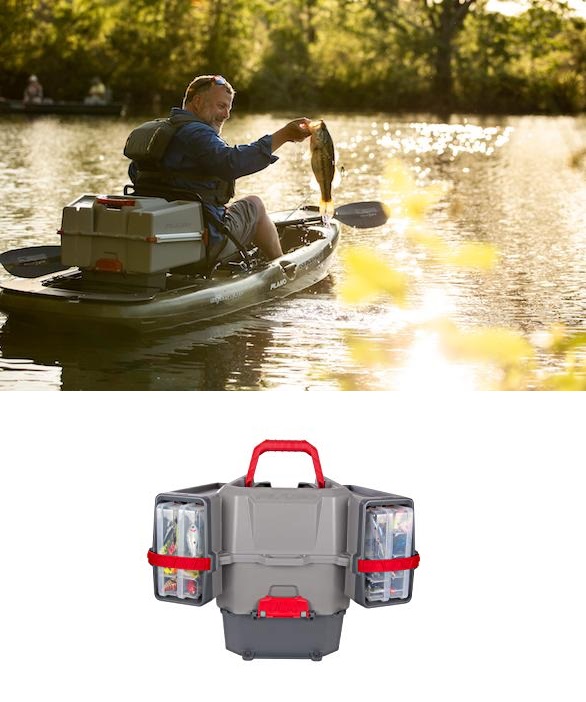 New for 2018, the Plano Kayak V-Crate takes 'yak-friendly waterproof tackle storage to the ultimate level. The highly ergonomic design easily fits in the rear cargo compartment of almost any fishing kayak and the clever, unobtrusive two-piece design securely stores and protects fishing tackle in a unique V-shape that makes accessing essential tackle items from the cockpit an easy proposition. Each angled tackle storage bay holds two large 3700-size StowAway tackle trays, secured by a quick release rubber strap. The V-Crate provides ample space for an assortment of larger items in the center module's open bulk storage. Load it up with gear, and you'll still find room to store your lunch. And, the angled tackle storage bays as well as the center module feature drain holes to eliminate pooling water.
Finished in a subtle two-tone gray with red accents, the compact V-Crate is built on an elevated base that is – you guessed it – the size of a milk crate. The main unit can be quickly detached from the base for ease of transport with the built-in, folding handle. It's also hinged. Tilt the main module back to access your phone, wallet or other valuables inside the base's waterproof compartment, or adjust the V-Crate's overall profile by hinging it backward for low clearance situations. The super versatile V-Crate also features a side rail system that allows for easy attachment of accessories, including rod holders.
Plano Kayak V-Crate
* Unique V-shape provides easy side access – especially for those with limited mobility
* Each side holds two StowAway® utility boxes
* Angled fit and rubber straps keep sides secure but open for easy viewing
* Large, open bulk storage in center module
* Drain holes in open storage compartments
* Waterproof compartment in base secures valuables
* Unit hinges backward to accommodate low clearance
* Side rail system easily attaches rod holders and other accessories
* Compact, elevated base (milk crate size) fits most kayak models
* Detach main unit from base for easy transport or stowing
* Four #23750 3700 Series StowAways included
* Product size: 26″L x 16.2″W x 18.1″H
Convenient, weatherproof tackle storage should be the least of your worries when dealing with wind, current and waves while sitting in a kayak. Thankfully, Plano's all-new Kayak V-Crate has your back. Get to those hot baits when the fish are blitzing – even if your mobility is less than athlete-level. Forget about twisting precariously to reach a crate full of miscellaneous gear. No more throbbing shoulders and tweaked backs; no more hooks stuck in fingers or other soft objects. The versatile V-Crate helps kayak anglers fish how they really want to fish – clean… and where boaters and even other kayakers have yet dared to go.
The post End Your Kayak Storage Tackle Wars! appeared first on .