Gabriela Zaldumbide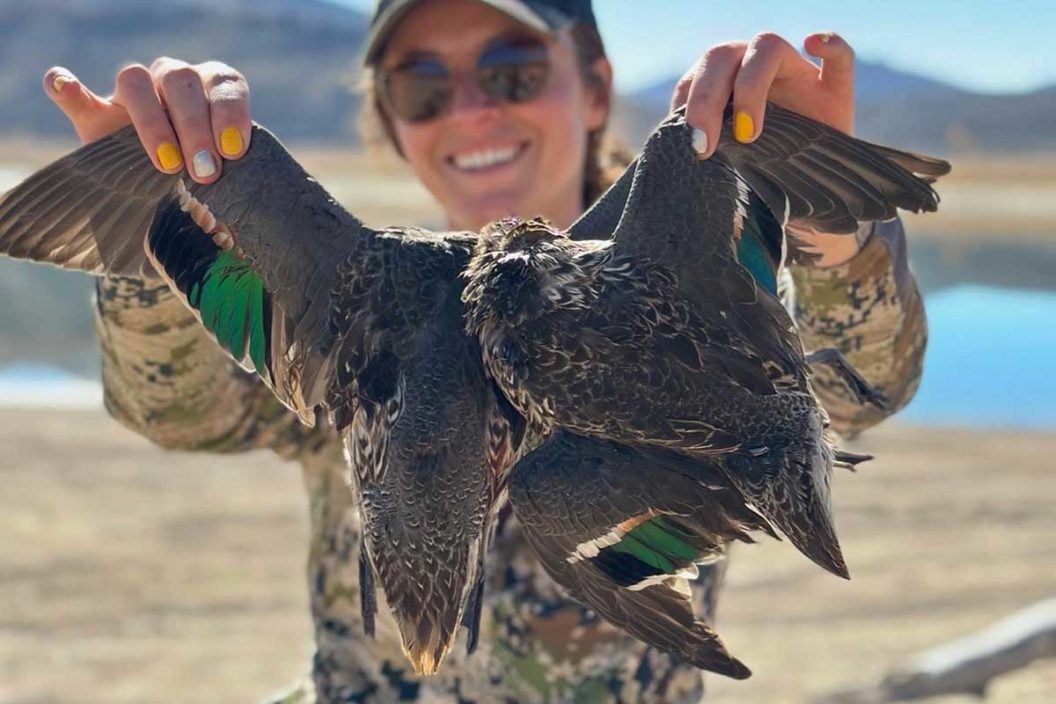 Birds have been my favorite animals for years. However, I had never really hunted them before until this fall. That all changed after attending the Academy Sports + Outdoors Cast and Blast event this season when I went on my first duck hunt ever. In the past, I've woken up in the wee hours of the morning simply to go birdwatching. Waking up before the break of dawn to go duck hunting was a whole new level of enjoying wetland birds. Not only were the ducks flying well before the sun came up, but so were herons, egrets, shorebirds, songbirds, and many other species that require the same high-quality habitat as ducks. Shooting my first blue-winged teal was just the icing on the cake.
After returning home, I racked my brain to strategize how I could duck hunt at home in Colorado. Our duck season was about to open, so I only had a little time to prepare myself for the season. Fortunately, Erin Crider–owner and founder of Uncharted Outdoorswomen–is a waterfowl guide. With her help, I was able to identify used, discounted, and new gear I needed to duck hunt on a budget at my local reservoir.
Buy Used Camouflage and Warm Layers
Duck hunting isn't exactly a warm endeavor. Ducks love cold, muggy, windy, rainy, and snowy weather. If you want to go duck hunting, it's important to dress warmly and wear waterproof outer layers, especially during January in Colorado. No one wants hypothermia. Fortunately, I already had a lot of wool baselayers that I used for other types of hunting. I also already had neutrally colored gloves, a camo face cover, and a warm camo hat.
I knew I could stay warm and cover my extremities in camo I already owned, so I focused on finding a camo jacket and camo insulated waders. Erin sold me her used SITKA Gear women's waterfowl jacket at a steep discount. She also recommended the brand Gator Waders to me. Unfortunately, I could not find a used pair of these anywhere; it seems like they're in high demand, and for good reason. I ended up purchasing a new pair. So far, I haven't been cold or wet while hunting in 17-degree temps. I plan to use them this winter for ice fishing in negative temperatures, too. If you can't find camo-colored gear, get a ghillie suit or camo netting and wear it over your layers. They're both very affordable. Even used gray fly fishing waders and your green raincoat will look like rocks, mud, and vegetation with camo netting over them.
Find a Reliable and Affordable New or Used Shotgun
This is probably the most obvious gear needed for duck hunting: a firearm! Having a reliable shotgun on hand is essential for even basic duck hunting setups. Any gun that fits your body and that you enjoy shooting is the gun you should hunt with. Whether it's a 20 gauge, 12 gauge, 50 years old, or brand new, whether or not you like it is all that really matters. If you already have a shotgun or know someone who will let you borrow theirs, you're good to go. Otherwise, consider checking out the used counter at your local gun shop. They may have the perfect shotgun for you on the shelf.
If you're looking for something new, I'd recommend checking out Stoeger's semi-automatic 12 gauge. I've used this gun at the range and in the field; it's impressed me with its quality, accuracy, reliability, and price point. Additionally, if you're looking for something that's a little stylish, consider the Yildiz Legacy 12 gauge. It's another wallet-friendly, reliable, effective option for duck hunting that's fun to shoot and fits this pint-sized shooter quite well. It's pretty, too.
Take Someone's Old Decoys off Their Hands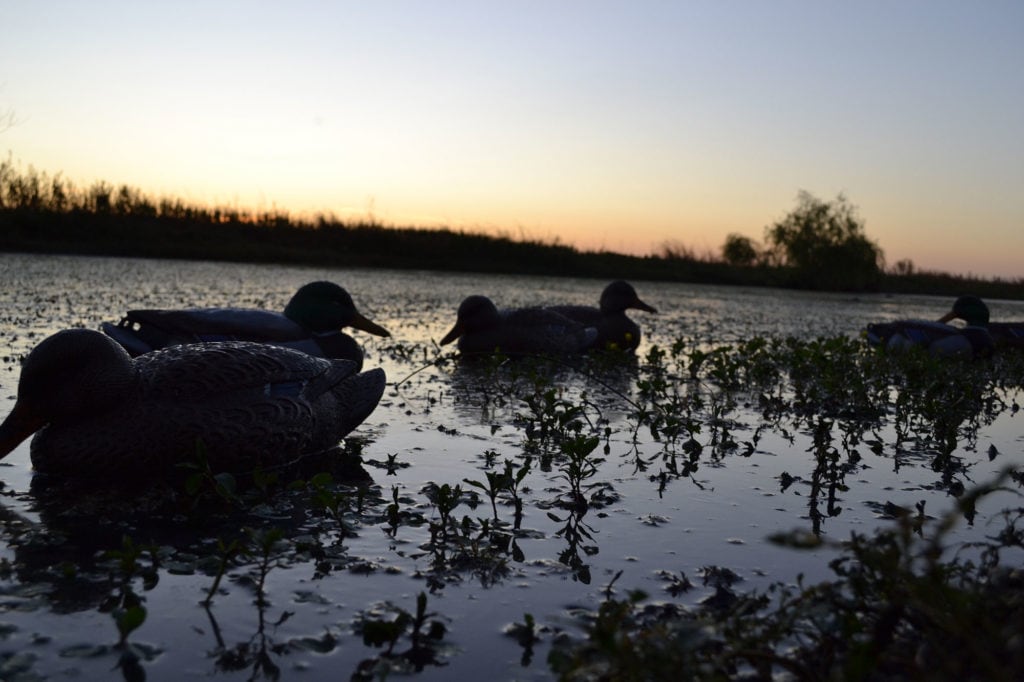 Most of us have been to Goodwill and seen a duck decoy or two stashed on a shelf. If only you had known that someday you'd want a waterfowl setup. You should've jumped on the deal! Finding used decoys is a great way to build up your waterfowl gear without breaking the bank. I've personally seen decoys at secondhand shops, used gear shops, garage sales, and even antique stores. By picking up a decoy or two each time you find used ones for sale, you can create a decent setup before you know it.
Additionally, your friends, neighbors, family members, or fellow Facebook Marketplace users might be getting rid of their used decoys. Checking with waterfowlers you already know (especially ones who don't get out much anymore) and on online marketplaces are other good spots to find used decoys. I got lucky and was gifted a handful of mallard decoys. With the money I saved, I picked up two electronic duck decoys.
Consider Getting an Electronic Decoy or Two
From what I've heard, an electronic decoy or two can really make or break a setup. Even if you only have four immobile decoys, throwing one electronic one into the mix can make it look much more realistic. I decided to get two Baby MOJOs because I hunt reservoirs. Avian eyes are extremely powerful. Ducks can see the flickering wings on the MOJOs from a great distance. This increases my odds of convincing ducks to come into my spread. Erin told me about some UV spray paint I can add to the wings, too, to make them even flashier. These are a little pricey, but again, if you can find some used ones that still work, pick them up. Keep an eye out at your local outdoor store to see if they go on sale. They might just put more ducks in your freezer!
Find a Flotation Device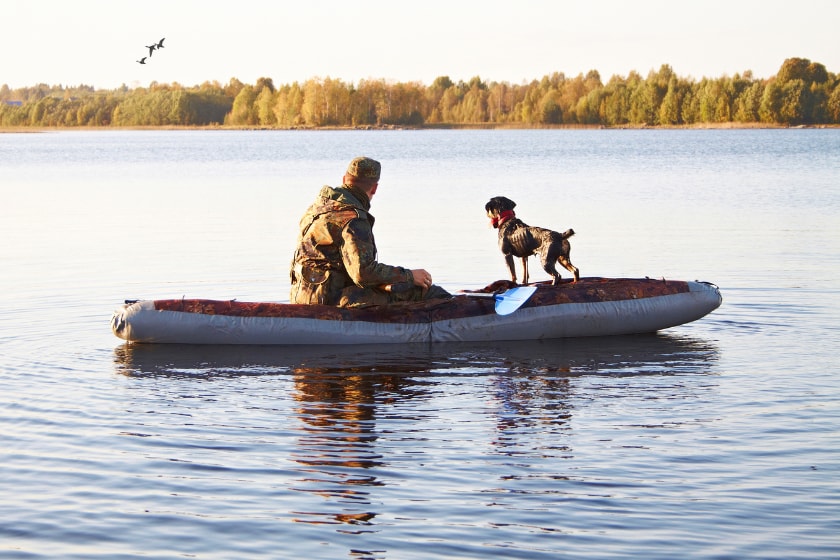 I do not have a hunting dog. I also don't know anyone who does have one, lives near me, and wants to take me hunting. This means that retrieving ducks from the water and quickly dispatching injured ducks can be really difficult.
After a heartbreaking failure to retrieve a duck, I invested in a child's kayak that would hold my weight when it went on sale at my local Walmart. Sure, it's bright blue. But I also picked up some tan, green, and gray spray paint. All of this cost me under $100, and after completing a little crafting project, my new duck retrieval device was ready for deployment. I'm sure similar things could be done with used kayaks or paddle boards. Additionally, if you have a fly fishing float tube, consider using it for this purpose as well. You'll get more use out of an item you already own and keep your money in the bank. Don't want to get a floatation device? I'd recommend finding a really, really long-handled net.
Don't Skimp on Ammunition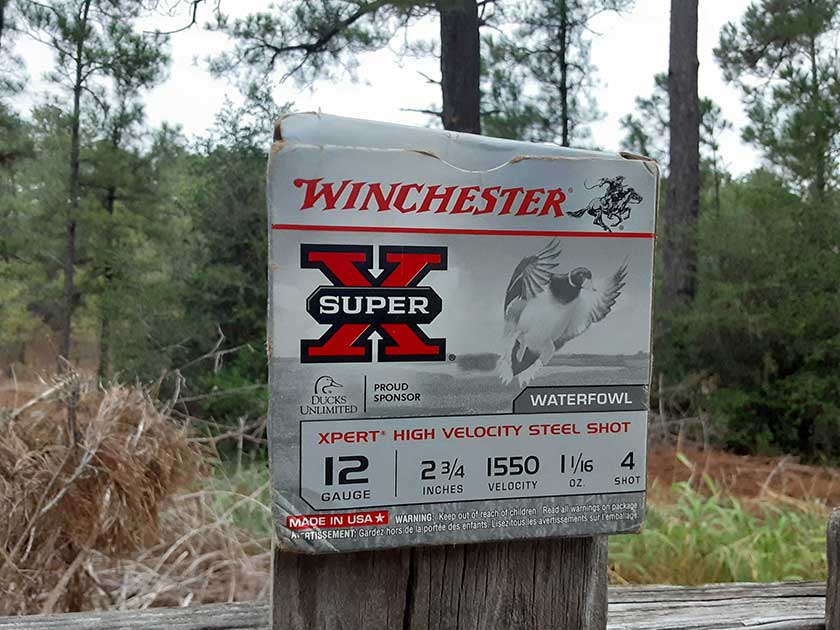 Ammunition is the one place you shouldn't skimp when it comes to budget waterfowl gear. Federal regulations require duck hunters to use non-lead ammunition and it is a little pricier than lead ammo. However, it's arguably more effective than lead shot and it's much healthier for our environment.
Additionally, you'll want to be dialed with your shotgun prior to hitting the water. Spending money on target rounds to practice shooting and pattern your shotgun will be worth it. By spending time at the range shooting lead rounds at clays, you'll be a more confident shot. By donating a few of your waterfowl rounds to your range time, you'll know exactly how your shot pattern spreads in the air, too. Plus, there's no need for fancy targets; you can pattern your shotgun on an old pizza box. All of this practice will make you a better waterfowler, no matter what gun you're shooting.
Learning to duck hunt has been extremely rewarding for me thus far. I'm spending more time outdoors watching some of my favorite animals and taking home more wild game dinners for my loved ones. Knowing that my setup didn't break the bank makes it that much more rewarding. Duck hunting doesn't have to be expensive. Reusing old gear, repurposing owned gear, and filling in the gaps with quality equipment will help more folks find success on the water.
The post Effective and Affordable Duck Hunting Gear Sets for Anyone on a Budget appeared first on Wide Open Spaces.