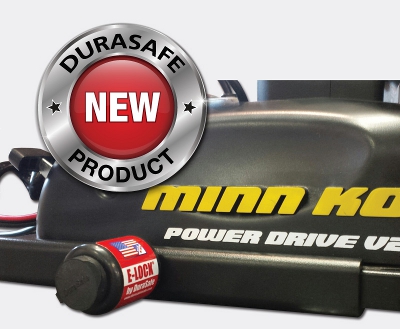 The DuraSafe E-LOCK®, the only lock on the market that truly protects marine electronics from theft, can now also be used on a number of Minn Kota® Quick Release Brackets to protect bow mount trolling motors.
By replacing the factory side screw of the Quick Release Bracket with an E-LOCK®, the bracket and motor are protected. Once installed, the lock prevents the bracket from sliding forward, securing the motor to the bracket.
The E-LOCK® is designed to sit flush to the bracket, making it impossible to cut off. Nothing is exposed. In addition, E-LOCK®'s smooth, circular design won't damage the boat's surface when it is underway, making it the best option available.
For more information about which Minn Kota® quick release bracket models the E-LOCK® works on and other DuraSafe products, visit the DuraSafe web site or call 1+866.544.5615 (US) or 1+262.544.5615.
DuraSafe – 1785 S. Johnson Road – New Berlin, WI 53146 USA
The post DuraSafe E-LOCK For Your Minn Kota appeared first on .