My friends over at Nebraska Environmental Trust (NET) put out a newsletter every month.  The February issue had a story about a project that I have known was on the horizon, but I did not want to mention anything about it until there was something to mention.  Let me share what was in the NET newsletter:
Dry Spotted Tail Creek

Dry Spotted Tail Creek runs into the North Platte River just west of Mitchell in the Nebraska panhandle. Highly channelized, it holds trout but not many can fight the strong current at the downstream end. In April 2018, the NET awarded Nebraska Trout Unlimited (NETU) $275,000 towards a project to increase stream sinuosity and add structure, creating healthy trout habitat, raising the water table, and recharging wetlands. The finished project will create about ¾ mile of publicly accessible trout habitat, as well as habitat for waterfowl and migratory birds.

With cooperative funding from partners at Nebraska Game and Parks (NGPC), Ducks Unlimited, Pheasants Forever, Platte River Basin Environments (PRBE) the Chasing Rainbows chapter of TU, and NETU chapter funds, over $900,000 will be spent to complete project goals.  The stream flows through land previously purchased with NET funds for PRBE's conservation complex along the North Platte.  Engineers from Barr Engineering and Five Smooth Stones Restoration have worked with the partners to prepare a 100% plan and with NGPC to prepare for bidding on the major work in March.

Ground breaking will happen very soon thereafter, using heavy equipment to move materials and create a diversion structure to turn the water into a new sinuous channel. The existing channel below that point will become a series of ponds to support native wildlife, and surrounding wetlands will provide habitat for native and migratory birds. Partner volunteers including the Boy Scouts will help plant streamside and in-stream vegetation once major earth work is completed and place rocks to create in-stream structure.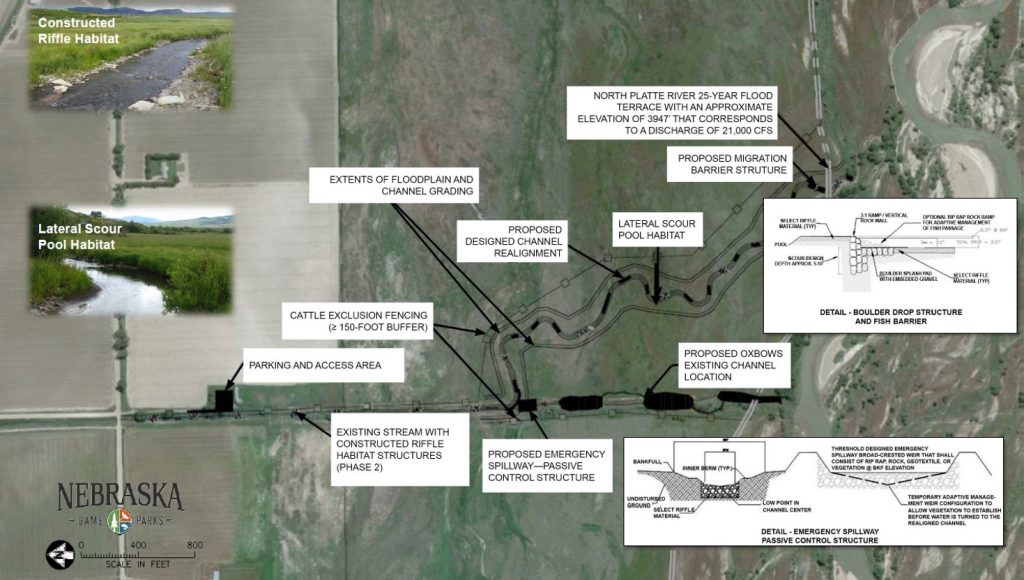 I get excited every time I hear about one of these projects because it means there will be another place I can catch some trout!  I plan to some day dry one off from Dry Spotted Tail Creek!
I am also excited about all the partners that come together on a project like this!  I am always excited when we are able to work with a variety of conservation groups to do great things for both fish and wildlife!  Along those lines, let me also share this with you, from the Scottsbluff Star Herald:
The Chasing Rainbows Chapter of Trout Unlimited will be hosting a fundraising event from 4 to 8 p.m. at the Mitchell Event Center at the Scotts Bluff County Fair Grounds on Monday, March 18.

The event is free and open to the public, with free hot dogs and chips offered.

The fundraiser is part of a celebration of the approval of the redirection for Dry Spotted Tail Creek, which has a pre-bid process underway.

Tours of the project site next to Spotted Tail Creek will be offered from 4 to 4:30 p.m.

The event will feature demonstrations of fly tying, fly casting, displays of different types, and a presentation by Bob Reece of Cheyenne, Wyoming, who is the exclusive guide for the Horse Creek Ranch west of Cheyenne. Reece's Presentation will be from 6 to 6:30 p.m. The event will also feature a raffle with the following items:

• An Orvis 8' four piece-four weight rod, Orvis reel, fly line with backing and a double rod case

• A St Croix 8 1/2' four piece-four weight rod, Orvis reel, fly line with backing and a double rod case

There will also be a mandatory pre-bid meeting with the Nebraska Game and Parks Commission and the partnership representatives, engineers and contractors interested in bidding the project construction. This meeting will not include the general public. A representative from the meeting will be available to answer any questions about the project after 4 p.m.

For any persons willing to help with the fundraiser, contact Bob Smith at 308-641-7515 or email him at rmsmith@pvbank.com.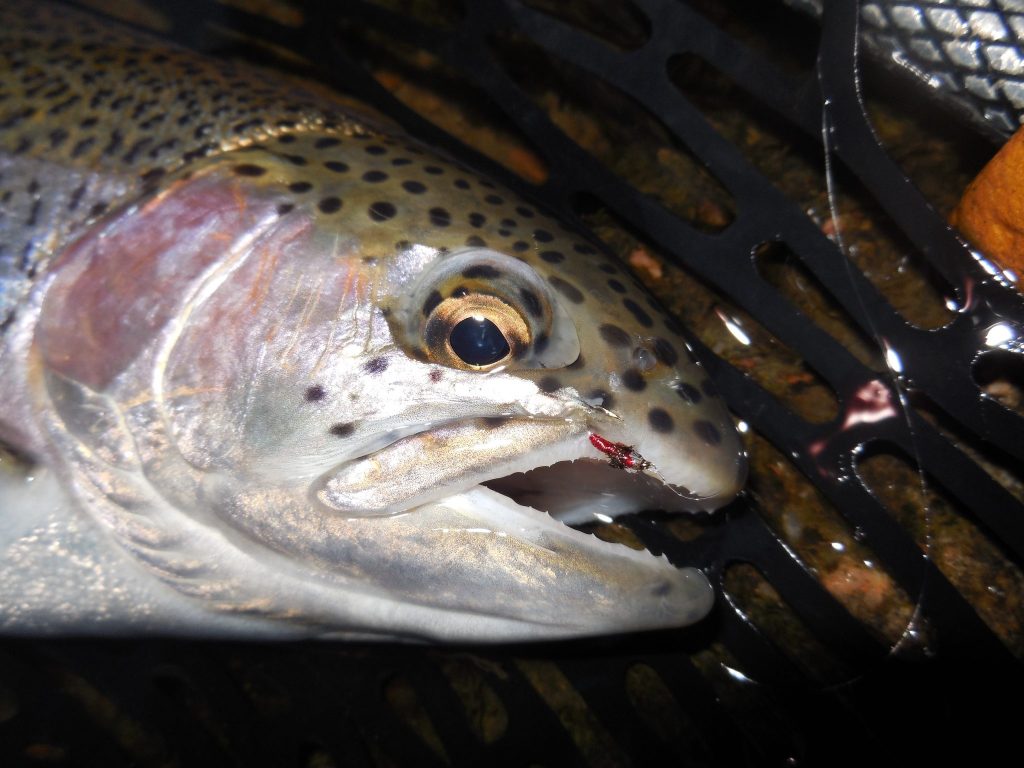 The post Dry Spotted Tail Creek appeared first on Nebraskaland Magazine.