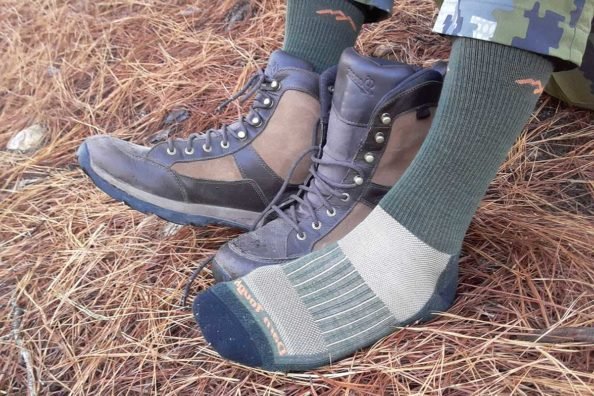 A pair of Darn Tough Hunting Socks reinstated my belief in caring about your feet.
I don't know about you, but I heard it all the time in my early hunting days: "Take good care of your feet, or your whole day can be ruined."
Investing in good hunting boots has always been part of a good hunting mantra, but it actually goes farther than that. How much farther? One more layer, because I've come to find that a lot depends on the socks you're wearing, too.
I recently tested out a couple pairs of socks from Darn Tough Vermont, a family-owned business that values the right sort of things, like honesty and reliability. But they also emphasize inclusion, diversity, and mutual respect. It's the kind of company you feel good about supporting, because of their meaningful "It's not just where you go, it's how you get there" attitude.
When you make wool socks as good as these, you deserve some recognition.
Darn Tough Hunter Boot Lightweight Hunting Sock
The first pair I tried out, the Men's Hunter Boot Lightweight Hunting Sock, are the lightest socks Darn Tough makes. They've deemed these as the "perfect turkey-season hunting sock."
The sock cushion underneath your foot is great, but over the top of your foot the sock is thin, comfortable, and has some serious breathability. The rest of the sock is ribbed and stays in place at a typical boot height (they're a little longer than your normal crew socks), and the performance fit is exactly the type I like in any socks. I've yet to experience any bunching under my hunting boots.
The merino wool socks (blended with some nylon and lycra spandex for stretchiness) feel great and do their job well. Naturally, they're moisture-wicking and fast drying, which I proved to myself during a recent weekend deer hunt.
They weren't exactly "lucky socks," as I didn't tag a deer, but they certainly helped avoid blisters and sore feet after a good amount of hiking.
The colors are great, with strong earth tones and accents of blaze orange. Similar pairs are offered in a Hunter Boot Heavyweight and Hunter Boot Midweight Hunting Socks.
Though they're intended for hunting, I don't see any reason why these wouldn't work as good backpacking and hiking socks.
Darn Tough Midweight Tactical Boot Sock
To get a feel for the other types they offered, I also tried out the Darn Tough Midweight Tactical Boot Sock, meant for cooler temps and heavier loads. They may not be ideal for extremely cold weather, but you can feel the difference between these and the Lightweight Hunting Socks.
There's a unique terry loop cushioning that surrounds my leg and foot, plus an elastic arch support and reinforced heel and toe. These socks also employ Darn Tough Socks "True Seamless" technology, meaning all the seams have an undetectable fusion for an all-around smooth feel. All these features add comfort and increased durability.
I could see these working well as mountaineering socks for heavy use, or as skiing or snowboarding socks since they wick moisture so well.
Darn Tough Recommendation
To say these are the best socks I've ever worn wouldn't be an exaggeration, since I've basically got two pairs of go-to pair of hunting socks no matter when or where I'm going.
What's extra great is they also offer women's hunting socks, plus a full selection of active, everyday wear socks and other activity-specific pairs for men, women, and kids.
Best of all, every pair of Darn Tough Socks are covered by a lifetime warranty, which earns them the final stamp of approval from me.
To find out more about Darn Tough Vermont, and to pick out a pair of socks for yourself, check out DarnTough.com.
NEXT: GEAR REVIEW: GOBI HEAT BASELAYERS ARE PERFECT FOR COLD WEATHER HUNTING
The post Darn Tough Hunting Socks Do a Darn Good Job appeared first on Wide Open Spaces.