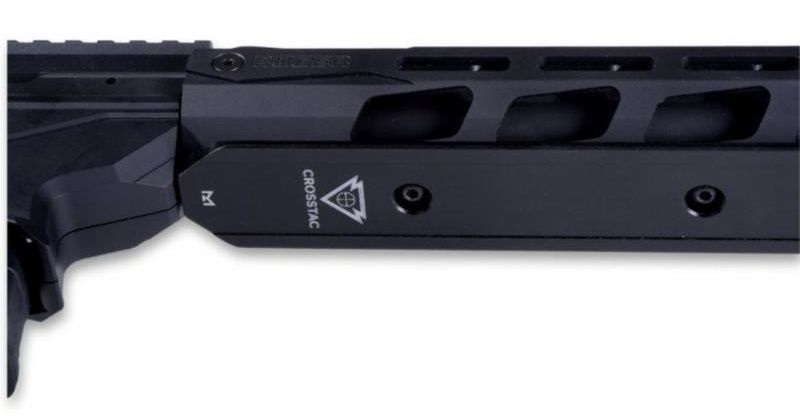 Crosstac, the innovator behind tactical/shooting gear for the serious competitor to the beginner shooter, offers an ARCA rail solely dedicated to the very popular Ruger® Precision Rifle. The 16" rail with an M-LOK mounting system also features three Quick Detach (QD) holes for various sling positions.
The M-LOK Crosstac ARCA rail is designed specifically for Ruger® Precision rifles with an M-LOK handguard. It also fits the Ruger Precision Rimfire .22LR with the M-LOK attachment. Whether used for precision long range competition, long distance hunting or law enforcement sniper duty, the CNC machined, Type 3 hard anodized stainless steel Crosstac ARCA rail accepts bipods, tripods, barricade blocks (Crosstac ARCA blocks available too) and QD slings on the ARCA QD holes, eliminating the need for any other sling attachment system.
A numbered scale on the rail makes it quick and easy to adjust or reposition accessories from one competition stage to the next. The front ramp keeps the forend from hanging up on barricades. On what is normally the flat bottom of the ARCA rail, Crosstac has sand grooved it to alleviate any binding from dirt or debris.
"An ARCA rail really becomes an integral part of the rifle," Bret Heidkamp, one of the founders and president of Crosstac and competitive shooter, said. "The fact that we have taken it to the next level with the sand grooved bottom and the laser etched scale are results from real-world use of this type of rail in competition. With the popularity and the affordability of the Ruger Precision Rifle, we knew at Crosstac that our ARCA rail would only enhance the shooter's performance."
The Crosstac ARCA blocks have grooves machined into them, providing positive traction and increased stability when positioning the rifle's ARCA blocks on either side of any PRS barricade, yet the rifle releases easily when moved vertically from the barricade. The blocks also feature a QD mount in the base for sling tensioning (no additional parts needed). Additionally, the blocks have a machined "window" for versatility or to allow for a finger grab.
The concept behind the ARCA rail comes from the original mount for cameras developed by the Arca-Swiss company in the 1990's. The Arca-Swiss mounting system fit on a camera and allowed for quick attach and detach from tripods. From this simple, but effective method of quickly attaching and detaching photography equipment, Crosstac's ARCA rail and blocks add a new performance dimension to shooting the Ruger Precision Rifle.
Related articles:
The post Crosstac's ARCA Rail for the Ruger Precision Rifle appeared first on OutDoors Unlimited Media and Magazine.