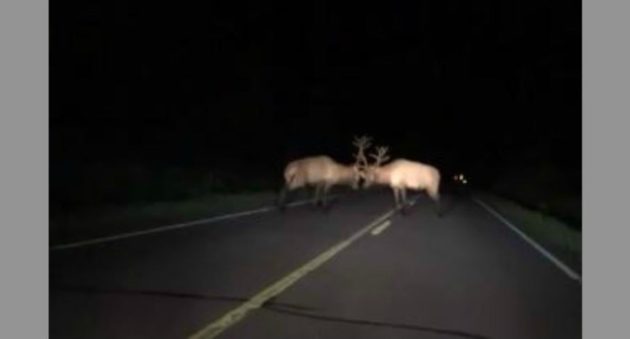 Two giant bull elk throw down on a major highway in Wisconsin.
For elk hunters, it's that time of year. The rut is taking off. Bull elk are bugling and fighting. And we're all waiting to get our own slice of the action. For these Wisconsin motorists, however, the action came right to them.
This was insane!!!! Clam Lake, WI September 11, 2017 at 12:10a.m. On Highway M

Posted by Ellyn Morgan Conhartoski on Sunday, September 10, 2017
In the video originally posted to Facebook by Ellyn Morgan Conhartoski, two bull elk throw down in an epic battle on a major highway. The late night travelers quickly grabbed their phone and aligned their headlights to capture the scene. It's the type of battle that many hunters long to encounter while in the wild.
Like what you see here? If so, click here to read more great hunting, outdoor, and shooting articles by Reid Vander Veen. Also, check out his writer page, Tree Stand Diaries, on Twitter, Facebook and Instagram.
NEXT: WORLD CLASS ELK SHOT IN… NEBRASKA CORN FIELD
The post Crazy Video of Bull Elk Battle in the Middle of the Highway appeared first on Wide Open Spaces.