Getty Images: mlharing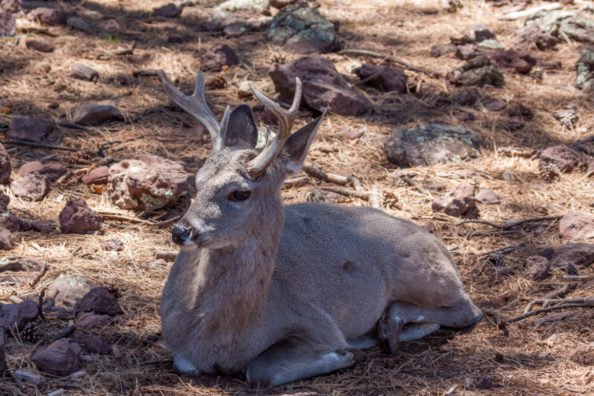 Hunting the elusive "grey ghost" is unlike any other whitetail pursuit.
The coues deer – odocoileus virginianus couesi – is a whitetail subspecies found exclusively in North America, primarily in southeastern Arizona as well as New Mexico and Sonora, Mexico.
While still big game animals, coues whitetail deer are significantly smaller than their northern relatives, typically standing just 30 inches high and sporting more compact racks. The current typical world record's antlers only score 144 1/8 inches Boone and Crockett. The non-typical world record scored 196 2/8 inches. Coues bucks tip the scales at up to 100 pounds, while the average live weight for does is 65 pounds.
They flock to areas that receive summertime precipitation and prefer a mix of open dessert country and woodlands, particularly at higher elevations.
Coues Deer Hunting
Drawing a permit for regular season rifle hunts from October through December is usually pretty easy, and the December early rut is a great time to tag a coues deer buck in Arizona. Weather during this time of year is also cooler, so big bucks may be more mobile during daylight.
Coues deer have excellent vision, tend to be very wary, and can be tough to spot in the shadows. Expect to do lots of glassing with a high-quality pair of binos or a spotting scope and be prepared for a possible long-distance shot. Treestands and ground blinds are usually reserved for hunting a water source. Although unlike the usual methods of white-tailed deer hunting, it is usually more effective to go after these deer on foot. Especially if you are bowhunting. Arizona also has a deer muzzleloader season so you can reach out to longer ranges.
But for the ultimate challenge, ditch the outfitters for a DIY archery coues deer hunt. Arizona archery tags are available over the counter (OTC), and the state holds plenty of desert country public land. You may be able to locate a rutting buck during the January late season, when most units are open and allow you to hunt coues and mule deer with the same tag. There's also some overlap with javelina season.
Products featured on Wide Open Spaces are independently selected by our editors. However, when you buy something through our links, we may earn a commission.

Glassing a buck, stalking within shooting range, and making the longer-than-usual bow shot may be difficult, but you'll earn all the bragging rights.
NEXT: WHITETAIL VS. MULE DEER: THE DIFFERENCES, WHY YOU SHOULD HUNT THEM AND WHICH IS BEST
WATCH
The post Coues Deer: Finding, Hunting, and Appreciating This Special Deer Species appeared first on Wide Open Spaces.