Thanksgiving was about overeating and halftime naps…and of course getting together with family. And, for far too many, it also marked the end of fishing season. But it really doesn't have to be that way. Bundle up and buckle up, because we have a few suggestions to put you on a bite right now.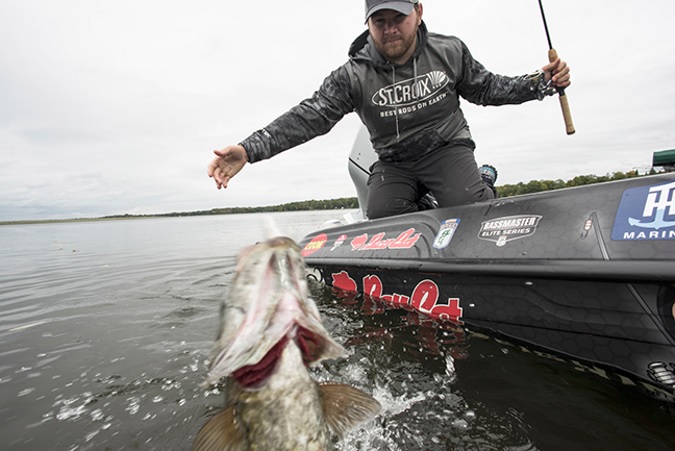 Smallmouth Bass
Complications catching smallmouth bass during the late-fall, early winter season? That's only because they're packing up into tight knit pods; which make them difficult to locate even with sonar.
Here's a plan: If warm water's flowing in via a creek or river in your go-to reservoir or lake, cast the shallows with an A-rig. Thread 20-pound-test fluorocarbon, such as Seaguar InvizX, though the guides of a 7′ 10″ Mojo Bass "Swim/A-Rig" (MJC710HF) casting rod and fan-cast thoroughly. Wham!
Late-late-late in the season, smallies school up even tighter. (Looking like a Christmas tree on your graph.) This is the time to fish the water column thoroughly with a hair jig under a float. Tie the jig to 6-pound test monofilament and cast it out over the school with an 8', medium-light-power, moderate-action, 2-piece, 9' 6" Mojo Bass "Float N Fly" (MJS96MLM2) spinning rod. The moment that bobber twitches, set the hook. Fish in the net.
Walleyes
With walleyes collected below dams and in deep holes along river bends, there are few presentations that produce big numbers like the time-tested method of vertical jigging. And once water temperatures reach the 40's, walleyes LOVE soft plastics. 2.5 to 5-inch paddletails, flukes, ringworms, and related soft baits with moderate actions are outstanding choices.
For flukes, consider the Z-Man StreakZ

or shorter StreakZ 3.75; the Z-Man MinnowZ knocks down the paddletail category.

Rig your plastics on a jig that will get down fast, and stay there. The best jigs for soft baits have long-shanked hooks, wire bait keepers, and current-cutting head designs. ¼-3/8 oz. jigs are typical when vertical jigging depths of 15-30 ft. Tie the jig on a low-stretch line: braided lines work well until air temperatures fall below freezing, which causes braids to lock up and make jig presentation tough. At that point, switch over to a high-performance fluorocarbon, like Seaguar AbrazX.
Most vertical jiggers select shorter rods for better line and bait control, and to keep jigs inside the sonar beam. The 6' medium-power, fast action (AVS60MF) or the 6' 3" medium-power, extra fast action (AVS63MXF) Avid spinning rods are outstanding choices.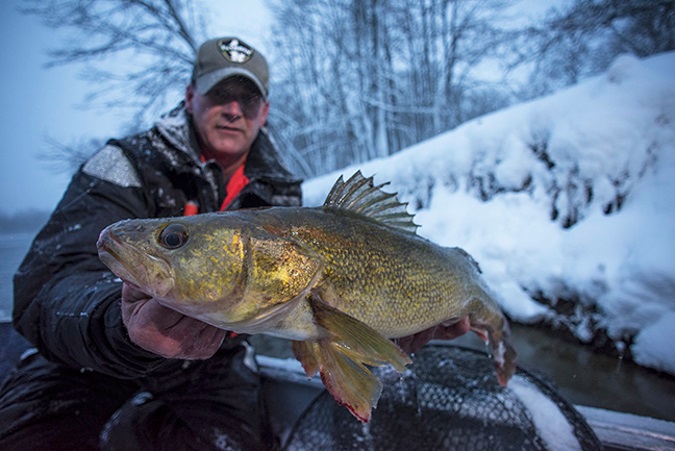 Largemouth and Spotted Bass
When winter is on the radar, mother nature knows it's time to feed up for the months ahead. In other words, you can bet that largemouth and spotted bass will be chasing bait.
In reservoirs and larger lakes, bass move from shallows to deeper wintering areas, typically right off key structure like main lake points and offshore bars. Your mission is to target them with shad-shaped baits or paint schemes that mimic a panfish, if shad aren't plentiful.
If you're marking deeper, suspended fish – 25 to 50-feet of water – jigging spoons are the weapons of choice. Pump ½ to 1-ounce shad-profile/patterned spoons on 15- or 20-pound braid with a fluorocarbon leader for shock-absorption and invisibility. Freefall the spoon to a depth above the marks, put on the brakes and give if a few waggles. No immediate impact? Begin a succession of rather dramatic snaps followed by limp line drops. Strikes often occur on the fall, meaning, upstrokes often morph into hooksets.
A tried-and-true combo here pairs a 6' 8" medium power, fast action St. Croix Mojo Bass (MJC68MF) rod with a comfortable, low-profile baitcasting reel. With a box of spoons and some Mojo…you're in business.
Don't be "that guy," the one who only angles vicariously through fishing shows and Facebook all winter. Be the guy who braves the elements and actually posts those Christmas time fish photos.
The post Cold Water Considerations For Today's Fishing Season appeared first on ODU Magazine-North America's #1 Digital Fishing Magazine.