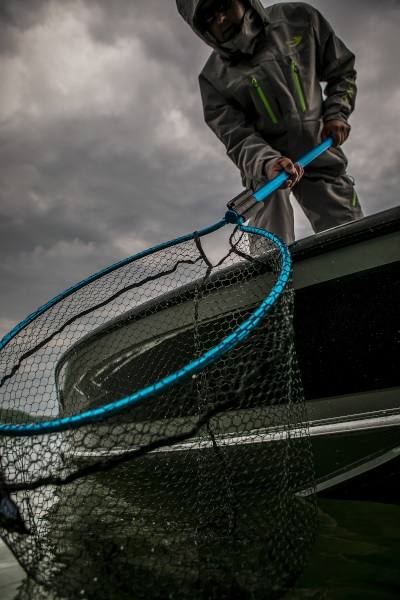 The Clam Outdoors brand is synonymous with quality gear for anglers. And that tradition continues with its launch of open water landing nets.
So what's the difference between a good net and a great net? It comes down to quality materials and engineering…Clam nets are designed with a focus on conservation, superior strength, durability, and overall ease of use to give anglers confidence in their net.
After rigorous testing, the net series has been endorsed by numerous Pro Anglers and renowned guides throughout the Midwest. The Fortis Series are designed for multispecies including panfish, bass, walleye, pike and catfish. And the Colossus nets are designed for large fish including muskie, trophy pike, sturgeon and salmon.
Here are a few key features that set Clam nets apart…
A strong yoke with Glide Lock Technology is backed by limited lifetime warranty.

Utilizing conservation-focused, rubber-coated netting, Clam nets are easy on fish.

Low drag in the water enable anglers to net fish faster

A telescoping handle features a push-button yoke deployment system that makes for convenient storing but quickly extends to let anglers get to their fish faster.

Military-grade aluminum hoop provides superior strength, yet lightweight for easy handling and use

Handle features a laser-etched ruler that serves as a measuring stick

With a limited lifetime warranty, Clam nets are tough and built to last
"After several years of rigorous testing and development, we've built a net that outperforms our expectations," notes Clam Engineer John LaHood. "The feedback from our Pros and Guides has been overwhelmingly positive, so we know that we've built a superior product that will give anglers extreme confidence in a quality net."
The Fortis and Colossus nets by Clam are available at most outdoor retailers.
Available in six sizes, MSRP ranges from $89.99 to $119.99.
Learn more about Clam nets and find a dealer near you at Clamoutdoors.com/Nets.
The post Clam Outdoors Launches Line of Landing Nets appeared first on OutDoors Unlimited Media and Magazine.