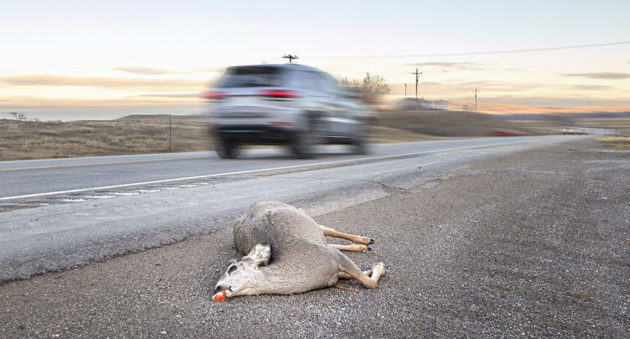 A California Senate Bill is seeking to allow the consumption of road-killed deer and other wild animals.
A proposed bill in California could amend state law and allow drivers who hit and kill wild animals or come across roadkill to collect and consume the game meat. The Sacramento Bee reports that the process would involve a wildlife salvage permit, which can be retroactively applied for within 24 hours of a collision.
Senate Bill 395, sponsored by Sen. Bob J. Archuleta, D-Montebello, would allow for deer, elk, antelope, and wild pigs to be taken by the general public. As it currently stands, only a state or local agency has the permission to remove roadkill. The passage of the bill would also rewrite the state's Fish & Game Code.
The bill's text claims that "it is estimated that over 20,000 deer alone are hit by motor vehicles on California's roadways. This translates into hundreds of thousands of pounds of healthy meat that could be utilized to feed those in need."
A wildlife salvage permit would cost nothing, and should an animal become severely wounded but not die in a collision, the bill's passage would permit the salvager to kill it "in a safe, legal, and humane manner."
A similar bill was passed in Oregon in January of last year, and Idaho saw legislation passed as well, with nearly 5,000 animals salvaged in four years of legality.
Hunters know how much wild game can add to a life's experience, and if salvaged meat goes to those in need, that's even better. What these sorts of proposals and eventual law changes mean is that natural resources, when managed and regulated correctly, can be properly respected and put to good use.
NEXT: CLEANING UP ON ROADKILL: WASHINGTON RESIDENTS TAKE 1,600 DEER AND ELK HOME IN LAW'S FIRST YEAR
WATCH
The post California Bill Looks to Legalize Salvaging and Eating Roadkill appeared first on Wide Open Spaces.