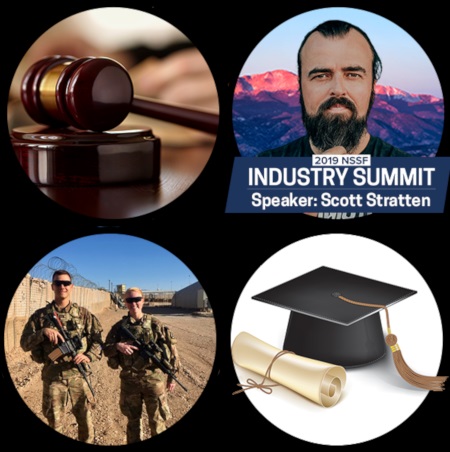 REMINGTON GRANTED CASE STAY … The Connecticut Supreme Court granted Remington Arms a stay in the Soto v. Bushmaster case as it appeals the decision to the U.S. Supreme Court. The state Supreme Court allowed the case to move ahead based on a narrow interpretation of Connecticut's Unfair Trade Practices Act (CUTPA). Remington will not have to turn over discovery materials while the appeal is pending. 
INDUSTRY SUMMIT: UNMARKETING … If you're feeling like the traditional methods of reaching your customer base are getting lost in the crowd, you're not alone and you're not imagining things. It's time for a change, and Scott Stratten is going to show you how in his NSSF Industry Summit presentation "UnMarketing: Stop Marketing, Start Engaging." Don't miss your chance to attend, register today.
NSSF SUPPORTS OVERSEAS U.S. TROOPS — YOU CAN TOO … The U.S. has more than 175,000 troops stationed overseas at any given time, and care packages are always welcomed. NSSF recently sent 75 pounds of items to our CFO John Smith's daughter, 1st Lieutenant Emma Smith, and her unit in the U.S. Army's 10th Mountain Division stationed in Kandahar, Afghanistan. You can send your own care package to those stationed overseas with info from the U.S. Postal Service.
PATRON MEMBER SCHOLARSHIP PROGRAM NOW ACCEPTING APPLICATIONS … Employees and qualifying family members of companies that support NSSF at the highest level can apply for education aid through the NSSF Patron Member Scholarship Program. NSSF has made available a total of $60,000 in scholarship funding for a maximum of 25 winning entries. See if you qualify and apply here.
More Gun News From ODU >> https://www.odumagazine.com/topics/guns/
More NSSF News:
The post Bullet Points – Weekly Firearms Industry Newsletter – 5-9-2019 appeared first on OutDoors Unlimited Media and Magazine.