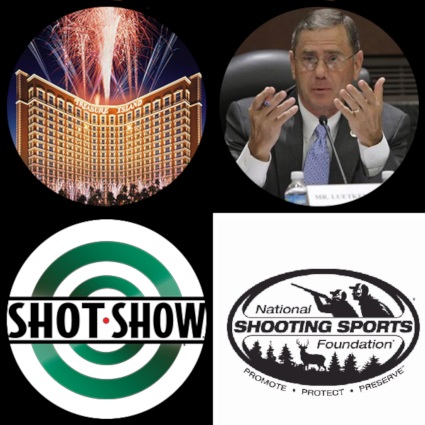 NEW YEAR'S SHOT SHOW HOTEL BONUS … SHOT Show, in collaboration with Las Vegas, is offering special New Year's bonuses to eligible SHOT Show registrants. Register for SHOT Show in the next 10 days for a chance to receive a complimentary hotel stay at a partner hotel during the 2019 SHOT Week. Visit SHOT Show's LinkedIn, Facebook and Twitter for more details.
FINANCIAL SERVICES PROTECTION BILL REINTRODUCED … U.S. Rep. Luetkemeyer (R-Mo.) has reintroduced, in the new congress, the Financial Institution Customer Protection Act, NSSF-endorsed bipartisan legislation that previously passed the House 395-2. NSSF has worked with Rep. Luetkemeyer for several years to end Operation Choke Point, the Obama admin initiative encouraging discrimination against firearms businesses.
COUNTDOWN: TWO WEEKS TO SHOT SHOW … The industry's annual main event opens in Las Vegas in just two weeks. Everything you need to know about NSSF's 2019 SHOT Show is detailed in our annual SHOT Show Tracker publication. It's packed with show schedules, networking details, education descriptions, exhibitor lists and a sneak peak of the hottest products being displayed.
Related NSSF Articles:
The post Bullet Points – Weekly Firearms Industry Newsletter 1-10-2018 appeared first on OutDoors Unlimited Media and Magazine.