arkansasmatters.com reported first. Jerrime Tucker of Conway used his bow in March to take the biggest spotted gar ever recorded in Arkansas, topping a mark that had held for almost 12 years. Tucker was bowfishing in Lake Conway on March 18 when he caught the spotted gar, which weighed 12 pounds, 5 ounces, setting the mark for largest spotted gar taken with unrestricted tackle. Unrestricted tackle is anything other than rod and reel. The previous mark of 11 pounds, 12 ounces was set by Joseph Miller of Clinton, who took his fish on April 9, 2005, in Lake Overcup.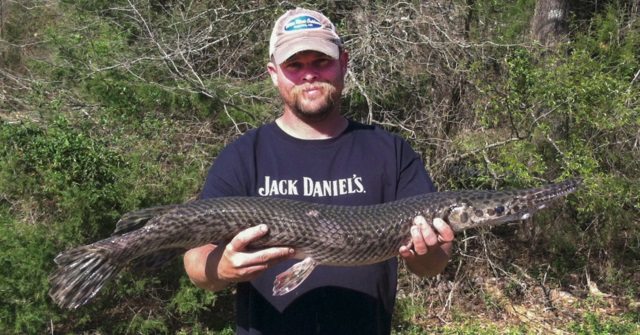 Tucker's record-setting gar, which measured 41.3 inches from tip of nose to tip of tail and had a girth around the dorsal fin of 10 inches, was weighed at the Arkansas Game and Fish Commission's (AGFC) Mayflower office. Tucker was fishing with Brandon Capps of Jacksonville.
Anglers who believe they have caught or shot a record fish can fill out a State Record Fish Application through a local AGFC District Fisheries Office. A fisheries professional of the AGFC or the U.S. Fish and Wildlife Service must verify the species and the weight of the fish. A digital photo of the angler with the fish must be included with the application for it to be considered and certified as a state record.
The post Bowfisherman Catches Arkansas Record Spotted Gar appeared first on ODU Magazine-North America's #1 Digital Fishing Magazine.