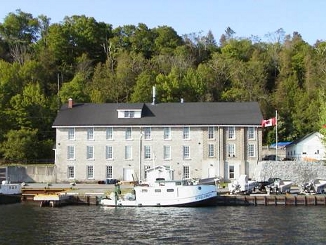 Hi everyone, these three episodes were recorded live at the Glenora Fisheries Station on Lake Ontario near picton. The episodes feature my discussions with Colin Lake, the Program Biologist for the Ministry of Natural Resources. Discussions focus on the history and present state of both recreational and commercial fishing on Lake Ontario, and how it's evolving over time due to pressures both natural and man-made, and what we are doing to ensure the future of fishing. An article will follow.
. We also took a tour of the facility, view the aquariums, and  meet some of the summer research students as they examine fish brought in by commercial fishers. I've attached three photos provided by Colin Lake, and Anne Melrose will share with you several more that she took. We also have some short videos that will go up soon, and which can also be made available.
Annual Ministry reports on fishing in Lake Ontario can be found at: http://www.glfc.org/lakecom/loc/mgmt_unit/index.html
The following are the titles and descriptions.
Title: E98 Colin Lake on Lake Ontario Salmon and Bay of Quinte Walleye Description: Colin Lake is a lead biologist with Ontario's Ministry of Natural Resources and is in charge of programs run out of the Glenora Fisheries Station. Learn why Pacific salmon were introduced into Lake Ontario, and why the Bay of Quinte remains one of the greatest trophy Walleye fisheries in North America in spite of rising water temperatures.
Title: E99 Colin Lake on Lake Ontario Research and Hamilton Harbour Restoration Description: Colin Lake from the Glenora Fisheries Station speaks with Lawrence Gunther about the challenges maintaining a balanced and vibrant ecosystem in Lake Ontario, and how Hamilton Harbour is being turned from an industrial victim back into a strong and diverse fishery. Come alone for a tour of the Glenora Fishery Station's 75-year old aquariums.
Title: E100 Colin Lake on Commercial Fishing on Lake Ontario Description: Commercial fishing has been taking place on Lake Ontario and the St. Lawrence River in different forms for over 200 years. Find out how the Ontario Government is working to ensure current commercial fisheries are sustainable and economically viable. Meet some of the students that split their summer working aboard MNR research vessels and dissecting fish in labs.
Episodes of Blue Fish Radio is streamed on the internet 6-times each week over WRVO Outdoor Radio; broadcast 5-times each week by AMI Audio over cable TV and SiriusXM Canada; featured on Outdoor Canada Magazine's website and social media channels every second week, and linked to by hundreds of conservation and fishing related sites.
Over 100,000 listeners enjoy the show weekly, in addition to audiences reached through links to episodes established on numerous 3rd-party websites and FaceBook pages. Tweeted episode announcements reach on average 60,000 Twitter followers.
Blue Fish Radio interviews are recorded live and later edited to ensure the best possible portrayal of our guests and their message. Downloads or player links of episodes can be obtained for inclusion on your own website or social media. The over 80 Blue Fish Radio episodes can be found on iTunes or downloaded as MP3 files directly from Spreaker.com.
You can learn more about the host, Lawrence Gunther, at www.lawrencegunther.com. Lawrence also serves as President of Blue Fish Canada, a charity dedicated to the future of fish and fishing.
The post Blue Fish Radio: Glenora Fisheries Station on Lake Ontario appeared first on .