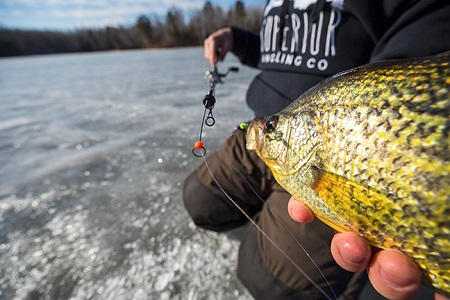 The words "black ice" spurs anxiety in the mind of the late season winter angler, questioning the quality of the degenerating, porous surface. On winter's front end, black ice is the fast-forming, crisp foundation that coats the shallows and appears black from afar – the building blocks of a long ice fishing season.
New for ice fishing 2017-18, St. Croix's Legend Black ice rods mean you're equipped with the finest, most-sensitive ice fishing tools of all time.
"I've fished just about every ice rod in existence, and can tell you with complete confidence that St. Croix has finally produced the ultimate hardwater tool," says ace ice guide Tony Roach. "Each rod in the Legend Black series feels super comfortable, familiar, like an extension of your jigging arm.
"Sensitive? Ever felt a mosquito land on your index finger? Yeah, that's what the super-finesse strike indicator does. Detects every lure disturbance — a subtle bluegill nudge, crappie breathe-bite, perch nipping nothing but the tail of your larvae. The indicator's solid black silhouette stands out like a beacon and doesn't lie — ever."
With ten models in the series, and available in lengths from 17- to 48-inches, Legend Black ice rods are paired with the patented fully-adjustable, interchangeable, stainless-steel finesse strike-indicator system for targeting a variety of species with just about any offering. Just slide the spring forward or back to adjust the tension so that it's at a 30-degree angle off the tip, and you'll see every bite, even when fish rise to bite from below – the cryptic "up bite," which is virtually undetectable without a strike-indicator.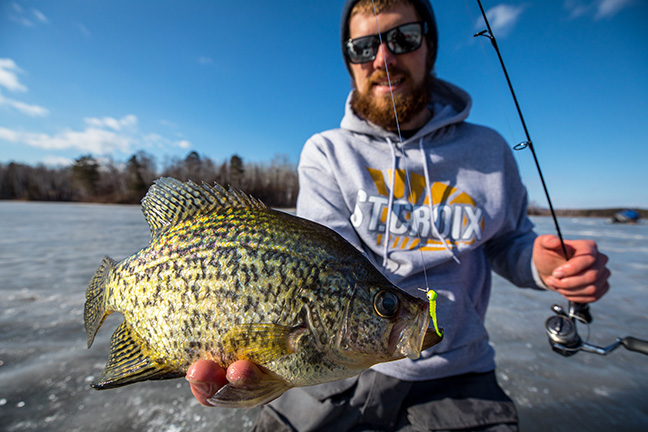 Legend Black ice rods are durable, yet, have precision tapers with solid-carbon blanks, and are offered in ultra-light to medium-heavy powers. And every model is coupled with a high-quality Sea Guide® PNPS reel seat for hand-to-handle comfort, and superiorly-made Pac Bay minima guides. Supreme components and a superior blank for extreme-performance.
Handcrafted in Park Falls, Wisconsin, Legend Black ice rods provide a 1-year St. Croix Superstar Service warranty and retail for $75-$80.
Allowing ice anglers to see the subtlest strikes well before they're felt? That's Legend Black.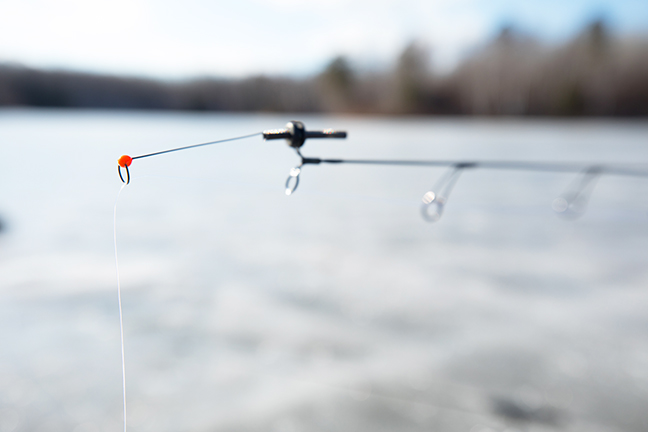 Legend Black SPECIFICATIONS:
Super-finesse, high-tension, stainless-steel strike indicator

Fully adjustable and interchangeable spring indicator system

Precision-taper, solid carbon blank provides extreme performance

Sea Guide PNPS reel seat

Pac Bay minima guides

1-year warranty backed by St. Croix Superstar Service
Legend Black MODELS:
17" Light (LBI17L)

24" Ultra-Light (LBI24UL)

24" Light (LBI24L)

24" Medium-Light (LBI24ML)

24" Medium (LBI24M)

24" Medium-Heavy (LBI24MH)

30" Light (LBI30L)

30" Medium-Light (LBI30ML)

30" Medium (LBI30M)

48" Medium (LBI48M)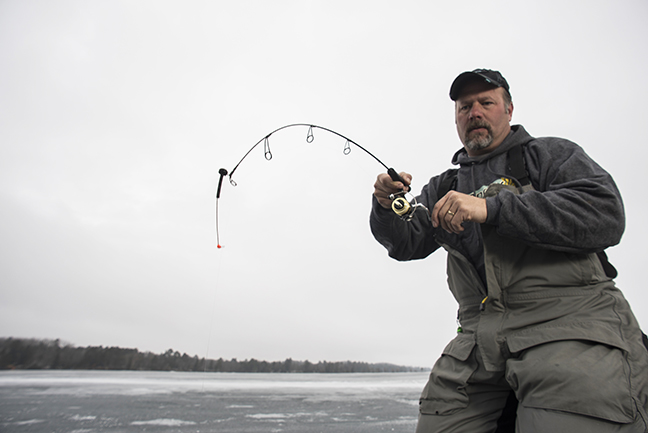 The post Black Ice Makes Fish Anxious appeared first on ODU Magazine-North America's #1 Digital Fishing Magazine.