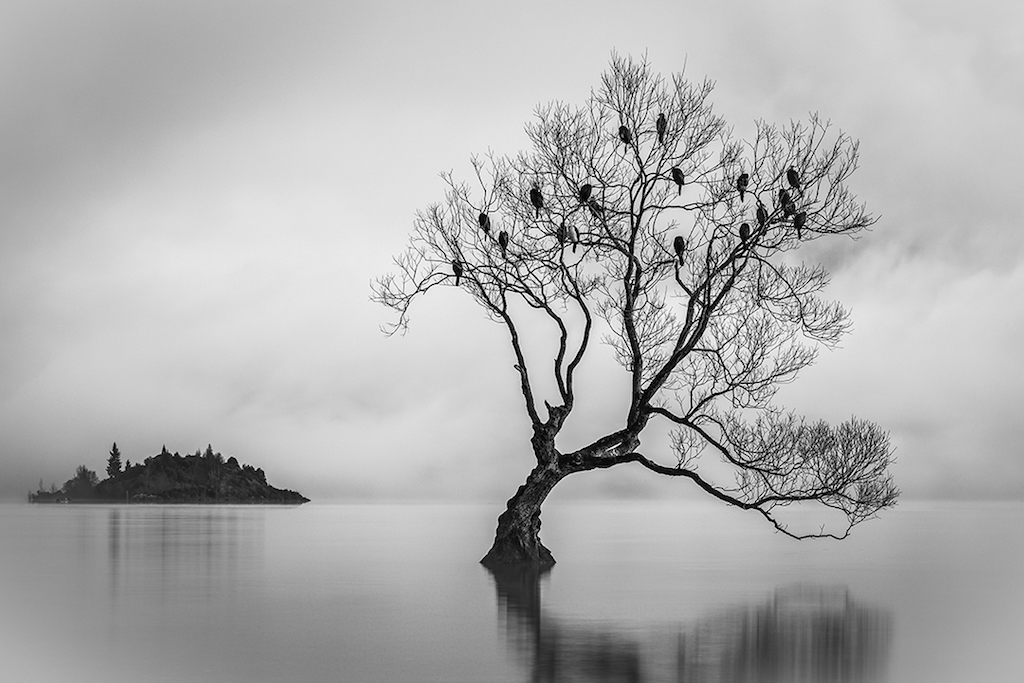 After extensive research and guidance from photographer friends, I compiled a list of must-visit photographic locations around the South Island of New Zealand. As a very keen landscape photographer from Western Australia, I was excited to visit some of the country's most stunning locations, and I knew the famous Wanaka Tree would be a highlight. We traveled in August to capture the winter landscapes and beauty of the snow.
I had been inspired by the many Wanaka Tree images I had constantly seen on social media. I was intrigued with how this location could offer such ever-changing images. I had dreamed of photographing the tree myself and pre-visualized images of the willow, its reflections on the lake and the picturesque scenery that surrounds it. I was hoping to get lucky with the light Mother Nature presented for me.
On arrival into beautiful Wanaka, an hour's drive from Queenstown, I wanted to check out the location for my sunrise shoot the following morning. The weather conditions weren't too good, but I was keeping my fingers crossed that the strong wind would have passed, as we only had one day to spend in Wanaka. We discovered the willow tree had originally been a fence post but somehow managed to grow and survive in the lake.
At first light, I arrived to join the never-ending queue of photographers who had traveled from all over the world to photograph this famous little tree. I was extremely excited to see low-lying clouds and mist on the lake, which was something I had never experienced before. The little willow and its reflections on the water were quite magical and breathtaking; I believed I was in photographer's heaven.
I set up as quickly as I could, and this was one of the first frames I shot. Due to other photographers who arrived before me having the prime positions, I switched over from my wide angle and used my Canon 70-200mm telephoto lens instead. This helped to fill the frame with the tree, giving me a stronger composition. The soft light and low-lying clouds really helped create this as my stand-out image, as it provided separation for the tree and island from the snow-covered mountains behind. I feel the birds added another important element to the image, although it was difficult to capture a long exposure without the birds flying off mid shot. It wasn't long before the birds, mist and clouds disappeared, and a vibrant pink glow lit up the sky.
My husband was nearby in our camper van and brought me a "hot cuppa" so my hands wouldn't freeze. Eventually, I got the courage to take off my shoes, roll up my jeans and wade out into the freezing lake for some closer shots, and I was able to get down low with a wide-angle lens for a different perspective. Soon after, the other photographers followed suit.
I was surprised at the ever-changing light from moment to moment. I can understand the attraction of this location for photographers. So many of them return again and again to capture the beauty of a single willow tree in a lake as it changes from season to season. I certainly hope to return myself one day.
I converted my RAW file to a black-and-white, as the image was mostly blue tones.
Canon EOS 6D, Canon EF 70-200mm f/2.8L USM at 130mm, Manfrotto tripod, Lee ND filter. Exposure: 8 sec., ƒ/22, ISO 100.
See more of Michelle McKoy's photography at michellemckoy.com.au, and follow her on Facebook and Instagram.
The post Behind The Shot: Birds Of Lake Wanaka appeared first on Outdoor Photographer.