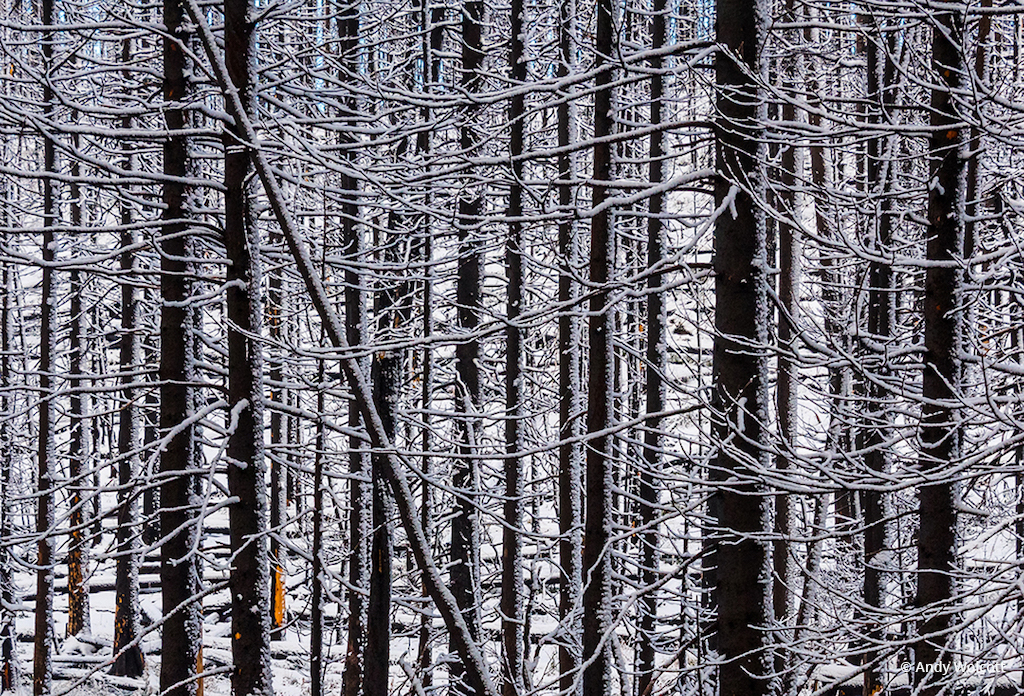 These days, people around Jackson, Wyoming, refer to it as "The Burn," the largest wildfire in the history of Grand Teton National Park. The Berry Fire, ignited by lightning on July 25, 2016, burned for more than two months before park management filed its last report on Sept. 21. The fire ultimately consumed just over 21,000 acres of lodgepole and spruce timber, short grass and brush in a swath reaching from its origin near the Berry and Owl Creeks on the west side of Jackson Lake, north around the lake, to the base of Huckleberry Mountain east of the highway connecting Grand Teton and Yellowstone National Parks. The highway was closed repeatedly as fire crossed the road, reducing visibility to near-zero and making driving virtually impossible—and definitely unsafe.
While wildfires can be devastating tragedies, they are also a natural and necessary event in the continuing revitalization of healthy landscapes and wildlife habitats. Lodgepole pines, for example, cannot open their cones to release their seeds without the extreme heat of a forest fire. Old undergrowth is cleared out, making way for fresh grasses, trees and other vegetation critical to wildlife survival.
National Park Service policy calls for human-caused fire to be actively suppressed but naturally caused fires like this one to be monitored and only suppressed if they threaten park infrastructure or communities. In the case of the Berry Fire, years of preparation clearing land around structures, limiting construction materials to only those that are fire-resistant, ensuring that firewood and other flammables were located away from structures, and educating land-owners about fire safety greatly limited damage to private property.
For the photographer, the aftermath of a wildfire like this one presents virtually unlimited opportunities to capture the stark beauty of a landscape resculptured in an instant by nature. Armed with a carload of gear (most of which I never used), I was fortunate to arrive in Jackson only a few days after the road to Yellowstone was reopened. I spent several days repeatedly visiting the burned areas accessible from the highway between the two parks photographing wide landscapes and the tiny details of the aftermath of the fire.
I could not really have imagined, however, what I would find a year later, after a fortuitous and entirely unexpected light snowfall in the black forest I had shot a year earlier. The blackened bark had begun to peel away, leaving bright orange swaths of unburned wood behind. Where there had been virtually nothing but burned grass, twigs and shattered pinecones at the base of the trees a year earlier, new grasses and flowers had sprung up everywhere. Spectacular fireweed had grown up, bloomed and gone to seed in the intervening year. The dusting of snow created an incredible palette of black and white with just a touch of color here and there.
The tiny lodgepoles I had hoped to find are not yet there. The seeds spread everywhere on the ground last year have yet to germinate. I will be back next September to find the new forest sprouting and growing in profusion, as I know it will be.
See more of Andy Wolcott's work at andywolcott.com and on Instagram @andywolcott.
Nikon D750, AF-S NIKKOR 28-300mm f/3.5-5.6G ED VR @ 72mm. Exposure: 1/160 sec., ƒ/11, ISO 800.
The post Behind The Shot: After The Fire appeared first on Outdoor Photographer.