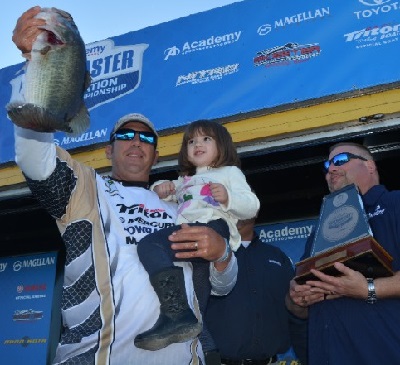 Ryan Lavigne of Gonzales, La., pulled off a major upset at the 2016 Academy Sports + Outdoors B.A.S.S. Nation Championship presented by Magellan Sunday on Lake Conroe.
 
Lavigne won the tournament as an unlikely candidate — a nonboater — and won it by an enormous margin, 16 1/2 pounds.
 
The Ascension Area Anglers bass club member bested the field with 58 pounds, 3 ounces over three days of competition.
 
As part of his win, he earned a berth in the 2017 GEICO Bassmaster Classic presented by GoPro, March 24-26, along with his two closest competitors, Darrell Ocamica of Idaho and Timothy Klinger of Nevada.
 
"Making the Classic is a dream come true," Lavigne said. "It's something I've thought about since I started fishing. My dad took me fishing when I was a kid, and it's just a passion I've never let go. And making it to the Classic is one of the biggest goals of my life."
 
Lavigne bolted into the overall lead on the second day of competition, winning the title of Nonboater Champion, and opening up a 6 1/2-pound gap between him and the top boater, Klinger.
 
He made the margin even bigger in the first two hours of Sunday's competition, putting 18 pounds of bass into the boat before 8 a.m.
 
"I prepared for any boater I could draw," said Lavigne, who spent his time practicing for any scenario he thought he might encounter with his boaters, which are drawn at random.
 
Lavigne qualified as a nonboater because of the way the Louisiana B.A.S.S. Nation assembled its state team. The Top 10 anglers in the qualifying tournament were assigned boater spots on the state team; the anglers who placed 11th through 20th were assigned nonboater spots.
 
Competing as a nonboater in the B.A.S.S. Nation Central Regional on Alabama's Lake Guntersville, he won his division. Then he did it again here on Conroe, and when he was mixed in with the boaters (an honor only the Nonboater Champion earned), he beat them, too.
 
"Every nonboater out there should see this and realize it's worth their while," Lavigne said. "If you've been thinking about competing as a nonboater, come out and do it. I just did something nobody thought could happen."
 
The boater in the championship has ultimate control of where the boat goes, but the nonboater can offer suggestions. Lavigne had a plan for anywhere his boaters may take him, but he also had waypoints marked that he suggested, and his boaters listened.
 
"I had decided that I could do really well flipping boat docks or cranking offshore," Lavigne explained.
When he was on boat docks, which he mostly was the first two days of competition, he flipped a Stand-Up Jighead with a Trick Worm or Missile Baits Tomahawk Worm. In offshore areas, he cranked a Strike King 5XD.
 
His final day, when Lavigne was in control of the boat, he chose a small hard, hump in the main lake. He was sitting over 13 feet of water, but the top of the hump was 6 feet. In practice, he had found this spot and caught a 16-inch bass on it. He knew it was a place he could go back to if he needed.
 
"I went there this morning and caught a limit using a Missile Baits Twin Turbo [a twin-tail grub] in green pumpkin," Lavigne said. Then he left the area alone until noon, when he came back and culled three of the bass he had already caught there in the morning.
 
For his double win, Lavigne earned two prize packages worth a combined $131,820. As the Nonboater Champion, he won paid entry into the Bass Pro Shops Bassmaster Opens division of his choice, a Skeeter/Yamaha boat package with a Minn Kota trolling motor and Humminbird electronics, and a spot as a marshal in the 2017 GEICO Bassmaster Classic presented by GoPro.
 
As one of the Top 3 anglers, he earned the B.A.S.S. Nation's Best prize package, which is the use of a Toyota Tundra truck and a fully rigged, tournament-ready Phoenix boat for one year, as well as paid entry into the Bass Pro Shops Bassmaster Opens series of the angler's choice, and a berth in the 2017 Classic. As the overall winner, he was invited to compete on the 2017 Bassmaster Elite Series with part of his entry fees paid.
 
Darrell Ocamica and Timothy Klinger will join him here on Conroe in March for the 2017 Classic.
Ocamica caught 41 pounds, 12 ounces for second place, and Klinger caught 37 pounds, 11 ounces for third.
 
The biggest bass of the tournament was 7 pounds, 3 ounces. On the boater side, Jason Vaughn of Delaware caught a 7-3, and on the nonboater side, Michael Lebsack of Minnesota caught one of the same size. Both won $500.
 
Klinger received the Livingston Lures Leader Award of $250 for leading the boater division on Day 2. Finishing as the Day 2 leader on the nonboater side, Lavigne also received $250.
 
Follow Lavigne, Ocamica and Klinger at Bassmaster.com/Nation as they prepare for the 2017 Bassmaster Classic. All three will be competing in their first Classic.
 
The post B.A.S.S. Nation Championship On Conroe Won By Ryan Lavigne Of Louisiana appeared first on .