B.A.S.S., along with other hunting, angling, conservation and outdoor industry organizations, Friday submitted public comments in support of a U.S. Army Corps of Engineers' plan to prevent Asian carp from infesting the Great Lakes.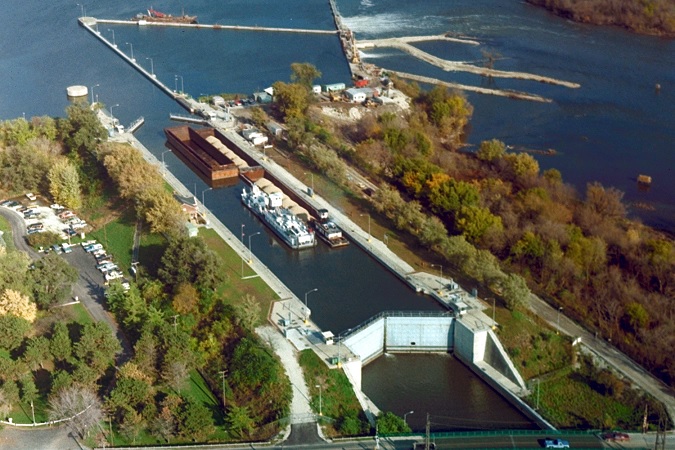 The Brandon Road Lock and Dam, near Joliet, Ill., and below the Chicago Area Waterway System is a chokepoint to reduce the risk of invasive Asian carp swimming directly into Lake Michigan. The Corps' "Tentatively Selected Plan" (TSP) proposes a gauntlet of technologies including an electric barrier, water jets, complex sound and a flushing lock to reduce the risk of Asian carp getting through, while still allowing navigation through the lock.
"Asian carp pose one of the greatest threats to the Great Lakes and the world-class smallmouth bass fishery that anglers travel from all over the country to enjoy," said B.A.S.S. Conservation Director Gene Gilliland. "The Great Lakes are home to many invasive species. Some of those invaders have been worse than others, but just how many more can the system take before it reaches a tipping point and bad things start to happen? Bass fishermen sometimes don't recognize invasive species as such a bad thing, especially when you talk about the Great Lakes.
"Zebra mussels and gobies, while real problems for industry and shipping, have proved to be a boon to the bass population, but nothing good can come from an Asian carp invasion. These fish have incredibly high reproductive potential, and in short order, can make up the majority of the pounds of fish a body of water can support. They filter out the plankton that is the base of the food chain for everything else, there are few markets for them and no real way to control the population explosion."
While expressing support for the TSP, the groups in the letter also urge the Corps of Engineers to pursue full federal funding of the $275 million estimated cost, rather than require a local cost share, due to the national significance of the issue.
Additionally, the groups noted that Congress authorized the Corps to prevent aquatic invasive species transfer between the Great Lakes and Mississippi River basins, and therefore the Corps needs to continue pursuing a two-way solution to preventing aquatic invasive species transfer. However, that pursuit should be simultaneous without diverting resources from moving ahead with the TSP.
"Competing interests and politics-as-usual have stalled the closure of the carp pathway to Lake Michigan for too long," said Gilliland. "It's been studied to death, and we know what needs to be done. There is just no more time. This needs to be pushed through, or we stand to lose one of this country's greatest fisheries."
The groups also encourage the Corps to explore Aquatic Nuisance Species treatment technology that can be used in the locks, as well as continuing other efforts to reduce the Asian carp population below the lock and dam.
The Corps issued a timeline with the release of the plan, which estimates a final report in August 2019, at which point it will be up to Congress to approve and fund the project, with a construction completion date of 2025 if there is no delay in approval and funding.
B.A.S.S. is among 50 conservation and fishing industry groups signing the letter of support. Others include the American Sportfishing Association, Congressional Sportsmen's Foundation, Ducks Unlimited, National Wildlife Federation and B.A.S.S. Nation organizations in Ohio and Michigan.
 
About B.A.S.S.
B.A.S.S. is the worldwide authority on bass fishing and keeper of the culture of the sport, providing cutting edge content on bass fishing whenever, wherever and however bass fishing fans want to use it. Headquartered in Birmingham, Ala., the 500,000-member organization's fully integrated media platforms include the industry's leading magazines (Bassmaster and B.A.S.S. Times), website (Bassmaster.com), television show (The Bassmasters on ESPN2), radio show (Bassmaster Radio), social media programs and events. For more than 45 years, B.A.S.S. has been dedicated to access, conservation and youth fishing.
The post B.A.S.S. Encourages Swift Action On Asian Carp Plan appeared first on ODU Magazine-North America's #1 Digital Fishing Magazine.