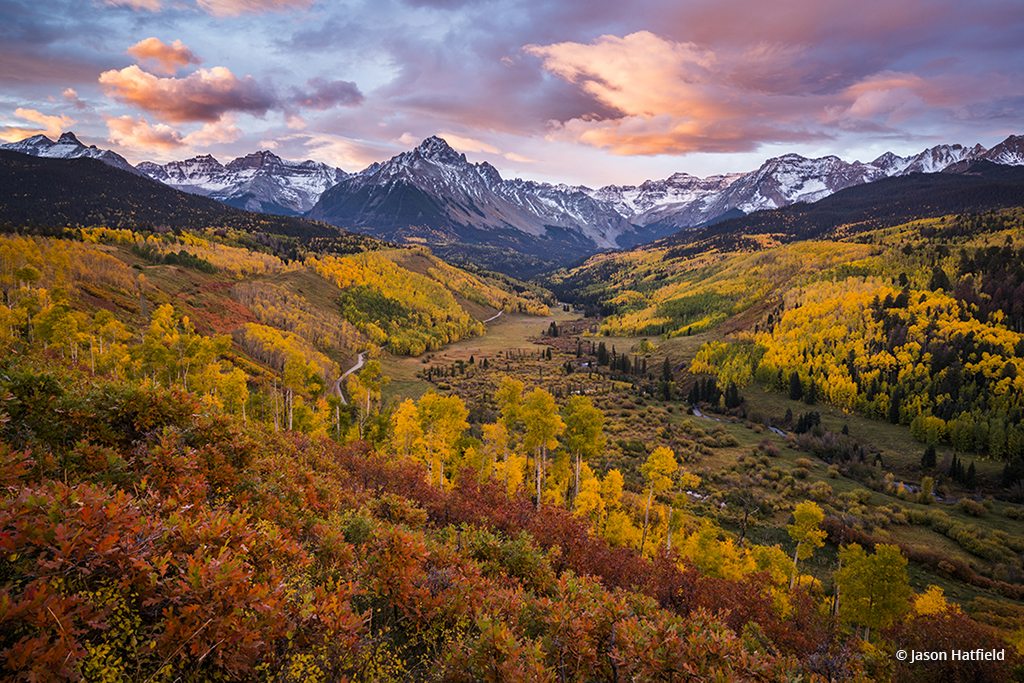 Every year, I get to spend a few weeks in the mountains of Colorado photographing and teaching workshops on my favorite subject, fall color. Some years it's too wet or dry and the season is lackluster; others, like this past season, are a spectacular combination of dramatic clouds, snow-capped peaks and a kaleidoscope of colors. Even in good years, though, the timing of the color change can vary significantly from the norm, and autumn arrives somewhat early.
Hearing that the aspens in the northern Elk Mountains were reaching peak, I left Denver a few days ahead of schedule and started the season's trip around Carbondale and Aspen. I spent a couple days in the area and ended up with some incredible images of clouds clearing around Capitol Peak, and then headed south for the San Juan Mountains to teach a private photo workshop. The fall color was early in the San Juans as well, and while working I noticed one of my favorite views of Sneffels Range was getting close to a spectacular combination of leaf change I hadn't experienced before.
After finishing my workshop, I checked the forecast, which was iffy, but still made plans to photograph it the next day at sunrise with a couple of friends. We awoke early to get to our location, and the morning light revealed a scene full of stunning colors and one of my most memorable sunrises. That morning's view of Sneffels Range encompassed everything I love about Colorado during prime fall season: snow-covered peaks, golden aspens, fiery scrub oak and incredible light. Eight years of visiting the same area paid off with this photo, but it's more than just pretty colors to me. I've spent many days backpacking and hiking the surrounding forests and mountains. I've stood on the 14,158-foot summit of prominent Mt. Sneffels. I haven't just photographed this scene, I've lived in it. OP
Sony a7R II, Sony Vario-Tessar T* FE 16-35mm f/4 ZA OSS. Exposure: 1.3 sec., ƒ/13, ISO 100.
See more of Jason Hatfield's work at jasonjhatfield.com and follow him on Instagram.
The post Autumn Sunrise Over Sneffels Range appeared first on Outdoor Photographer.